Reported by Sonal Mehrotra, Edited by Sindhu Manjesh | Updated: March 07,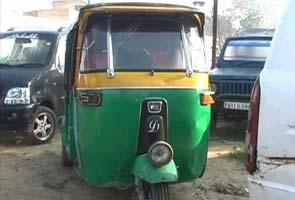 Ghaziabad: 
Two of the three suspects in the gang-rape of a schoolgirl in Ghaziabad have been arrested today. The girl was
gang-raped
on Saturday after she took an
auto-rickshaw
  to head home from a mall in Ghaziabad, on the outskirts of
Delhi
, a little after 8 pm. The  auto had been stolen by three men who were on what the police describe as "a joyride."The girl was told the two men sitting in the back were passengers.  "Shared autos" are a common practice here, partly because they make commuting cheaper, and because there's a paucity of
public transport
.
The auto drove through multiple police check points for a journey that lasted more than two hours on Saturday night.  The men in the back  pinned the girl down and gagged her, preventing her from shouting for help, according to the police.
When the men had raped the teenager in a secluded area near a major highway, they threw her onto the road. But not before robbing her of her cash and cellphone.
Police patrol vans that were on duty did not spot the auto, or the abandoned girl.  She  was found lying bleeding near a highway by passers-by who took her to a police station.
The assault repeats the horrific details of the fatal gang-rape of a medical student in a moving bus in Delhi in December, which became the origin for massive street protests and tough new laws to punish crimes against women.  In that case, Amanat (NOT her real name) boarded a bus after visiting a South Delhi mall with a male friend.  A gang of men on the bus hit the couple with an iron rod, raped Amanat, and then threw her friend and her, naked and bleeding, onto the road.
Since then, the police has said that it has increased patrolling in areas like malls, which are visited frequently by women at nigh