One year of Narendra Modi government: What they promised and what they delivered
This is a series on the key events in various ministries during the first year of the Narendra Modi government.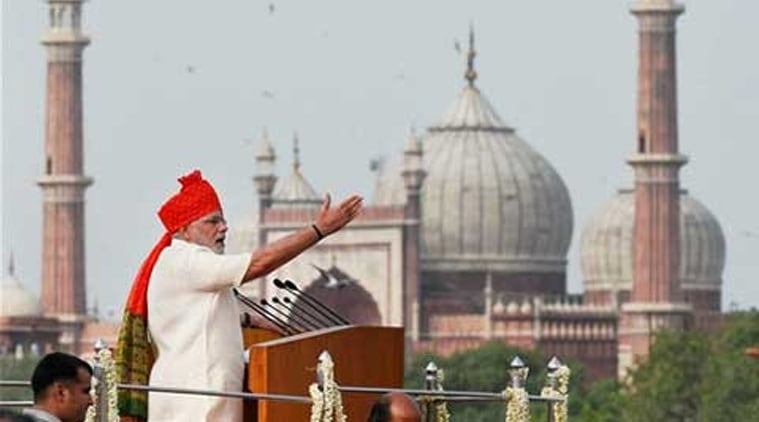 Narendra Modi-led government completes one year in office on May 26 (the day it was sworn in). (Source: PTI)
Updated: May 22, 2015 9:15 am
By Ruhi Tewari, Abantika Ghosh, Raghvendra Rao and Manoj CG
Starting today, a series on the key events in various ministries during the first year of the Narendra Modi government, what they promised and what they delivered, how they rate their performances — and what their rivals think.
[Interactive Timeline: Narendra Modi's foreign visits]
Stalled land acquisition law, NREGA worries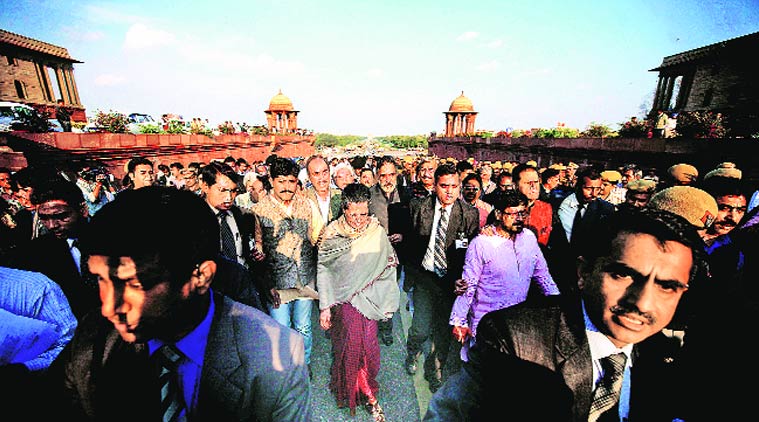 March 2015. Sonia leads march to Parliament against land bill. (Express Photo by: Praveen Khanna)PROMISES
The Prime Minister's Sansad Adarsh Gram Yojana; convergence of activities under MGNREGA including with Swachh Bharat Abhiyan. The ministry also announced a new land acquisition law to replace the 2013 legislation.
PLUSES
The ministry has brought in some new initiatives under MGNREGA to check delayed payments, such as a mobile monitoring system, and to ensure better quality of assets created by setting "outcome oriented" targets.
MINUSES
The ministry has been unable to get its Land Acquisition (Amendment) Bill passed by Parliament, constricted by its numbers in the Rajya Sabha. The year also saw the worst performance of MGNREGA since its introduction in terms of time when wages are paid and number of days of work provided to each household, with a funds crunch and erratic disbursement proving a constraint.
SELF-RATING
"The main achievement has been to successfully focus and converge all programmes of the ministries of Rural Development, Panchayati Raj, Drinking Water & Sanitation to the real issues at ground level. From the extremely successful Pradhan Mantri Gram Sadak Yojana to the highly popular Swacch Bharat Abhiyan, the focus of all schemes is on how to make a real difference for the rural population. We are excited about the… change we can usher in under the able leadership of our PM."
* Birender Kumar Rural development Minister
OPPOSITION RATING
"The main highlight of the ministry in the last one year is the systematic attempts to dismantle the 2013 land acquisition law. That is there in front of the entire country. The allocations for the ministry for key flagship programmes have been slashed very, very drastically. The National Rural Livelihood Mission (allocations) have been slashed from Rs 4,000 crore to Rs 2,500 crore. Even for a programme like the Pradhan Mantri Gram Sadak Yojana, the allocations have been cut down to Rs 14,000 crore from Rs 20,000 crore and there is huge uncertainty on MGNREGA. So the Rural Development Ministry, which was a locomotive during the UPA regime, has lost its steam in the last one year."
* N jairam ramesh Member, Congress shadow group on rural development
New education policy, FYUP and Sanskrit rows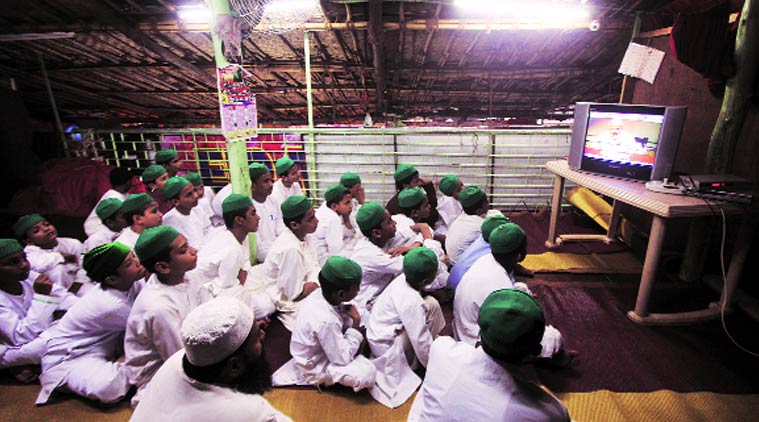 Teachers' Day. Madrasa students in Mumbai watch Modi speak.(Express Photo by: Prashant Nadkar)PROMISES
The HRD Ministry promised to bring in a new National Education Policy. It also announced a new Choice Bases Credit Framework for colleges and set up committees to review regulators such as UGC and AICTE.
PLUSES
The ministry began consultations on the new National Education Policy, deciding to adopt a bottom-up approach. Teacher Education Reforms were also initiated and several scholarship schemes such as Ishan Vikas, Ishan Uday and Pragati were brought in.
MINUSES
The ministry has run into a number of controversies — the rollback of the Four Year Undergraduate Programme in Delhi University; the replacement of German with Sanskrit as third language in Kendriya Vidyalayas; the celebration of Good Governance Day on Christmas,the IIT-UGC standoff over degrees; the resignation of some key people such as NCERT director Parvin Sinclair, IIT Delhi director R Shevgaonkar and IIT Bombay board of governors chairman Anil Kakodkar (who later withdrew the resignation). Several key positions remain vacant.
SELF-RATING
"We have undertaken a collaborative and holistic approach that ensures improvement in the quality of education, leverages technology, engages with community, is inclusive in implementation, and will facilitate social development. We have worked hard to implement initiatives that are inclusive, ensuring that all students participate in mainstream education, be it initiatives to encourage girls to enrol in technical education, exposing students from the Northeast to premier institutes, training our educators to teach specially abled students, or streamlining vocation education… We have broken the silos between our institutions and departments of higher and school education… We have launched the new Education Policy consultations as a democratic process in which in every region and state will elicit the views of the people regarding the National Education Policy. For the first time, 2.75 lakh village education councils, blocks, districts and states will participate in the consultative process. The ministry wants teachers, students, parents, community members, private sector and government to work together and engage in the process of developing our education policy for the next generation. Change is no longer the preserve of only a few experts."
* Smriti Irani, HRD Minister
OPPOSITION RATING
"Our biggest apprehension was saffronisation of education. But minister Irani seems to be aware that we are keeping this aspect of her policy-making under close scrutiny with the result that our vigilance has been able to rein in somewhat such saffronisation. However, particularly in the ICHR, we have deep concerns. As regards appointments to institutions of higher education, scores of vice chancellor posts are vacant and many teaching positions have not been filled. In Sarva Shiksha Abhiyan there are apprehensions over the consequences of the huge reduction in the SSA budget especially as it is highly under doubt that the additional untied funds being given to the states under the 14th Finance Commission will effectively be earmarked for the elementary education sector."
* Mani Shankar Aiyar Head, Congress shadow group on HRD
Standoff with censors, promises to keep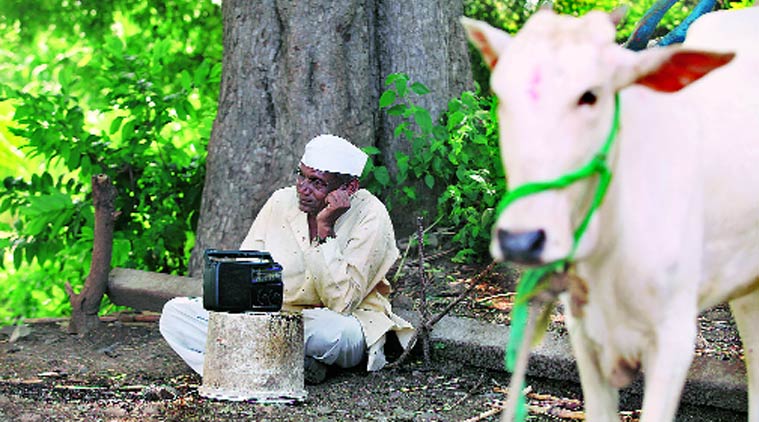 October 2014. A farmer in Sangli listens to Modi on radio.(Express Photo by: Prashant Nadkar)PROMISES
It announced plans to start new channels Kisan TV and Arun Prabha and to accord the status of institutes of national importance to FTII Pune and SRFTI Kolkata and the setting up of a National Centre of Excellence in animation and special effects. None of this has happened yet.
PLUSES
The government is now working overtime to launch DD Kisan on May 26, the date it had been sworn in.
MINUSES
A number of controversies during the year included telecasting live RSS Chief Mohan Bhagwat's annual Vijaya Dashami speech, a casual newsreader describing Chinese President Xi as "Eleven", and a row with the Central Board of Film Certification leading to chairperson Leela Samson's resignation citing interference and corruption of panel members and officials appointed by the ministry. Key appointments in CBFC and Prasar Bharati Board have not yet been made.
SELF-RATING
"The Kisan Channel is being launched, DD India is being launched. We are launching Vividh Bharati on FM. As far as the delay is concerned, the important thing is that when you do something, you do it well. How we've been able to take Mann Ki Baat on different platforms – now you can see it also and you can hear it also… and it's online, it's on TV… In a major way, we've gone online. DD is on a mobile application now. Websites are being updated. All the information of the government… we've been able to disseminate it in a very organised manner. As far as filling up vacancies is concerned, does this board belong to a political party or a government? I believe it belongs to the government. And therefore, we have the faith that these people will continue doing a neutral job, and they are doing a neutral job.
* Rajyavardhan Rathore MoS, I&B
OPPOSITION RATING
"Nothing to write home about. The highlight is Talibanisation of the censor board. The government tried to block information to the media. There have been attacks on the profession of journalism. Attempts have been made to curtail their freedom. The film industry is upset. We have seen the protest by censor board members. I can say that attempts are on to saffronise and communalise the board as well.
* M Veerappa Moily head, Congress shadow group on I&B
Beti Bachao and relook at juvenile age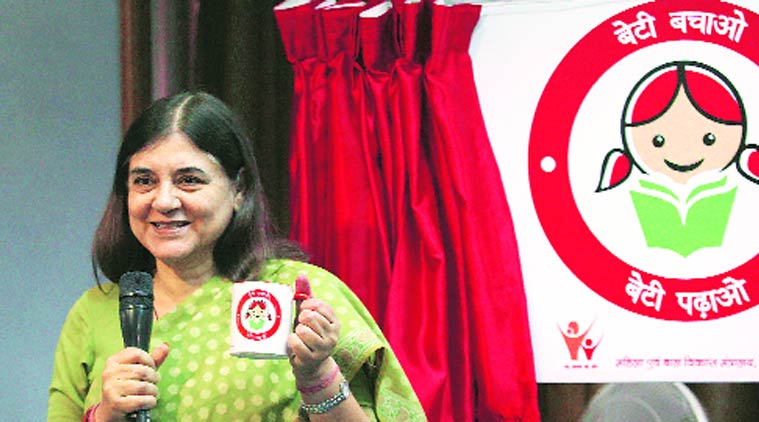 Maneka Gandhi launches WCD ministry's new logo. (Express Photo by: Renuka Puri)PROMISES
The ministry's defining feature has been the Beti Bachao Beti Padhao scheme — a Rs 100 crore initiative across 100 districts that seeks to better sex ratios through a host of initiatives. The scheme was launched with fanfare in January this year with Prime Minister Narendra Modi making a plea to a packed audience in Panipat to save the girl child. Haryana has some of the districts with the worst sex ratios in the country.
The ministry has also been in the news for the Juvenile Justice (Care and Protection of Children) Bill, 2015 that has a provision that allows juvenile accused aged between 16-18 who are accused of heinous crimes, such as rape or murder, to be tried under the Indian Penal Code — laws under which adult offenders are tried. The bill has done several rounds among Parliament, standing committees, the ministry and the cabinet but is yet to be passed because of repeated adjournments in the Rajya Sabha.
PLUSES
The Beti Bachao scheme has progressed well, according to reports for the first four months from the selected districts. The first rape crisis centre will open in Chhattisgarh next month.
MINUSES
The ministry has faced large cuts in funds for the social sector, in particular the child nutrition scheme ICDS slashed. The total budget has been halved.
SELF-RATING
"In all the districts where it (Beti Bachao scheme) was launched we have managed to ensure 100% institutional delivery, there have been many foiled child marriages and the number of girls in orphanages has gone up. The latter means at least the girls are being born. The reports from the DMs have been very positive. We will do a sex ratio assessment next February in these districts to see where we stand. By the end of the next year we will get one rape crisis centre in each district up and going. The NCW Act is still to be passed. I was very keen on reforming the Rashtriya Mahila Kosh; that is still work half done. Beti Bachao Beti Padhao and the National Nutrition Mission are also among my priorities for the next year."
* Maneka Gandhi, WCD Minister
OPPOSITION RATING
"There are big budgetary cuts. Funds for Integrated Child Development Scheme have been halved. There are cuts in national nutrition mission. The performance of the ministry has been dismal. There are no new initiatives and no money."
* Ghulam Nabi Azad head, Congress shadow group on WCD
Minister change, immunisation, tobacco debate
March 2015. J P Nadda at launch of Mission Indradhanush.(Express Photo by: Prem Nath Pandey)PROMISES
For the first six months, the ministry saw a flurry of activity and announcements about health assurance and tobacco. Following the sudden replacement of Harshvardhan with J P Nadda as Health Minister, all the focus is now on Mission Indradhanush to increase immunisation coverage utilising lessons learnt from the very successful pulse polio programme. National Health Assurance Mission, among the first announcements of the new government, remains a promise. The free drugs and diagnostics schemes promised too is yet to see the light of day.
PLUSES
India Newborn Action Plan was launched in September 2014. A national deworming programme too launched. A decision has been taken to introduce new vaccines in the universal immunisation programme, including rotavirus that kills many babies. A survey has been commissioned on drug-resistant TB. A National Health Portal has been launched. The government now has a National Mental Health Policy too. For the next year, noncommunicable diseases including cancer are a big focus area. Japanese encephalitis, acute encephalitis syndrome , kala azar and arsenic contamination have been identified as "low hanging" fruit.
MINUSES
The biggest controversy has been the decision to stall the larger health warnings based on the recommendation of a parliamentary committee — which included Allahabad MP S C Gupta who owns a beedi empire worth Rs 250 crore. Gupta and the committee chairman, Dilip Gandhi, questioned the available evidence on health effects of tobacco and demanded Indian studies be done first. The ministry has acceded to the committee's suggestion that larger warnings be put on hold even though the recommendation was not binding on it. During Harshvardhan's stint, he faced criticism for stripping Indian Forest Service officer Sanjeev Chaturvedi of the charge of vigilance office of AIIMS.
SELF-RATING
"We are committed to providing affordable, accessible healthcare for all. Our focus is on reducing out-of-pocket expenses and improving health indicators substantially."
* J P Nadda, Health Minister
OPPOSITION RATING
"I don't know whether a ministry like health exists, because there is no progress. The ministers are good but ministers in this government are totally powerless. The secretaries are directly dealing with the PMO. I don't know who is dealing with health in the PMO. Whosoever is, does he or she know anything about health? Budgetary allocations have been slashed for NRHM, NACO, Ayush and many other areas.
* Ghulam Nabi Azad head, Cong shadow group on health
http://indianexpress.com/article/india/india-others/first-year-of-narendra-modi-government-what-they-promised-and-what-they-delivered/