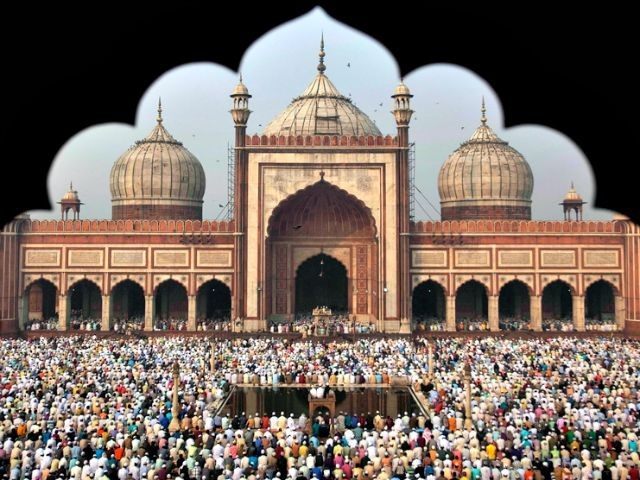 AP/Kevin Frayer
In Hindu-controlled India, over 1,000 Muslim leaders and scholars have sanctioned a religious ruling, or fatwa, against the Islamic State as contrary to the true teachings of Islam.
The group, which met in recent days to discuss and search out new strategies to "protect the image" of a moderate Islam, has forcefully condemned religious extremism and the violent attacks perpetrated by ISIS militants.
Mumbai-based Islamic jurist Manzar Hasan Khan Ashrafi Misbahi drafted the fatwa earlier this week, with numerous Muslim groups and leaders signing on. The declaration denounced Islamic State's religious vision and activities as "un-Islamic and inhuman" and said that its practices showed it had "no relation with Islam."
In the declaration, the leaders expressed "deep concern about the spread of extremist propaganda" that is likely to spread like wildfire.
In the state of Kerala, a Muslim group called Kerala Nadvathul Mujahideen (KNM) also launched a campaign, focusing on social media platforms, against Islamic State ideology that is spreading fast among Muslim youth.
Leaders of the group initiated the campaign after reports about several men from Kerala who were detained in UAE for propagating Islamic State ideas. Not long ago UAE had deported two Keralites for propagating ISIS ideology through social media.
"We have decided to bring out videos of speeches by our scholars on contentious issues and upload them on the social media. We have been conducting classes regularly to warn the youth against the hate-mongering of the IS," Abdul Majeed Swalahi, state president of Ithihadu Subbanil Mujahideen (ISM), a feeder organisation of the KNM told The Times of India.
In recent days, Indian authorities have intensified checks to prevent terrorism in the country. The interior minister, Rajnath Singh, declared that 17 young Indians had joined the Islamic state, while about thirty Indian Muslims were arrested as they were about to leave for Syria and join the radical militant group.
Home Ministry officials said that at least half of the Indians who have joined Islamic State were living outside the country when they enlisted, some in Pakistan as members of a homegrown terror group called the Indian Mujahideen and others in the Persian Gulf region, Australia and Singapore.
Indian officials said they grew worried when four young men from a Mumbai suburb traveled to Iraq to fight in 2014. Last year, online recruitment videos also began to appear with subtitles in Hindi, Urdu, Tamil and other languages spoken in India.
Although the number of recruits is small compared to India's population and even relative to those who have enlisted in many European countries, the Indian authorities have raised an alert against the spread of the phenomenon.
Minister Singh announced that the government has decided to ban the Islamic state based on the Indian "law for the prevention of terrorist acts." On Friday, Singh announced that a computer engineer from Bangalore had been arrested because he used his twitter account to send messages in support of ISIS.
Abdur Rahman Anjaria, a leader of the Muslim community in Mumbai, the largest and most influential Islamic community in India, said he firmly reject the "torture, killings and violence" carried out by the extremist group.
India is home to over 170 million Muslims, giving the country the second largest Muslim population in the world, after Indonesia. Muslims in India constitute about 14 percent of the population, which is predominantly Hindu.
As practiced in India, Islam has long been considered moderate, said the religious leaders, in contrast to Islam's radical strain, exemplified by al Qaeda and ISIS.
At the same time, Muslim leaders in India have further motivation to come out strongly against Islamic extremism, given their precarious position in many Indian states.
Recently released census figures showed Muslims' share in India's population has grown in the last decade, while that of Hindus had fallen to slightly below 80%.
Prime Minister Narendra Modi's Bharatiya Janata Party, which has deep roots in Hindu nationalism, has introduced measures to shore up India's Hindu identity. Right-wing Hindu activists have long tried to incite fears that higher rates of population growth among Muslims will eventually change the balance of power in the predominantly Hindu country.
The 2015 report of the US Commission on International Religious Freedom (USCIRF) placed India on the "Tier 2" list of countries, where religious freedom violations "engaged in or tolerated by the government" are serious and are "characterized by at least one of the elements of the 'systematic, ongoing, and egregious' standard."
Indian officials expressed intense indignation over the report, saying it reflected ignorance of India and its culture and called it "a conspiracy to tarnish the image of the country."
India has been ensconced in Tier 2 for the past six years, and the situation shows little probability of improvement. The Commission has found incidents of religiously-motivated and communal violence to "have increased for three consecutive years."
http://www.breitbart.com/national-security/2015/09/05/1000-indian-muslim-leaders-issue-fatwa-against-isis/