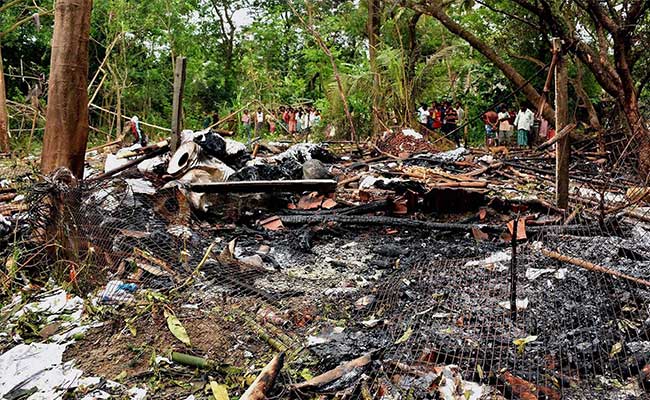 KOLKATA: 
At least 11 people were killed in an explosion in a fire cracker factory in West
Bengal
yesterday. The incident occurred around 10 pm last night in Brahmanbar village in
West Midnapore district
.
Such was the force of the explosion that several body parts were found hanging from the trees nearby. Cars parked near the factory were also damaged. Local villagers say the firecracker factory was illegal and that they had complained to authorities about it. The owner of the factory, Ram Maity, and his wife, died in the blast. The owner of the house where the factory was running, Ranjan Maity, was arrested today.
Rahul Sinha, chief of the BJP's Bengal unit, suspects this is no ordinary firecracker factory blast, and demanded a National Investigation Agency probe into the incident. He compared it to the blast at Khagragarh in Burdwan on October 2 last year, in which two people were killed. Investigations into that blast led to the unearthing of a terror module operational in Bengal by jihadists from Bangladesh who wanted to oust the Sheikh Hasina government in the neighbouring country.
"This incident is similar to Khagragarh incident. In both incidents, the Trinamool Congress (TMC) is involved. Police is also involved in it," said the BJP's Mr Sinha.  The TMC government has handed over the state to ultras. Jamaat-e-Islami (Bangladesh) and all these organizations are working here. We condemn this incident. In the Khagragarh incident, we demanded a NIA investigation and the TMC opposed it. But it was later seen during an NIA investigation, that many hideouts and explosives were recovered. This is a serious issue of the country's security," Mr Sinha added.
http://www.ndtv.com/india-news/11-people-killed-in-west-bengal-firecracker-factory-blast-bjp-demands-nia-probe-761194