Boy Accused of Theft Kept Chained in Police Station in Andhra Pradesh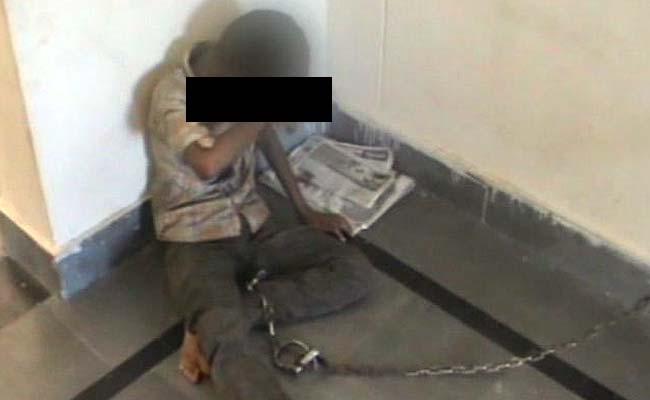 HYDERABAD: 
 In shocking visuals from Andhra Pradesh, a boy is seen inside a police station, wiping his tears, his left leg chained to a window.Sources say the 13-year-old boy, accused of stealing a chain, was kept in the police station for five days.
The police claim that the boy, a rag-picker, is a repeat offender, but they cannot clearly explain why a child was "arrested" and brought to a police station in the first place.
District police chief Srikant told NDTV that the child was kept in chains only for a short while, because the lone constable on duty wanted to go for lunch and wanted to make sure he did not run away.
The police officer denied that the boy had been detained for days. He claimed that the teen was caught yesterday and a stolen chain was found on him.
Late last night, the boy was taken to a magistrate, who reportedly asked for him to be produced again today.
After outrage over the visuals of the child in chains, the state police have started an investigation into alleged violations by their own men.
Last month, the police in neighbouring Telangana were accused of chaining a 13-year-old boy to a wooden log, allegedly for stealing Rs. 300 from a shop.
http://www.ndtv.com/india-news/boy-accused-of-theft-kept-chained-in-police-station-in-andhra-pradesh-756762