At least two gunmen entered the Inland Regional Center of San Bernardino, killing and wounding more than two dozen before fleeing.
SAN BERNARDINO, California — Police said at least two shooters killed 14 people and injured even more at a center for disabled people here on Wednesday morning.Two of the suspects—one male, one female—were killed by police during a car chase, several hours after the attack. One suspect reportedly fired shots out the back of a black sport-utility vehicle as police gave chase. The suspects were shot and killed in the SUV, and police stated that they were found with AR-15 rifles and body armor.

NBC Newsidentified one of the suspects as Syed Farook. The police later searched the home belong to the Farook family.

The Inland Regional Center was hosting an event honoring county personnel when the gunmen entered and opened fire at approximately 11 a.m. local time.

"These people came prepared," Police Chief Jarrod Burguan said during a press conference.

Burguan said the shooters' motives are unknown, but "obviously, at minimum, we have a domestic terrorist-type situation that occurred here."

Police and SWAT cleared the building and evacuated all employees and people inside. Triage units were established outdoors for the wounded. A spokesperson for nearby Loma Linda Hospital said the facility received five adult patients following the shooting—two in critical but stable condition.

Luis Gutierrez's wife Janet works at the center and said he could hear crying and crackle of gunfire after his wife called him as she watched the terror unfold before her eyes.

"She called me a little bit after 10:30 and she was crying," Gutierrez said. "She said, 'There's a shooter and he's downstairs.'

Janet Guiterrez, a 30-year-old coordinator who helps low-income patients receive therapy, hunkered in her upstairs office with co-workers and described one of the killers to her husband.

"She was looking out her window and saw the [man] dressed in all black with a mask on and a big gun," he said. "I hear a commotion and I hear several shots before she put down the phone."

"Tat-tat-tat," he said was how it sounded. "He didn't say anything but I could hear them."

"I got the call from her using a strange number, a friend's phone and said she was okay," he said.
Inland Regional employs 670 people and has provided an estimated 30,000 people with care over the past 40 years. The center serves people with developmental disabilities, from children to adults. The day before the shooting, the center hosted a holiday party.
Keith Nelson, vice president of the Inland Regional Center board of trustees, told CNN that the conference room in the attack was being used by members of the County of San Bernardino Department of Public Health. "It was a nondescriptive holiday event," he said, adding that the group was not aware of any possible threats.
Glenn Willwerth, 45, owner of a paper products company across from the Inland Regional Center, headed right toward the shooters as soon as he found out the center was under attack Wednesday.
Willwerth said he and his 12 employees were at J&S Paper Products when a man ran into their offices looking scared and stricken.
"The guy said, 'They're shooting people' out there, watch out, and he came in to stay with us," Willwerth told The Daily Beast by phone.
Willwerth said he ordered his employees to "hunker down" and went and got his .45-caliber handgun. Willwerth said he headed out the door in the direction of the shots he heard.
"I knew right away they were coming from assault rifles. I heard at least 10 or 15 shots."
Willwerth said the scene was utter chaos.
"People were running away and ducking for cover," he said. Willwerth said he "posted up" behind a water truck and watched the scene unfold. At one point he saw the silhouette of at least one man come out and get into a black SUV with black windows. He said he could not see more than one person.
Willwerth said he noted that the black SUV was driven out very calmly and smoothly out of the parking lot.
"It struck me how slow they were going, like they didn't want to stick out."
Dorothy Vong, a nurse at the center, filmed police storming the building as shots rang out.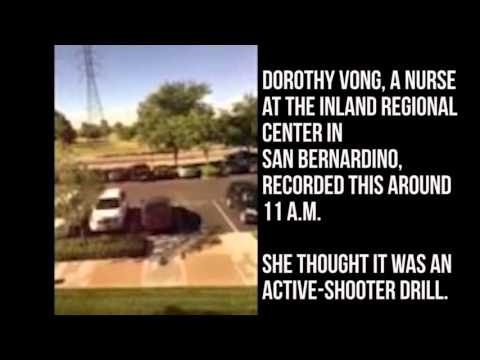 Diana Ramos was expecting a simple birthday celebration with her sister. "It was supposed to just be a dinner at my house," she told The Daily Beast. "Now we're going to celebrate her coming home instead of my birthday."
Diana Ramos received a text message around 8:30 a.m. from her sister.
It read "Happy birthday diva!"
But then her social worker sister Elsi sent a grave follow-up text message less than two hours later: "There's an active shooter at work don't tell mom."
Elsi Ramos, 25, had managed to barricade herself with approximately 20 fellow employees in her unit at the Inland Regional Center where she had been treating autistic patents and making house calls for the past six months.
"Right when she sent that I called 911 right away," Diana, who experienced the event from afar on her phone, told The Daily Beast.
The dispatcher asked where her sister was located. Diana replied that she was on the second floor.
"She said she heard some of the shots–that's how close she was," Diana added.
Elsi and her coworkers (including a pregnant woman) managed to barricade themselves with a desk and a couch in the main office "so no one could come in" and stay alive while people in a neighboring section of the building were executed.
She kept texting her younger sister.
"We're going to hide."
And then again: "We're hiding in the only room that has a lock."
That was her boss's office.
All the while Diana was being coached on what to ask her sister by the 911 operator, who gave Diana instructions on how to keep everybody from losing their wits.
Diana told her to be "the voice of reason." Her sister admitted she was scared. "I'm shaking," she texted.
The pregnant woman started experiencing stomach pains.
The 911 operator assumed her sister that firefighters and medics were already en route.
"She kept trying to keep everybody relaxed by then she said she could hear people next door and the gun shots," she said. "I'm waiting for her here."
At around 7 p.m. a bus unloaded and Diana waited and waited and then finally she saw her sister pacing through the throng of media and she almost couldn't move.
But they soon embraced and walked together into the sliding glass doors.
— with additional reporting by Dana Kennedy
http://www.thedailybeast.com/articles/2015/12/02/mass-shooting-in-san-bernardino.html