More than 150 farmers from Tamil Nadu have been protesting at Jantar Mantar since March 14, 2017 with skulls of farmers who had allegedly committed suicide.
They are demanding better drought-relief package for Tamil Nadu farmers, as the relief package announced by the government hardly covers their losses. They are also demanding a loan waiver for peasants from the southern state.
The farmers from Tanjavur and Tiruchirapalli in the state's of Cauvery belt have warned that they will continue the stir unless the government listens to their demands.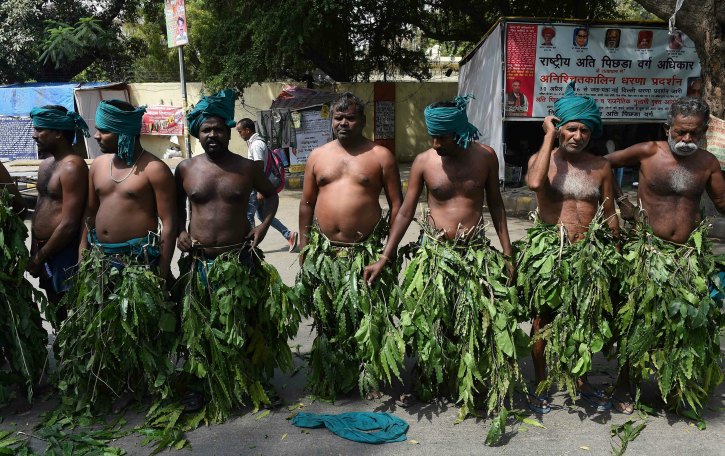 AFP
The farmers are sitting on a hunger strike and among those, one had even attempted to hang himself on a tree at the Jantar Mantar road but was stopped by the police.
The police officials have somehow convinced them to eat food. The leaders of the group were also allowed to meet government officials.
The farmers have vowed to carry on the protest unless the government adheres to their demands and offers them a better relief package.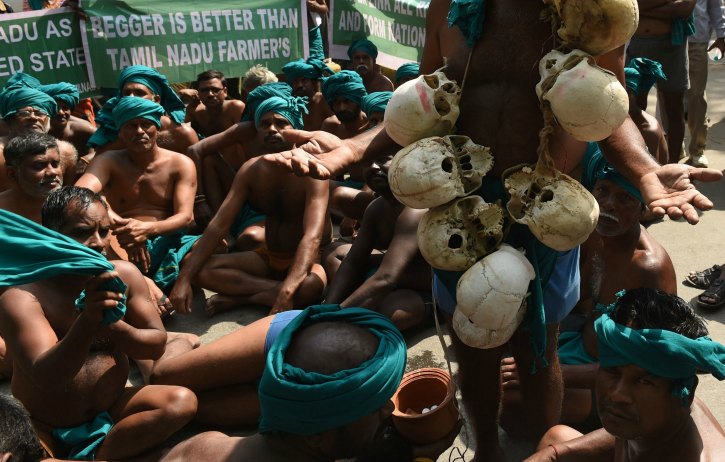 AFP
The January 2017 drought in Tamil Nadu is worse in over 140 years. The National Human Rights Commission had sent a notice to the Tamil Nadu government in January 2017. The notice says – "The National Human Rights Commission has taken suo motu cognizance of media reports regarding the deaths of 106 farmers during a period of one month in Tamil Nadu which it considers as a matter of concern."http://www.indiatimes.com/news/india/in-a-dramatic-move-150-farmers-from-tamil-nadu-protest-at-delhi-s-jantar-mantar-with-skulls-of-fellow-dead-farmers-273804.html