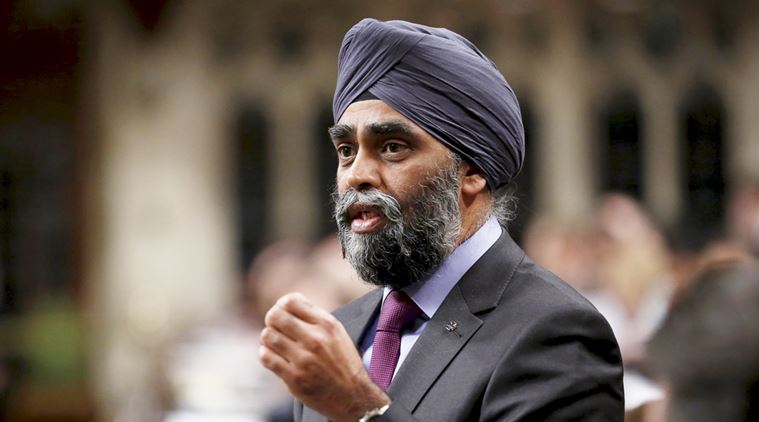 REUTERS/Chris WattieAs a teenager growing up in Canada, when you saw the 1984 riots, what was your reaction?
What happened in India in 1984 was of great concern to Canadians of the Sikh community. When I was a teenager, trying to interpret what was happening… the organised chaos and massacre that occurred that time touched a lot of people, Canadians. That's one of the things that reminds us of how fortunate we were to be living in Canada, and how important human rights are in Canada.
When many senior leaders, who were allegedly involved, were acquitted, how did you react?
As a teenager, it is difficult to follow through the developments. I am very happy to see the current government has spoken of this, shows the progress that has been made.
The Punjab CM alleged that you have pro-Khalistan leanings. How do you respond? Were you hurt?
Personally, as someone who has served the country wearing the uniform, it does… But I have been trained, I have a role to play. I am the Minister for Defence, and Cabinet Minister in the Trudeau government, and my job is to build, foster relations with India. That's what I am here for. I wanted to pay my respects to Amarinder sahab, visit the village where I was born. I was also raised to be courteous, especially here in India… So that's the reason I reached out to the Chief Minister for a meeting, and he chose not to. But I am not going to get sucked into political conversations.
What did you want to discuss with Amarinder Singh?
Unfortunately, in Punjab, we don't have a defence component. But there are a lot of Canadians who have strong roots in Punjab. I wanted to listen and update myself on how things have progressed in Punjab.
Punjab is battling the drug menace. You handled the issue as a cop in Vancouver. Any ideas on how to tackle the menace?
I don't know the details of Punjab, but I have heard about it. Every nation has challenges when it comes to drug use. In Canada, we are looking at a more holistic approach. Not just fighting and arresting criminals but also educating the youth… For Punjab, the CM will have to figure out what works here.
You met Defence Minister Arun Jaitley and discussed Canada's capability in high-altitude warfare.
We want to further those conversations. We have experience on winter survival training, how you look at modernising equipment in those places. And we are looking at ways to increase that relationship… And look at joint exercises.
The Defence Minister raised the issue of Ontario assembly resolution calling 1984 riots a genocide.
Ontario legislature is a provincial assembly, a private member made that resolution… It's not the stand of the federal government. There is an election going on in that province… But we are focused on furthering our relationships, our defence industries… so that we can have those open conversations.
Since last year, there have been reports of PM Trudeau visiting India. When is he likely to visit?
The PM is looking forward to his visit. A date has not been fixed, only because of the PMs' schedules. I look forward to briefing him about my trip, and will be working towards his visit soon.
http://indianexpress.com/article/india/interview-1984-riots-an-organised-chaos-and-massacre-says-canada-defence-minister/