24 Filmmakers Including Kundan Shah, Saeed Mirza Return National Awards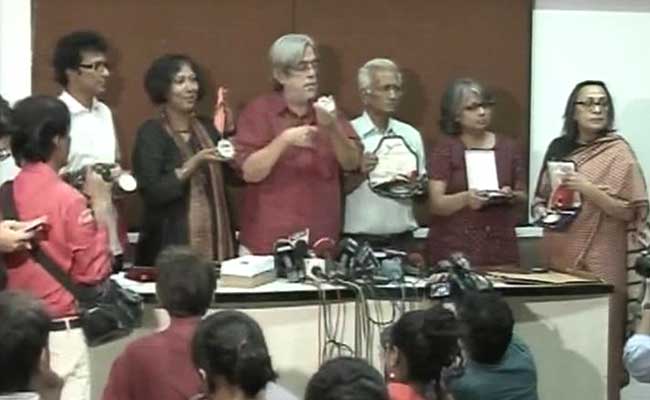 MUMBAI:  Kundan Shah, the maker of the iconic film 'Jaane Bhi Do Yaaron', and Saeed Mirza, were among the 24 filmmakers who returned their National Awards today and added their voice to what has come to be known as the "Award Wapsi" protest against "rising intolerance".
"Not to speak out would be a crime. We are speaking out to reclaim the soul and spirit of this land," Saeed Mirza said.
"We are not against the BJP, we have protested against the Congress too," said Mr Shah.
Writer-activist Arundhati Roy also declared that she was returning the national award she received for a 1989 film. "If we do not have the right to speak freely, we will turn into a society that suffers from intellectual malnutrition, a nation of fools," she wrote in an article in The Indian Express.
Addressing a press conference in Delhi at the same time as the filmmakers in Mumbai,  the government hit back with a "Know the Truth" briefing. "Wrong perceptions being spread to derail government's development agenda," said union minister Venkaiah Naidu.
Over the past few weeks, over 50 writers, artistes and filmmakers have returned top awards alleging a threat to diversity and freedom of speech. The campaign began after the mob killing of a Muslim man in Uttar Pradesh's Dadri over rumours that he had eaten beef. Along with the murders of rationalists in Maharashtra, these incidents were cited as examples of rising intolerance in India.
Another group of writers, academicians and artistes today took a completely different stand however, and came out in support of Narendra Modi government. They dismissed the protests as "much ado" about the declining clout of a "pampered section" which was now targeting PM Modi.
These writers said a section of the nation's intelligentsia was "dismayed" by Narendra Modi's victory in last year's national election and their "failure in the elections is now sought to be avenged by other means."
They said the central government cannot be blamed for incidents like the Dadri lynching.
http://www.ndtv.com/india-news/filmmakers-kundan-shah-saeed-mirza-return-national-awards-1240434