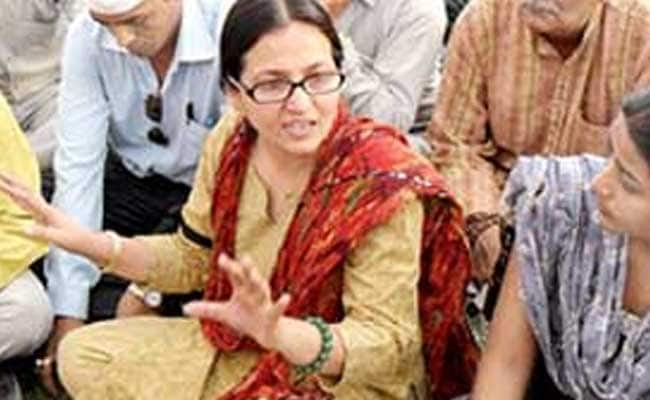 NEW DELHI: 
A special CBI court today pronounced its verdict in the murder case of environmentalist and Right to
Information activist
Shehla Masood who was shot outside her residence in Bhopal in 2011. The main conspirator Zahida Parvez, along with associates Saba Farooqi, Shaquib and Tabish have been given life sentence while the fifth accused, Irfan, was acquitted for cooperating in the investigation.
Judge B K Paloda, presiding over the special CBI court in Indore, pronounced Zahida, the prime accused, and three others — her friend Saba Farooqui, Saqib Ali alias 'Danger' and Tabish — guilty in the high-profile case.
In his order running into 92 pages, the judge said, "The prosecution has proved that Zahida hatched a plan to kill Shehla and for this she took help of her friend Saba."
"For this Saqib was paid supari (contract to kill). He roped in his friends Irfan and Tabish who arranged for revolver, bullets and motorbike," the order stated.
"Tabish with unlicensed firearm shot dead Shehla. The motorbike used in the crime was painted with a different colour to destroy the evidence and parked at a deserted place. Saba and Zahida were involved in the crime," the judge observed. However, the court pardoned Irfan, a Kanpur resident, who later turned approver.
CBI in its chargesheet had alleged that Parvez, an interior designer, was jealous of Ms Masood's closeness to BJP Madhya Pradesh lawmaker Dhruv Narayan and hired contract killers using Shaqib's contacts who killed Ms Masood. The agency also produced Parvez's personal diary in which she had given some details indicating her knowledge about the killing.
On August 12, 2011 Ms Masood was sitting in her car, getting ready to leave for an anti-corruption rally led by activist Anna Hazare when she was shot at point blank range. Ms Masood was associated with Anna Hazare's India Against Corruption movement.
The central agency produced 80 witnesses in the court during the trial that lasted for five years.
A large number of people were present outside the special court where tight security was made. Meanwhile, defence lawyers Sanjay Sharma and Sunil Shrivastava said they are going to challenge the verdict against their clients in the High Court http://www.ndtv.com/india-news/4-sentenced-for-life-in-rti-activist-shehla-masoods-murder-case-1653641