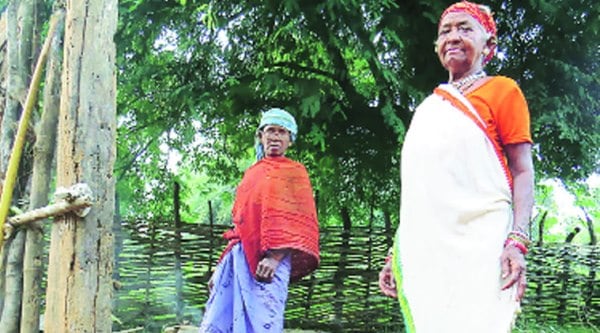 Mother, sister of 'surrendered Naxal' Kartam Mukka, in Samsetti village of Sukma. They are surprised at claim.
Written by 
Ashutosh Bhardwaj
 | Bastar/ Raipur | Posted: December 8, 2014 3:46 am | Updated: December 8, 2014 8:28 am
Chitu Sori of Kodenar village in Kondagaon district is a farmer. On June 26, police declared that the 25-year-old had "surrendered" with several fellow villagers. This was the beginning of an unprecedented run of "surrenders" by Maoists in Chhattisgarh this year. In his records, however, Sori is merely shown to have provided occasional help to Maoists. He returned to his village after the "surrender" and continues living there.
Among the residents of Atulpara village in Sukma who "surrendered" on August 19 were Barse Deva, Madkam Deva and Podiyam Deva. Like many tribals of Bastar, they had long-pending warrants against them, with police often booking villagers in bulk on any suspicion. These warrants were never executed, but this year, the three say, police proposed that if they "surrendered", the warrants would be withdrawn.
A resident of Chingnar village of Narayanpur, Dayaram Nag provided rations occasionally to Maoists. On September 14, he was among those who "surrendered".
Chaitram Salam had worked with the Maoists for some years but for a while now had been living in Narayanpur, when police asked him to "surrender" on August 25 in lieu of some benefits.
Going by the Chhattisgarh Police's records, none of the above cases from Bastar is eligible to be called a "surrendered Maoist". They are not alone.
Between June 1 and November 28, a total of 377 alleged Maoists are reported to have surrendered in the Maoist-dominated Bastar division, 155 in November alone. A scrutiny of police records and meetings with these "surrendered" Maoists show that at least 270 of the 377 are actually ordinary villagers or routine criminals not eligible to be termed "surrendered Maoists".
Not one of the 377 surrendered with a weapon, and no one has got the post-surrender relief or rehabilitation. Over 80 per cent of those who surrendered continue living in their villages, the remaining ones in police camps.
In contrast, in the two and a half years from January 2012 to May 2014, the seven districts of Bastar saw only 29 Maoist surrenders.
A week before the deadliest attack on the CRPF in four years by Naxals, in Chhattisgarh's Sukma district, the Union Home Ministry cited record surrenders in the state as a measure of its successful anti-Maoist policy. On November 26, the state saw the surrender of 63 more such alleged Maoists, the biggest ever in one go.
Bastar IG S R P Kalluri, whose tenure beginning June 10 has seen a surge in surrenders, says he is "not concerned about the eligibility criteria or the surrender policy". It is a "new strategy for winning an ideological war against Maoists", he asserts. By wooing tribals through surrenders, police can break the first line of Maoist defence, Kalluri says.
"Earlier anti-Maoism meant mark area and go for police operations… I have dispatched hundreds of letters in interior villages urging people to join us. People are coming from across rivers. If they want to embrace democracy, should I embrace them or insult them by saying you are not eligible for surrender?" he says.
About why police let them return to their villages though Maoists could target them, Kalluri says: "We give them a choice. Bastar tribal is a free-spirited person, he enjoys forests and rivers and is not interested in your surrender policy."
Significantly, even the Home Department of Chhattisgarh doesn't appear comfortable with these numbers. A letter sent to DGP A N Upadhyaya and all police superintendents on August 20 cautioned that "the police should focus on the surrender of important cadres instead of lower-rung cadres".
Earlier, on January 10, then Chhattisgarh DGP Ramniwas had written to all IGs and SPs asking them to avoid the hype around non-deserving surrenders, saying it "confused our ground police personnel to bear wrong priorities" and "disorients" them from their focus.
While the district police can present anyone as a surrendered Naxal, a committee at the Raipur Police Headquarters headed by the ADG (Special Intel Bureau) is meant to scrutinise every case and to decide the rehabilitation package.
"We can take action against Maoist supporters depending on the nature of support they provided but only a person who was an active member of any banned organisation at the time of surrender should be considered eligible for surrender," says ADG (SIB) R K Vij. "We are scrutinising the cases."
The 377 surrendered persons fall under four broad categories:
a) "Naxali sahayogis" or people who have occasionally helped the rebels, by choice or force, with rations or shelter. So far, the police would detain such villagers and release them after interrogation.
IG Kalluri defends: "Imagine a boy of an interior village who has performed an occasional task of courier or sentry for the Maoists. If this boy wants to surrender, should I say that you are not a cadre or should I appreciate that he is impressed by democracy?"
b) People with warrants, who are pressured to surrender as a quid pro quo for withdrawal of cases. Only courts have the authority to withdraw criminal cases but, says Kalluri, "I tell them I am duty bound to send you before court and put you in jail. If I have to let you free, the only alternative is to show you as a surrendered Maoist. I use my judgment."
Admits ADG Vij, "It is not within the jurisdiction of a police officer to withdraw warrants."
c) Former Maoists, who left the rebel camp long ago and are now leading a family life.
d) Active Maoists or those belonging to banned front outfits. Under the policy, only they are eligible for surrender, and they make up the smallest number among all the four categories.
Argues Kalluri, "By surrenders Maoists develop a sense of belonging with police. Others will follow their example, we will get bigger cadres."
However, contrary to what the IG says, branding ordinary villagers Naxal may neither benefit them nor may be necessary. While it leaves them open to future harassment, there are several schemes for tribal welfare that can also help bring them into the "mainstream".
A surrendered Naxal is entitled to an "immediate grant" of at least Rs 1.5 lakh by the Centre and Rs 1 lakh by the state, "a monthly stipend of Rs 4,000 for maximum 36 months", besides cash award between Rs 1 lakh and Rs 1 crore depending on his or her designation. However, only around 100 persons have received "relief" so far, that too just Rs 2,000-Rs 5,000 as "Protsahan Rashi (encouragement amount)". Less than 10 have got Class IV jobs.
Kalluri agrees this could discourage other Maoists seeking to surrender. "It is up to the government to take ten steps," he says. "Maoists go to Andhra Pradesh after surrender as they are treated there like kings."
None of the 136 Maoists to have surrendered in Chhattisgarh from January 2009 to May 2014 has received any benefits either.
In a statement last week, the spokesperson of the Dandakaranya Special Zonal Committee of Maoists, Gudsa Usendi, accused the Chhattisgarh police of "big fraud" in the name of Naxal surrenders, saying they pocketed the entire reward amount.
– See more at: http://indianexpress.com/article/india/india-others/70-chhattisgarh-naxal-surrenders-are-neither-naxal-nor-surrenders/99/#sthash.C53MNPql.dpuf