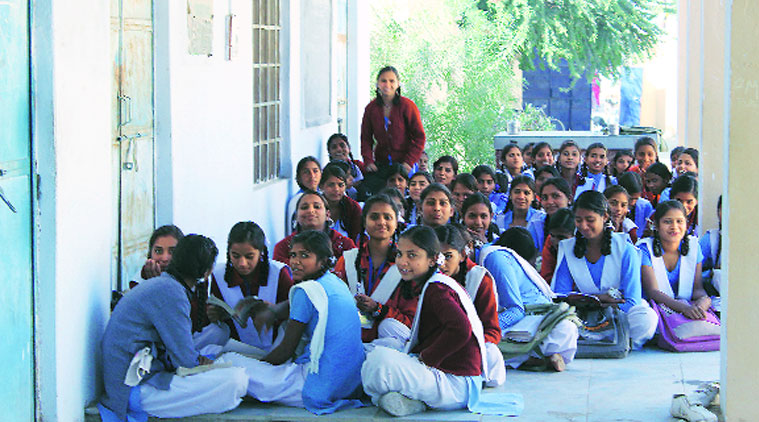 Students wait for a teacher in the school corridor. ( Source: Express photo by Shrenik mutha)
Written by 
Sweta Dutta
 | Bhim | Posted: December 10, 2014 3:40 am | Updated: December 10, 2014 8:54 am
On Gandhi Jayanti, ignoring the Central government's directive to observe Swachh Bharat Mission across government schools, students of Bhim Girls' Higher Secondary School decided to march to the sub-divisional magistrate's office and hold a protest. The girls were seeking to raise a long-pending demand: that their school of 700 students get more than three teachers.
Their massive protest on October 2, followed by another on October 8, made a difference, but only for a while. The school in Rajasthan's Rajsamand district was assigned four more teachers, who were transferred out within a month. The headmistress at the time of the October 2 protest was also suspended for failing to observe the Swachhta Mission as well as for "provoking the students". The end of the school year near, the school is down to four teachers.
As monitor, 17-year-old Suman Kumari once held fort in the absence of teachers in her class. The bright Class XII student can now only think about her vast untouched syllabus with no one around to assist her. Her classmate Mamta Chauhan complains that the chapter on land measurement in Geography eludes her.
"Our half-yearly examinations begin on December 14 and we still have no Mathematics or Geography teacher. Can you imagine trying to study these subjects on your own?" asks Mamta. "We had submitted several written applications to the local administration. So on Gandhi Jayanti we planned a peaceful demonstration. When the SDM chided us for choosing a wrong day, I told him isn't it appropriate that we take to satyagraha on Gandhiji's birthday?"
Currently, the four teachers on the school rolls include a physical trainer, a Grade II-level teacher (eligible to teach up to Class X) assigned for English who also takes other subjects, and two Grade III teachers who take Political Science and Hindi for classes beyond VIII, which they are not entitled to teach.
The school's sanctioned educational staff strength is 29.
While the school introduced the Science stream last year, there is no lab. So the teacher taking the subject and the 55 science students of Classes XI and XII go to the nearby boys' school to attend classes.
"Staff shortage is a reality and we have approached the local administration several times. Hope the issue is resolved soon," says Meena Mehta, the officiating headmistress.
One of the two teachers transferred out in November was a Biology teacher forced to take Mathematics classes until she complained that she had herself studied the subject only till Class X.
On Tuesday morning when The Indian Express visited the school, students of Class XI and XII were trying to finish their Home Science practicals supervised by three teachers while Classes IX and X students gaped outside their classroom windows, certain that no teacher would check on them. In the absence of teachers, class monitors mostly read out lessons in a monotone.
On October 2, the students had locked the school gate before heading for their protest. Garima Rawat, the suspended headmistress, says teachers were not part of the protest. "We tried pacifying the children, but they were adamant. It was beyond our control. In fact we also called in the boys' school principal to speak to the students."
Nazia Bano, another Class XII student, recalls that the "lecture" by the boys' school principal had only underlined how the girl school was treated. "We asked him how many teachers they had, and he said 26. For 1,000 students they have 26 teachers and for 700 students we have just three!"
The SDM had promised to address the issue within a week. When that didn't happen, the students had returned to the SDM office on October 8.
The local administration had then brought in four new teachers, taking the total to seven. But two of them were transferred out and Rawat was suspended.
Nazia, Suman and Mamta like their classmates come from modest families which can't afford private schools. "Though our parents want us to attend school, they cannot afford private schools or hire tuition teachers. My brother, however, goes to a private school, maybe because he is a boy," Nazia says.
Shankar Singh of the Mazdoor Kisan Shakti Sangathan, which has backed the student protests, says, "Instead of suspending a teacher and shifting the blame to her, the local administration should address the demands of students. What are they asking for? Just their right to education."
Defending the suspension of the headmistress, Rajsamand Collector Kailash Chand Verma says, "The protest was held on a day when the state government had issued orders to hold the Swachh Bharat Abhiyan in schools. We found that the head teacher not only did not carry out the orders but also provoked students to hold the protest. Being a government employee, she should not have done this and has been suspended. We got calls from the SDM and also the local MLA complaining about her conduct. It was her responsibility to pacify the students. Complaints of staff shortage keep coming from across the district and we try our best to address the issue."
Verma adds that "a chargesheet is being filed". "If the teacher is really innocent, she will be reinstated."

http://indianexpress.com/article/india/india-others/school-has-700-girls-4-teachers-but-you-cant-protest-in-swachh-bharat/99/