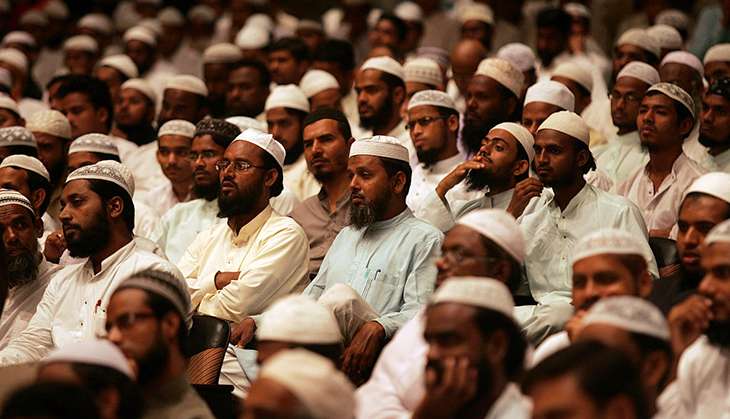 75% Indian Muslims are poor (Photo by Kunal Patil/Hindustan Times via Getty Images/ For representati
In another effort to counter the anti-minority image of the Modi government, Union Minister of State for Minority Affairs, Mukhtar Abbas Naqvi visited Muslim-dominated Mewat in Haryana last week for a "progress panchayat". Recently, Mewat had witnessed a communal flare up.
Naqvi said that minority empowerment is 'Raj Dharma' of his government while he inaugurated a 100-bed girls hostel and laid the foundation stone of a higher secondary school.
Poverty is the biggest challenge for the minorities as 75% of Muslims live below the poverty line and discrimination based on caste, religion and region still exist in India, admitted Naqvi.
When a minister admits to a problem, it is time for some introspection. So here is a reality check:
– Number of Muslim students who appeared for the bi-annual basic literacy assessment test in August 2015.
– Of this, only 36,84,253, or 69% successfully passed the test.
– In Punjab, which is soon going to elections, only 49% could pass the test.
– The literacy rate of Muslims in India.
– The national average is 64.8%.
– Additionally, 1 in 4 Muslim students in the age group 6-14 years either never attended school or dropped out.
– "Muslim parents are not averse to modern or mainstream education and to sending their children to affordable Government schools. They do not necessarily prefer to send children to Madarsas. However, the access to Government schools for Muslim children is limited. Schools beyond primary level are few in Muslim localities. Girl schools are fewer," said the government in Lok Sabha in May 2016.
– Or more, is the share of Muslim male workers who are engaged as street vendors to earn their livelihood.
– The national average is less than 8%.
– "Self-employment (which falls under the unorganised sector of the economy) is the main source of income for the Muslim community," says the government.
– Out of all socio-religious categories, Muslims participate more in production (especially textile, tobacco), sales related activities as against professional, clerical, managerial and technical jobs. This leads to vulnerable job conditions for the community.
– The amount of money the union government spent in modernising madrasas in the past seven years, according to data-journalism website IndiaSpend.
– There are also nearly 24 schemes/initiatives for educational empowerment of Muslims run by the ministry of Minority Affairs.
– However, unspent funds, sometimes due to refusal to take part in initiatives or lack of project proposals, is a major problem in the path of the minority, caste and tribal development.
– For instance, according to Right to Information filed by IndiaSpend, about Rs 2.8 lakh crore of Dalit/tribal development fund remained unspent for the past 35 years.
Clearly, Naqvi has a lot of work to do ahead to change the situation.
Edited by Jhinuk Sen
http://www.catchnews.com/india-news/75-indian-muslims-are-poor-what-appeasement-are-we-talking-about-1475505316.html