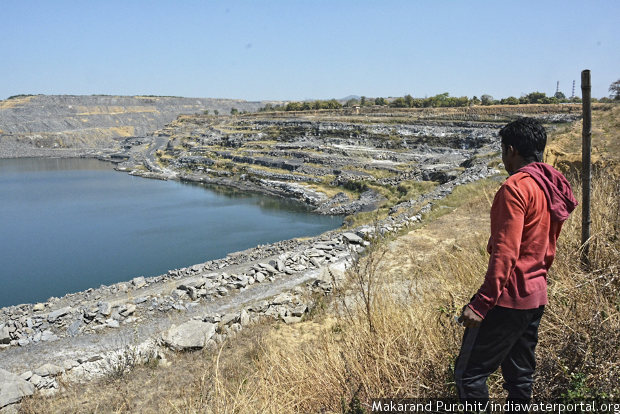 A villager looks at the changing landscape due to coal mines at Kosampalli-Sarasmal panchayat in Raigarh district, Chhattisgarh. Air, water, soil and sediment samples indicated high levels of 12 toxic metals in a study on the health and environmental impact of coal mining on three villages in the district.
In Sarasmal–a village in north Chhattisgarh's Raigarh district, about 260 km from the state capital Raipur–296, or 87%, of the 341 respondents living near coal mines suffered from one or more illness, including loss of hair, conditions affecting muscles, bones and skin, and dry cough, according to a study on the health and environmental impact of coal mining.
The study, published on November 16, 2017, focused on health problems of long-term residents–rather than of workers–living adjacent to, or within 2 km of, coal mines and coal-fired power plants.
Medical and environmental professionals conducted the study in May 2017, in partnership with People First Collective, India, an environmental forum, and the Adivasi Dalit Mazdoor Sangathan, a social organisation. The survey included 515 people in 132 households, across three villages–82 in Sarasmal, 27 in Kosampalli and 23 in Dongamouha. About 205 adults and children–78 from Sarasmal, 39 from Kosampali and 88 from Dongamouha–attended medical check-ups between May 22 and 24, 2017.
Coal-fired plants and coal mines in Raigarh district, Chhattisgarh
Plants/Mines
Operational
Under construction and/or proposed
Capacity
Power Plants
6
7
14,824 MW
Mines
7
10
100.27 mt per annum
Source: Health and Environmental Impact of Coal Mining in Chhattisgarh
Note: *Three of these are waiting for environmental clearance
How mining affected three tribal Chhattisgarh villages
Sarasmal and Kosampalli are predominantly tribal (68% and 85%, respectively), while Dongamouha is mostly inhabited by backward classes.
Source: Health and Environmental Impact of Coal Mining in Chhattisgarh
Before mining began, Kosampalli was accessible by roads on all sides but is now cut off on three sides by surface mining operations. Villagers have to cross the river Kelo by foot to access the main road or travel to a nearby market, the study said.
More than 100 earning members from 240 families of the Kosampalli-Sarasmal panchayat have died from respiratory and other health diseases in the last two decades, India Water Portal reported on March 30, 2017.
On average, one-third of the respondents in all three villages were underweight.
Source: Health and Environmental Impact of Coal Mining in Chhattisgarh
Air, water, soil and sediment samples indicated high levels of 12 toxic metals: Aluminium, arsenic, antimony, boron, cadmium, chromium, lead, manganese, nickel, selenium, vanadium and zinc. Arsenic and cadmium are carcinogens while excess of boron can damage the testes, intestines, liver, kidney and brain. Chromium causes respiratory problems such as asthma and lung cancer, and an excess of selenium leads to neurological conditions including paralysis and even death.
Most health complaints in Sarasmal village were reported by women. They suffered from 58% of all stomach-related ailments, and 91% of kidney-related ones. Of the 228 respondents who suffered from at least one combination of complaints related to hair, skin, eye or joint issues, 16% experienced at least three medical conditions and 36% experienced at least two.
Of the 193 reporting skin, joint or stomach complaints, 19% complained about all three while 23% reported two. Of the 127 who reported a cough, 71% said they had dry cough, which is often a symptom of asthma.
About a third of the 103 complaints of musculoskeletal problems in Sarasmal were from people less than 30 years old.
Source: Health and Environmental Impact of Coal Mining in Chhattisgarh
Despite living close to coal mines, less than 10% of households used coal for cooking. Most depended on firewood or cow dung, a cause of indoor air pollution which can result in premature death from illnesses like pneumonia, stroke and lung cancer, according to the World Health Organization.
Source: Health and Environmental Impact of Coal Mining in Chhattisgarh
How Coal Hurts Health
Process
By-products
Pollutants
Environment
Health
Mining
Dust
Rock
Particulate matter
Heavy metals
Silicon
Deforestation, destruction of mountains; land erosion
Drying of rivers and streams
Impact on agro-diversity, wildlife and natural habitat
Soil contamination
Displacement of populations
Miners: Accidents and fatal injuries; dust inhalation and respiratory illnesses
Population: Respiratory, Cardiovascular, Neurological diseases, Chronic inflammatory conditions, Nutritional deficiencies due to loss of agriculture and forest produce
Transport
Diesel exhaust
Nitrous Oxides (Nox)
Pollution of air along the route of transportation both road and rail.
Population: Respiratory (asthma, COPD), Cardiovascular (cardiac arrhythmias), Neurological (ischemic stroke) diseases
Washing
Slurry containing heavy metals
Arsenic, Mercury
Pollution of river, pond and groundwater
Population: affects the Nervous system, cardiovascular system; causes poor appetite, nausea, vomiting), cancer
Combustion
Harmful gaseous chemical
Sulphur oxides, NOx, Carbon monoxide,
Particulate matter
Toxic metals: Arsenic, Mercury, Cadmium, Nickel, Chromium, Lead
Air pollution
Population: Respiratory (asthma, COPD, dry cough), cardiovascular (coronary heart disease, arterial blockage leading to heart attack), and nervous system disorders (ischemic stroke, loss of intelligence)
Waste
Fly ash
Toxic metals: Arsenic, Aluminium, Boron, Cobalt, Manganese, Cadmium, Lead, Vanadium
Contamination of air, land and water:- agricultural and pasture lands from disposal and landfills- crops and vegetables from deposits from air- surface water and groundwater– river, stream, pond and shallow well from leaching and leaking.
Population: Cancer and nervous system impacts such as cognitive defects, developmental delays and behavioural problems, can affect heart, lung, kidney and reproductive organs.
Affects Animals grazing contaminated grass, and chemicals enter into the food chain.
Affects fish in contaminated ponds and lakes
Source: Health and Environmental Impact of Coal Mining in Chhattisgarh
Mining affected livelihoods, crop yield
Over 70% of surveyed households in all three villages, where farming is the main occupation, complained that crop yield was poor. Of the 82 households in Sarasmal village, 45% no longer depended on agriculture because of low crop yield, the study found.
Source: Health and Environmental Impact of Coal Mining in Chhattisgarh
Coal mines have been a contentious issue in these villages with villagers losing land to the Gare Palma coal mines in mining blocks IV/2&3. The ownership of these blocks is disputed after the Delhi high court upheld the government's 2015 decision to cancel Jindal Steel and Power Ltd's bids for coal blocks in the district of Raigarh, online news portal The Wirereported on September 10, 2017. Dongamouha village is adjacent to Jindal's Dongamouha power plant.
Tribal villagers have also been protesting against opening new mines and shutting down the old ones as they do not want to give up their land, the Wire report said.
To mitigate the effects of mining, the government implemented the Pradhan Mantri Khanij Kshetra Kalyan Yojana (Prime Minister's Development Programme for Mining-Affected Regions) in 2015 for the welfare of areas and people affected by mining-related operations, by creating a corpus for local area development from a levy on all mining operations.
In Raigarh district of Chhattisgarh, the district mining fund had collected Rs 52 crore till February 2017, according to a report from the Centre for Science and Environment, a New Delhi-based advocacy. The district plans to spend this money mainly on energy and watershed development (23.2%), physical infrastructure (14.9%) and skill development (11.2%).
IndiaSpend Solutions Based On People First Collective, India's Report
Conduct a study to identify the nature and extent of pollution in communities around coal mines and coal-fired thermal power plants, and undertake measures to clean up air, water and soil;
Provide specialised treatment to all residents living within 5 km of coal mines and coal-fired power plants;
Award affected families punitive damages when companies are found causing pollution and neglecting norms and standards;
Impose a moratorium on any further expansion of mines or setting up new mines until the health impact of mines and power plants is assessed.
(Vivek is an analyst with IndiaSpend.)
http://www.indiaspend.com/cover-story/9-of-every-10-living-near-raigarhs-coal-mines-report-illnesses-study-42397