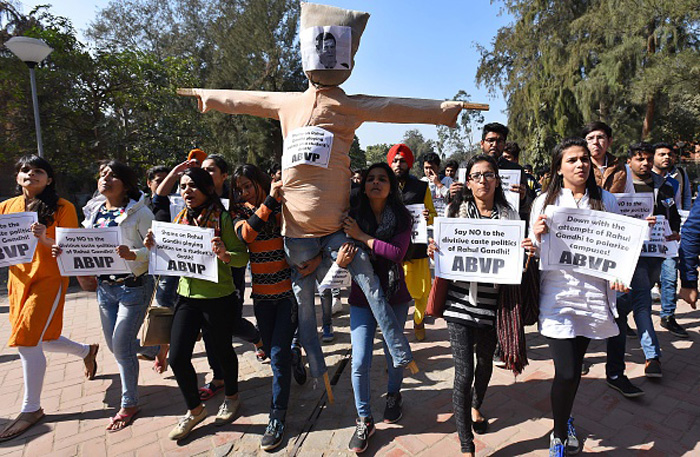 FILE PHOTO
Around 95 teachers of the Lucknow University put in their resignation letters citing the difficulty of working in 'the current atmosphere'. The letters came the day after a students' protest against the suspension of the girls' hostel provost expressed itself in violence against the teachers. The teachers alleged that the protest had been led by members of the right wing students' party ABVP.
"About 95 teachers have offered their resignation over yesterday's treatment with teachers on the campus," said Lucknow University's chief proctor, Nishi Pandey.
However, university vice chancellor SB Nimse said that the issue has been resolved.
According to The Indian Express, the protest was held after some students, who claimed to be from the Samajwadi Yuvjab Chhatra Sabha, complained against girls' hostel provost Sheela Mishra on the basis of a video that purportedly showed her son dancing with girls at the hostel.
The university authorities suspended Mishra, but other students came out in her support on Tuesday, joined by members of the ABVP.
The university authorities called the police, but the students went on a rampage, attacking teachers, damaging their vehicles and setting their houses on fire. This prompted a lathi charge by the police.
The violence continued until Wednesday evening. An FIR has been filed at Hasanganj police station against 118 people, 18 of whom have been named, on charges ranging from rioting to attempt to murder. Mishra, who refuses to leave the campus and claims that the video of her son is two years old, is named in the FIR, as well as her father, Prabhat and Anurag Tiwari, a leader of the ABVP.
The ABVP said that the students had not attacked teachers, nor damaged http://www.catchnews.com/national-news/95-lucknow-university-teachers-threaten-to-resign-after-abvp-led-student-violence-1458179780.html