Raj Thackeray booked for telling party workers 'phod dijiye, pitiye'
All India | Reported by Tejas Mehta, Edited by Amit Chaturvedi | Updated: January 29, 2014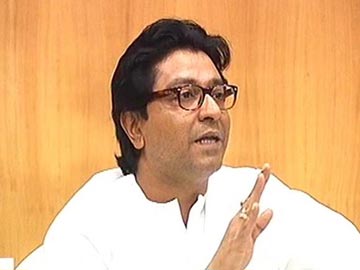 File photo of Raj Thackeray
Mumbai:  Maharashtra Navnirman Sena chief Raj Thackeray has been booked in two cases by the Pune police for ordering his party workers to vandalise toll booths in Maharashtra. Since his provocative instruction on Sunday, MNS workers have continuously targeted toll booths in Mumbai, Pune and other parts of the state. (Read: Over 100 MNS workers arrested for vandalising toll booths)
The 45-year-old Mr Thackeray now has 97 cases registered against him across the country.
He had said on Sunday, "I am ordering my workers to ensure that no toll tax is charged at any booth in Maharashtra. If anyone asks for toll tax, then phod dijiye, pitiye (attack, thrash them), whatever be the consequences."
More than 100 MNS workers have been arrested in the last two days, 15 of them yesterday after they hurled stones at the Bandra-Worli Sea Link toll booth, breaking a glass window.
The Pune police said a case had been registered against 17 people including Mr Thackeray. "Raj Thackeray's speech in Mumbai was discussed on all forms of media, including social media and the police feels that is what led to the protest," said a senior Pune cop.
Akhilesh Chaubey, the head of the MNS' legal cell has argued, "We are not anarchists. We were forced to take the law into our hands for public good. Our agitation will continue till the state becomes toll-free."
Mr Thackeray accuses contractors of overcharging citizens, without repairing potholed roads or providing amenities, and continuing to do so after recovering the cost of construction cost.
Read more here — http://www.ndtv.com/article/india/raj-thackeray-booked-for-telling-party-workers-phod-dijiye-pitiye-476693