There is a creeping quiet spreading across India's otherwise loud and lively journalism. Front pages, websites, and news programs are brimming with stories, but "people are afraid", one editor told me recently in Delhi. "We come under a lot of pressure" says a journalist from Chennai. "I have never experienced anything like this" is how a veteran reporter from Calcutta put it. They are among the journalists I spoke to on a recent trip to India, all of whom describe how a combination of government pressure, harassment by political activists, commercial actors including both some advertisers and some media owners is exercising a chilling effect on Indian journalism.
Not everyone is silenced. In October, the non-profit news site The Wire published "The Golden Touch of Jay Amit Shah", showing how Jay Shah, the son of Amit Shah, the president of the ruling BJP party, had seen a dramatic increase in his business fortunes since Narendra Modi became prime minister. The article used company balance sheets and annual reports filed with the Registrar of Companies (RoC) to show how Shah's Temple Enterprise had seen revenues increase 16,000-fold after Mr Modi and the BJP party his father presides over took power. The response was interesting. On the one hand, Jay Shah, his lawyers insisting he was a private citizen entitled to privacy, filed a criminal defamation case and a civil defamation case seeking a billion rupees ($15.5m) in damages. On the other hand, a number of high profile government ministers and BJP officials defended Shah publicly and attacked the Wire for publishing the story.
In parallel, the Indian Express has reported on allegations that a top official at the Indian Directorate of Revenue Intelligence (DRI) had repeatedly dismissed tax fraud allegations against various parts of the Adani Group, a large Indian multinational conglomerate company headquartered in Mr Modi's home state Gujarat and seen by many as closely aligned with the Prime Minister. (As the business paper the Mint reported, "[Gautam] Adani has travelled with Modi in the past year more than any other billionaire, helping him emerge as the most prominent face of India Inc.") Following up on earlier stories first published by the Economic and Political Weekly in 2016, the Indian Express in Augustreported that the adjudicating authority of the DRI K V S Singh had passed an order striking down all proceedings against the Adani Group firms. In October, the paper reported that Singh struck down another case, alleging that an Adani subsidiary had inflated the declared value of imports to avoid taxes. The sums involved are estimated to be in the region of 15bn rupees ($233m).
What is striking is how little attention these stories have generated in other news media. Imagine if ProPublica reported that Donald Trump Jr. had seen a 16,000-fold increase in his business income after his father took office, or that the Washington Post found that federal officials had repeatedly dismissed allegations of tax evasion by the Trump Organization. Every serious and self-respecting news organization in America would cover the story and follow up to see what else they could find. After the The Wire broke the Jay Amit Shah story, NDTV, the country's leading English-language news channel, began to do exactly that. A follow-up story focused on the loans given to Jay Shah, asked whether this was "cronyism or business as usual". But while a video version is still available, the web version of the story was taken down briefly after, according to NDTVbecause it was being "legally vetted". As of early November, the story has yet to be republished. The case has been widely discussed on social media under hashtags like #AmitShahKiLoot, but news media have covered the coverage more than the substantive allegations. Similarly, the Economic and Political Weekly and Indian Express coverage of the Adani Group has been mentioned by some other major news media, like the Times of India as well as digital-born news sites like Scroll and the Quint, and has been discussed on social media under hashtags including #adani and #stopadani. But the substantive allegations have not received the attention one might expect of what could look like an explosive mix of politics and private business at the highest levels. What we see instead is what the media watchdog site NewsLaundry calls "an eerie silence in the media."
Both the Jay Amit Shah case and the Adani case play out against a backdrop of what many journalists I spoke to in India describe as a climate of fear. People are reluctant to be quoted, so I will not name names here, but in my conversations, journalists and editors point to five different factors.
· First, public attacks on the press by prominent politicians, including for example the BJP minister VK Singh referring to journalists as "presstitutes", another BJP minister Kiren Rijiju telling journalists to "stop this habit of raising doubt, questioning the authorities", and the Rajastan state government trying to limit reporting of public officials and withdrawing government advertising from some papers.
· Second, private pressure by government ministers and elected officials. One journalist I spoke to described how he had overheard editors reluctantly negotiating the wording of headlines of stories about government initiatives with politicians before they were even published—others asked whether the Central Bureau of Investigation's raid on NDTV and on the NDTV founder Prannoy Roy's private home in June 2017 and the 2016 decision to force the station off the air for 24 hours over its coverage of a terror attack in Pathankot were intended as warning shots for the media.
· Third, systematic trolling of journalists by both volunteer militants and paid provocateurs, especially by right-wing Hindutva activists, sometimes allegedly orchestrated by political parties. Much of this is online, but sometimes goes beyond that to involve offline harassment and even officials, as in the case of a journalist in Uttar Pradesh charged with defamation by the police for sharing a satirical video of Mr. Modi in a WhatsApp group.
· Fourth, commercial considerations including instances of either major advertisers or even media owners themselves pressuring journalists to present feel-good stories and avoid controversial and polarizing issues. (While most major newspapers are owned by independent publishing groups, parts of the local and regional press is controlled by politicians, and many television news channels have been bought up by large corporations or are subsidized by local business interests.)
· Fifth, the kinds of defamation suits pursued by Jay Shah against the Wire, as well as by the Essel Group against the Caravan, by Jet Airways founder and chairman Naresh Goyal against the journalist Josy Joseph, and in many other cases. These suits are often eventually dismissed by courts, but create a period of pressure and uncertainty in any case, and drain the resources of the publication or individual targeted.
In combination, these five factors are creating a climate of fear and lead to the creeping quiet across Indian journalism, an eerie silence on crucial matters even as the hustle and bustle of day-to-day reporting carriers on. This is an environment where some journalists and news media are increasingly opting for anticipatory obedience and self-censorship to avoid trouble. None of the five factors are entirely new, but most of them have intensified in recent years. One journalist told me how rank-and-file reporters at one newspaper by now allegedly tries to avoid mentioning Mr Modi in their stories, just to avoid the additional scrutiny that almost inevitably follows. Others noted instances of even major news media pulling stories from their websites, sometimes entire sections, often without any explanation to the newsroom or to readers—like the disappearance of the Hindustan Times' "Hate Tracker". Launched in 2015 as a high-profile initiative by then Editor-in-Chief Bobby Ghosh to "track acts of violence, threats of violence, and incitements to violence based on religion, caste, race, ethnicity, region of origin, gender identity and sexual orientation" across India, just days after Ghosh stepped down in September 2017 (allegedly after top-level government and BJP officials had raised objections against his editorial decisions and briefly after HT Media Chairwoman Shobhana Bhartia had met personally with Prime Minister Narendra Modi). The database and story collection now just return a 404 error "We cannot find the page you are looking for." A sad ending for an important and high-profile editorial initiative by a major news organization.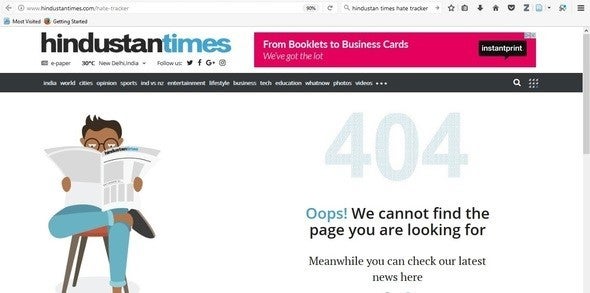 For those who are not silenced, things sometimes take a darker turn. There have been 45 attacks on journalists this year alone and journalists are also murdered in India with alarming frequency. Take just a few examples from the last couple of years. In 2015, Jagendra Singh, died from burn injuries he sustained after a police raid on his home. In 2016, Kaun Mishra was shot dead as he was driving to his home in Ambedkar Nagar. Later that year, Rajdev Ranjan, was shot at close range as he was returning to his office in Bihar. The Committee to Protect Journalists tracks killings of reporters and find that most journalists murdered in India are murdered because of their coverage of politics and/or corruption. International watchdog groups like Reporters without Borders and Freedom House continuously highlights the many and growing threats to media freedom in India, and both Indian (Press Club of India, Editors' Guild of India) and international (IJF) journalists' associations have long campaigned against the impunity with which journalists are intimidated, assaulted, and sometimes killed in India. But the implicit and sometimes explicit threat of violence is increasingly pervasive. When asked whether his journalists were pressured directly, the publisher of a major media group said to me with a straight face "our journalists are only threatened, they do not get beaten up or killed." The "only" in that sentence is an extraordinary illustration of the mounting pressure faced by Indian journalists trying to do their job.
Till recently, the most vulnerable journalists, and most of those killed, have come from local media in rural areas and smaller cities. That does not make the killings any less terrible, but it has meant that journalists from major publications, and those in big cities, like the ones I spoke to from Delhi, Chennai and Calcutta, may have felt safer. That changed with the murder of Gauri Lankesh in Bangalore in September 2017. A well-known critic of right-wing extremism and the political establishment, she was gunned down in front of her home September 5. Her killers have not been identified or brought to justice. As the International Federation of Journalists notes drily on their website, more than 70 journalists have been killed in India since 2005. There has only been one conviction, a few arrests, and in most cases little action has been taken.
Ultimately, free media is not something one simply has. It is fought for, over and over again, against the powerful political and other interests who would rather silence journalists, avoid scrutiny, make inconvenient stories go away, and flood the media with fluff to distract us. It cannot be provided simply on the basis of journalistic courage, whether by individual organizations like the Wire and the Indian Express or individual journalists like Lankesh and others who have been murdered for trying to shine a light on some of the uglier realities of business and politics in India today. It requires an enabling environment, with legal protections and with media companies committed to professional journalism, as well as citizens and journalists fighting together for media freedom. As the historian Timothy Snyder has recently noted, "Do not speak of "our institutions" unless you are making them yours by acting on their behalf. Institutions don't protect themselves. They go down like dominoes unless each is defended from the beginning." Previous generations of Indians have won that battle, against the British colonial regime, and during Indira Gandhi's emergency. A new generation may have to fight it again to break the quiet creeping across Indian journalism today.
Director of Research at the Reuters Institute for the Study of Journalism and Professor of Political Communication at the University of Oxfordhttps://www.huffingtonpost.com/entry/a-creeping-quiet-in-indian-journalism_us_5a046be2e4b0204d0c1714bb