A RealLife Bajrangi Bhaijaan Story Gets Indian Government's Attention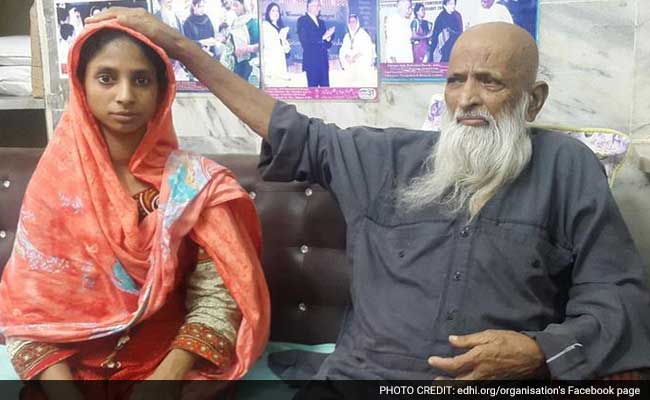 NEW DELHI:  An Indian woman stuck in Pakistan since she accidentally crossed over as a child has drawn attention as a real life example of "Bajrangi Bhaijaan," the film starring Salman Khan that has made waves in both countries.
Foreign Minister Sushma Swaraj tweeted this morning on the hearing and speech-impaired 23-year-old, who was given the name "Geeta" by a Pakistani social worker.
I have asked Indian High Commissioner to Pakistan Dr TCA Raghavan to go to Karachi with Mrs Raghavan and meet this girl. @AnsarBurney

– Sushma Swaraj (@SushmaSwaraj) August 3, 2015
Geeta was nine when she crossed into Pakistani territory. Personnel of the Punjab Rangers took her to a social welfare organisation, the Edhi Foundation, in Lahore. She soon moved to a home in Karachi.
"For years, we have been trying to locate her family or her hometown," the organisation's Faisal Edhi has been quoted as saying.
The organisation has now started a Facebook campaign with the appeal: "Please Help find Geeta's Home. An Indian girl stranded in Pakistan."
Geeta can just recognise the Indian map but she has not been able to give much more to go on. Officials at her shelter believe she tries to say that her father is from Jharkhand and mother from Telangana. She has also conveyed that she has 11 siblings, including four sisters. Geeta is also known to write "193" repeatedly; officials say it could be her house number.
A separate prayer room has been set up at the shelter home with posters of Hindu deities like Ganesha.
Former Pakistan minister and rights activist Ansar Burney, took up Geeta's cause three years ago during a visit to India.
The success of the film 'Bajrangi Bhaijaan', has revived focus on efforts to return Geeta to her home in India. The Salman Khan movie revolves around a speech-impaired girl from Pakistan who finds herself in India with no way to return home. An Indian man then decides to take her to her family in Pakistan.
http://www.ndtv.com/india-news/a-real-life-bajrangi-bhaijaan-story-gets-indian-governments-attention-1203273