Photograph: Martin Keene/PARoyal Mail is being auctioned, and not necessarily to the highest bidder (and stamp prices are going up). The London fire brigade is outsourcing 999 calls to a firm called Capita, at the behest of the oleaginous chair of the capital's fire authority, Brian Coleman. Multinationals are circling hungrily around NHS hospitals. Schools are already beginning to turn a profit. In the technocratic nomenclature of the IMF, this would be called a "structural adjustment programme", but that doesn't really capture the sweeping scale of the transformation. We can see this through a potted history of privatisation in the UK.
• 1979-81: Experimentation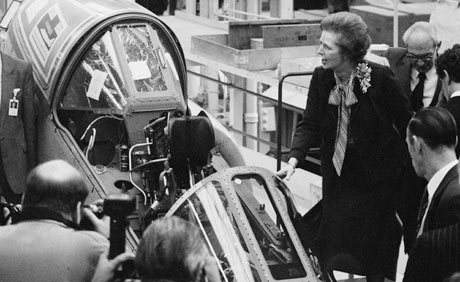 Margaret Thatcher inspects a Sea Harrier aircraft at a British Aerospace factory, 1982. Photograph: John Downing/Getty ImagesThe Tories had long been committed to some policy of de-nationalisation. In response to the prolonged crisis of the 1970s, in which the Tories had struggled to maintain their parliamentary dominance, the Ridley report devised for the Thatcher shadow cabinet recommended a policy of breaking up the public sector and dismembering unions. Privatisation was at first subordinate to other policy themes, above all wage suppression to control inflation. But the first Thatcher administration did successfully introduce a degree of privatisation in some large public sector companies, above all British Aerospace and Cable & Wireless. At this stage, however, the focus was on privatising already profitable entities to raise revenues and thus reduce public-sector borrowing.
• 1982-86: Lift-off
 A still from the 'Tell Sid' ad campaign, which you can view here Photograph: screengrabAmid the early 80s recession, the Tories had begun to propose privatisation as a potential panacea. Conservative MP Geoffrey Howe extolled the "discipline" of the marketplace. The emerging doctrine was that privatisation would make the large utilities more efficient and productive, and thus make British capitalism competitive relative to its continental rivals. In this period, the government sold off Jaguar, British Telecom, the remainder of Cable & Wireless and British Aerospace, Britoil and British Gas. The focus had shifted to privatising core utilities.
This policy did not emerge out of nowhere; it was fully embedded in the Hayekian ideas that had guided Thatcher and her cohort in opposition. But it did develop in relation to specific policy objectives. It was not just a question of stimulating private sector investment, but also of culture war intended to re-engineer the electorate along the lines of the "popular capitalism" vaunted by Thatcher, and announced in the infamous "Tell Sid" campaign.