Tuesday, May 28, 2013, 5:00 IST | Agency: DNA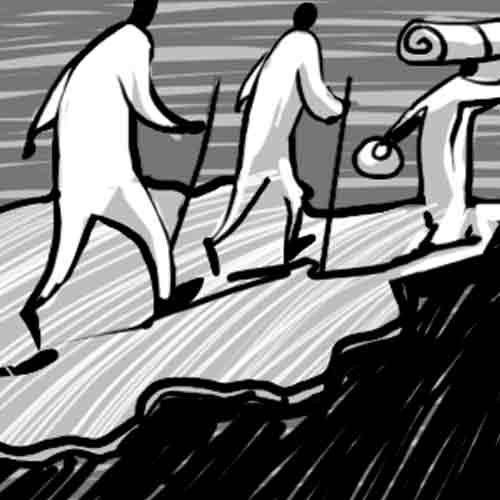 This 15th May, the Nakba was remembered in many parts of the world. It is the Palestinian day of catastrophe. Palestinians fled their lands in the wake of the 1948 war — never to be able to return.
They hold on to keys, real and symbolic, asserting their right to return to their lands, adding flesh to 'the struggle of memory against forgetting'. Palestine has become a codeword for injustice to a people who had to flee their homes unwillingly. Most leading university campuses in the West have some form of Palestine solidarity activism.
The present author was denied a competitive position due to his involvement with such initiatives at one point. Palestine spills over to general activism against militarism and occupation. Activist forces, however marginal and removed from the Middle East, support Palestine. The Nakba was a time when millions were frantically trying to prevent knots from untying — ancient knots out of which selfhoods emerged and thrived. Leaving behind the land of ancestors is something subcontinentals know too well.
Once, I was chatting with a friend who is very passionate about Palestinian rights, their denied statehood and most importantly, their right to return to their ancestral homes in Palestine from their diasporic homes, including many in refugee colonies.  He is a Bengali baidya, born and raised in the CR Park locality of New Delhi. The discussion turned to ancestral origins and he revealed his family was from Dhaka. I asked him, so what about your right to return? He looked perplexed. I said, I am guessing your East Bengali family, like most others, did not flee Dhaka voluntarily.
Like Palestinians, their ancestral abode, even if razed or occupied, is as sacred to them. The Rs 20,000 per square foot property value of CR Park almost hid the earlier name of this 'posh' locality — East Pakistan Displaced Persons (EPDP) Colony. Most 'EPDP' colonies are not 'posh' — especially those inhabited by people from backward castes. Such colonies, authorised and unauthorised, have been the site of state repression, including large-scale massacres, as in Marichjhhapi in 1979. My friend answered 'that is different'. Yes, there are differences from Palestine, but what prevents anyone from seeing the similarities?
Palestinians are not the world's largest or longest displaced people. What determines its pre-eminent position in the 'global' mindscape? Imperialism, that unfashionable word, also determines the pecking order of resistances and solidarity causes, inside our heads. If the child of Bengali refugees cared only about Bengal and nothing about Palestine, that would be termed 'insular' and 'inward' looking. Our sensibilities are skewed indeed.
People who question such fundamental things as the nation-states in the subcontinent do not call for the right to return of Muslims who fled Ambala and Kolkata, or Hindus who fled East Bengal. What do these blind spots reveal? What is so natural about the displacement from Ambala to Multan that it merits no call for justice and the 'right to return'? When did the national constitution become an excuse to suspend humanity, especially with regards to homestead connections that predate all sub-continental constitutions?
It is harder to confront one's immediate surround. We know them — the university rebel who is a docile son at home, the fire-eating caste-hating savarna who predictably marries a savarna, etc. Distant 'cause'-mongering helps preserve the semblance of an ethical pedestalled self, and hides disturbing mismatches between rhetoric and action.
Why not have this and that — a cafeteria choice of causes.  Because not all causes stand a crucial test: does it hit home? Is one directly affected by the consequences of one's actions in the furtherance of a cause? It matters.
The writer is a scientist at the Massachusetts Institute of Technology.