Harish Khare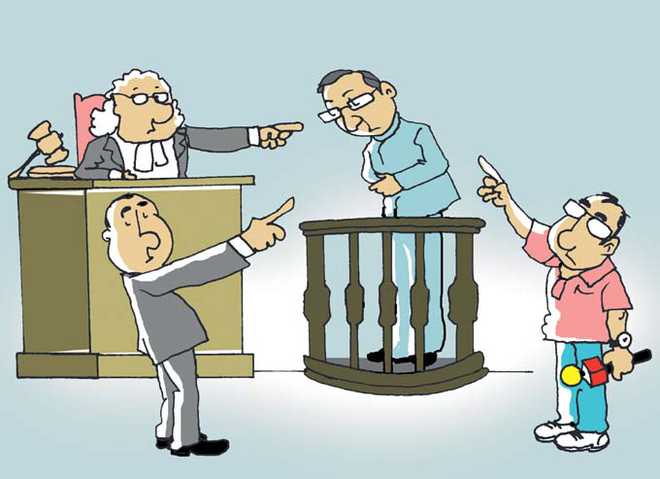 The chilling news item was tucked away in an inside page. And not many newspapers had even bothered to publish the agency copy. But every honest, sincere and dedicated bureaucrat, serving or retired, must have felt a cold shudder down the spine as s/he read the news item: a former Coal Secretary, HC Gupta, who has found himself accused in the so-called coal scam, has told the court that he would rather "face the trial from inside the jail" than apply for bail.
Mr Gupta told the CBI court that he was unable and unwilling to spare his limited financial resources on hiring legal counsel. For good measure, he declined the court's offer of legal aid.
Simply put, this fine bureaucrat, whom everyone unhesitatingly certifies to be "the most honest officer" of his generation, has refused to cooperate with the judiciary-monitored sham that bogus righteousness has inflicted on the nation.
In very measured words, Mr Gupta told the court: "Whatever I did as Chairperson of the Screening Committee or as Secretary Coal was done with a clear conscience…I also believe that the coal block allocation was no scam. The Screening Committee did its job sincerely and in good faith."Yet, he finds himself arrayed as an accused in a number of cases, brought against him by the CBI.
An honest man with the very limited means accruing to an honest official, he is pitted against the organisational resourcefulness of a premier investigating agency, infused with a misplaced missionary zeal and bureaucratic clumsiness. His reputation, character and record stand besmirched: perhaps, a minor collateral victim in a larger battle. But he refuses to give in to the sordid logic of "let the law take its own course" bogusness."For me, one approach could be to remain on bail and deal with the case in a normal manner. However, my conscience tells me not to do so. I am an elderly man suffering from many diseases. It is quite possible that I may not survive the period of trial getting completed. I will not like anyone to think that I escaped punishment because of the time taken in trial."Any person with sensitive nostrils can smell the stench of a Bleak House banality at work in the so-called investigation and trial in the so-called coal scam.
While all the powerful businessmen and politicians have escaped the CBI dragnet, a man like HC Gupta has to go through the ordeal of a trial. By refusing to submit to this dehumanising charade and refusing to feel diminished, Gupta has shamed us all and made us feel small in our vindictive pursuit of partisan agendas.Gupta's ordeal would be worth it only if we are able to understand the conceit and conspiracies that were at work five years ago when the country was grandly summoned to the barricades by that great revolutionary, Anna Hazare. And, feeling noble, empowered and appropriately angry, we had all responded.
The civil society had experienced its finest and its headiest moment. We were intoxicated with hope and optimism that we would flush the corrupt down the drain, once and for all. Nothing of the kind happened, though.Five years later, the high priests of that "movement" are performing puja and aarti in different political temples. The gurus and the babas have become very, very rich entrepreneurs, the activists have become constitutional functionaries. But, the old man, Anna, himself has been made to retreat to his village in Maharashtra, having no voice, no influence, and no constituency.
Five years later, only the most impressionable would want to believe that India has become "corruption-free". It would require considerable gullibility to accept that all the black money that was deemed to be stashed away in Swiss bank accounts has been brought back to Mother India. After all that trauma and tantrum five years ago, we have yet to have a Lokpal. Yet, no one feels agitated, leave alone cheated. Instead, we have the HC Guptas being subjected to rites of malevolent judicial processes.
Make no mistake: the HC Gupta episode is bound to have a deleterious impact on all those men and women who strive to serve the Indian State. As a matter of fact, it was 30 years ago that we injected into our polity and our bureaucratic system a virus named "Bofors". Though we felt virtuous and vindicated about the whole affair, the bottom line is that our defence purchase processes have remained dangerously skewed.
We may have settled a few scores against this or that political leader or party, but we have ended up inflicting debilitating damage on our defence forces. No one wants to take a decision; procrastination has become the first line of defence.To make matters worse, we have developed a culture of accusation. It is now almost institutionalised and we have put in place a plethora of authorised regulators — the CVC, the CAG, the CBI — to ensure transparency and accountability. Yet, we continue to have accusations of this or that scandal in defence purchases, spread across all governments. While nameless middlemen and arms merchants thrive and remain beyond our reach, we happily accuse officers, in or out of uniform, of wrongdoing. The politicians remain unfazed, but we encourage timidity, caution, and indecision among our bureaucrats. There is a price to be paid for all this politics of indignation. If HC Gupta can be subjected to the indignities and humiliation of a criminal trial, which officer would stick his/her neck out?As a nation, we remain hostage to peculiar fancies. Mobs bayed for a powerful Lokpal.
The anti-corruption "movement" five years later should at least cure us of our infatuation for a foolproof vigilance arrangement. PC Parakh, also a former Coal Secretary and self-styled crusader against corruption, found himself subjected to a CBI "raid". Parakh fancies himself as a kind of whistleblower and vigorously defends Vinod Rai's bizarre calculations and conclusions.
In a self-serving book, Crusader or Conspirator? Coalgate and Other Truths, he prattles: "…a team of dozen (CBI) officers landed at my door to search my flat eight years after I retired. I did not understand what they expected to find in my house. Neither did they. While I took it in my stride, my wife was shocked and traumatised at this reward for 36 years of honest, sincere and dedicated service." The policeman could care less for the Parakhs' sensibilities, just as he did not give a fig for HC Gupta's reputation.
The moral of the story: Mob-induced solutions are rarely anchored in wisdom. All societies have an awe and fear of the mob and a fascination for the leader who can work the mob. Mobs produce inherently anti-democratic and authoritarian solutions. As our democracy takes deeper root, we will need to watch against this danger.http://www.tribuneindia.com/news/comment/a-trial-and-a-travesty/282097.html