She fears that the police won't help either.
She fears that the police won't help either.
(TRIGGER WARNING: News18 has access to all the screenshots that have been circulating on social media. However, we decided to not put them on display fearing any emotional and/or physical outbursts that the reader could be intentionally/unintentionally subjected to while reading this article.)
Often gracing the pages of newspapers are the familiar and continually regressive matrimonial advertisements. The pages filled with the same requirements: "Need a fair, tall and young" bride for prospective grooms.
It's 2018 and nothing much has changed.
While the definition of a good Indian bahu is pretty much inspired from any Sooraj Barjatya movie– someone who will clean the house, cook for the husband, and do her household chores with thorough diligence, there has been a new addition to the definition. To be a good wife, she also must be a 'non-feminist'. Because women who seek equal rights must be evil, no?
Recently, a matrimonial advertisement was published in The Hindu. The prospective groom, in his own words, was in urgent requirement of an "attractive and below 26 years of age strictly" bride who should be a "non-smoker, a good cook and non-feminist". But the man, who is 37 years old and earns an eight-figure salary, does not forget to finish before the oh-so-modern "caste, creed, religion, and nationality no bar". If that's not modern enough, he is not interested in taking any dowry either.
The advertisement naturally sparked an outrage on the Internet.
But 21-year-old Anupreet Kaur was not having it. She decided to call out the sexist advertisement on her Instagram story.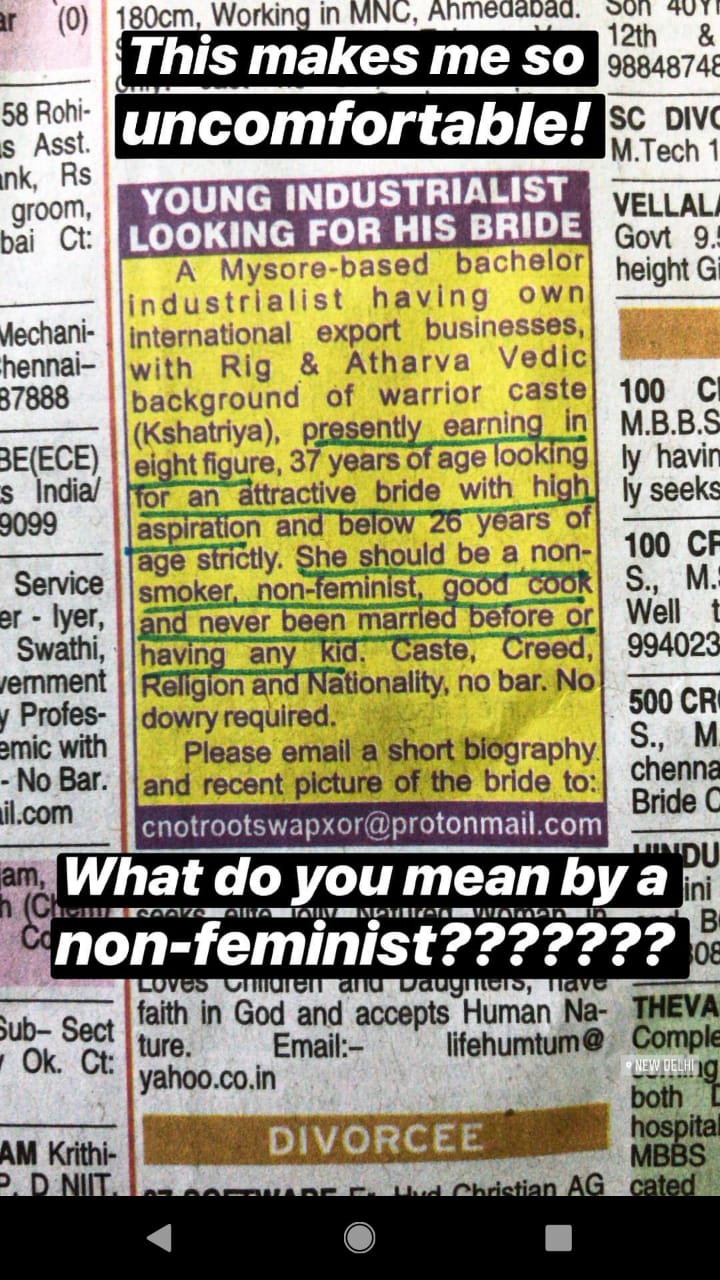 Taking a picture of the advertisement, Anupreet wrote, "This makes me so uncomfortable. What do you mean by non-feminist?"
Reading Anupreet's story was her friend Priyanshu, who was obviously intrigued by the story, "first, ignored it, like everyone does. But then I got very uncomfortable looking at the advertisement" and decided to email the man who had posted the advertisement after Anupreet encouraged her to send an email.
The email, embellished with a heavy dose of derision and mockery, was written in absolute jest by Priyanshu. She only wanted to call out the man for his sexist advertisement. In the email, Priyanshu jokes that she  "identifies as a stigmatic, forced female identity" who is very "nationalist and anti-feminist" and "saves a lot of cows".
She signed off the email with "All the worst to you."
However, the reply she received petrified Priyanshu, Anupreet and literally every individual who has come across the email after it was shared on the girls' Instagram stories.
Calling her a 'pathetic, ranting feminist b***h', the man threatened Priyanshu with rape and violent sexual abuse. With further threats on the lines of mutilating her breasts and sexual organs, the man ended his reply by challenging Priyanshu to send her location and pictures.
The experience has been nothing short of traumatising for both Anupreet and Priyanshu. Talking to News18, Priyanshu said, "Jisko aisa threat milta hai sirf wahi samajh sakta hai, baaki kisi ko samajh nahi aata (Only those who get such vile threats can truly understand how it feels when you're at the receiving end. No one else gets it)."
Priyanshu also said that while people have been mostly supportive, "a lot of people are also writing s**t in my inbox. I have been getting many hate messages from even girls. The insensitivity of people is killing me from the inside." Priyanshu said that the hate messages are playing with her mental health and she has not been able to sleep well for the past two nights.
Priyanshu is contemplating going to the cyber-crime cell but remains unsure. "I have filed 2-3 FIRs previously. But my experience was not very nice. As it turns out, they often treat the victim like you're the culprit. Not actually the culprit. But it's easy to get the drift. Also, I have my exams going on, and I do not want to compromise on my attendance."
Priyanshu and Anupreet then decided to take the help of their friend living in Bengaluru, Ashwin Joseph, to bring the advertisement and the man's violent response to The Hindu's notice.
The Hindu responded to Ashwin's complaint and said that the head office was in touch with the legal team and they would let the girls know of whatever action is taken next.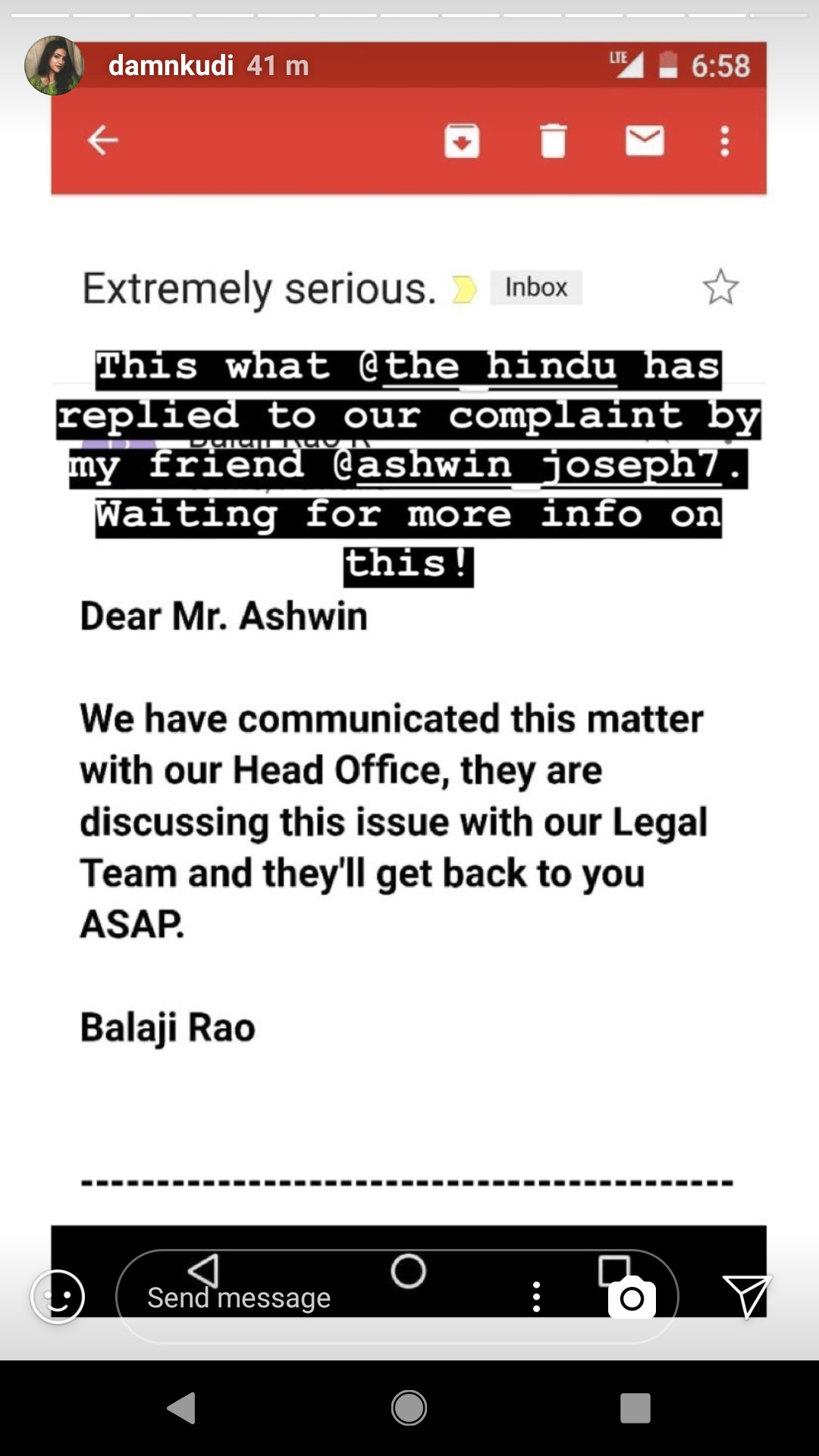 However, by then, several people started to email the man. They started to receive replies that were filled with gut-wrenching details of violence.
In those emails, the man threatens other women to not act 'over-smart' or he would kill them, dismember their body parts and dissolve them in industrial liquid, adding that he could not wait to "dispatch them into the realms of the dead after vigourous sessions of torture".
Priyanshu and Anupreet's told News18 that their own investigation led them to find out that the man was using the ProtonMail email service, the same service used by Cambridge Analytica to cover their tracks after having collected information of over 50 million Facebook users previously. These emails self-destruct after a finite number of hours, days or months. Knowing that the man's tracks are well-covered, Anupreet decided to message the email service as well, discussing the threats issued by the anonymous man.
The Instagram stories, which have been going viral on social media, were also shared by rapper and music-composer, Raftaar, who said that "rape and death threats are not a way to shows your manhood", adding that while it is impossible to eradicate every negative imprint in the society, it is imperative to start spreading positivity to see a slow change but a change nonetheless.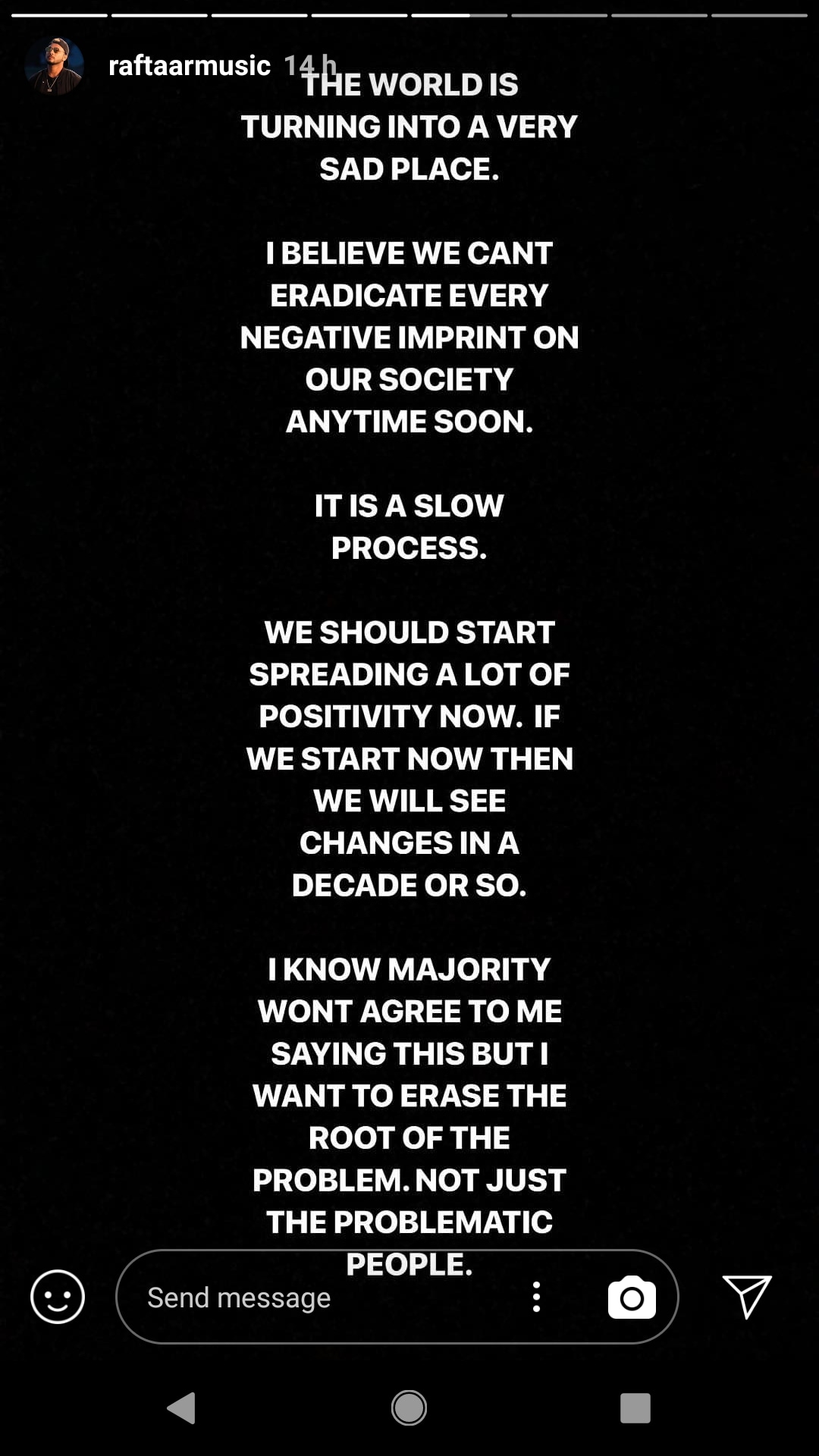 This morning, Priyanshu and Anupreet, who have not received any correspondence from the newspaper till the time of publishing this story, uploaded a photo from The Hindu where a small disclaimer reads that the readers are requested to verify the veracity of an advertisement before making any complaints about the advertisements published in the newspaper, further adding that the newspaper or its publisher do not take any responsibility for the authenticity of the advertisement or the advertiser.
https://www.news18.com/news/buzz/a-woman-got-violent-rape-threats-for-responding-to-non-feminist-matrimonial-ad-in-newspaper-1874105.html