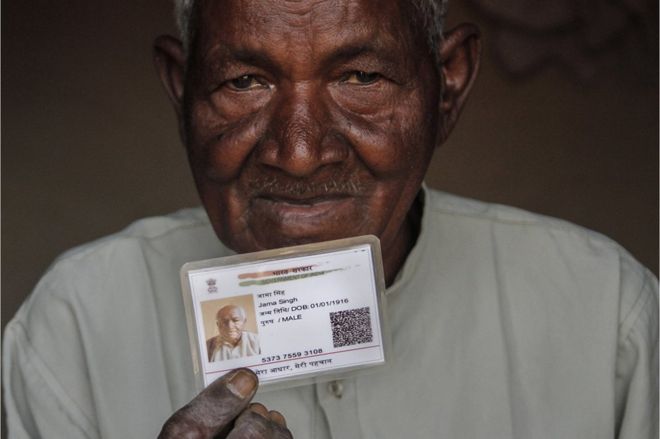 For six to seven days every month, says Muniya Devi, her five-member family doesn't get food to eat.
The frail 31-year-old lives with her children in an arid village in Jharkhand, one of India's poorest states. Her husband, Bushan, works in a brick kiln some 65km (40 miles) away, earning 130 rupees ($1.90; £1.40) a day.
For the last three years, they have been deprived of subsidised food from India's vast public distribution system, a lifeline for the poor. That is not because supplies have dried up at the neighbourhood shop, but because their ration cards have not been linked to their biometric-based 12-digit personal identification numbers.
A BBC investigation found many others in the state with similar complaints.
More than a billion Indians now have the ID number, called Aadhaar, meaning foundation in Hindi. What started as a voluntary programme to tackle benefit fraud has now grown into the world's most ambitious, and controversial, digital identity programme. It has also become increasingly necessary for financial transactions and access to social welfare.
Three months ago Muniya Devi travelled some 35km to the nearest town to submit the forms and papers necessary to get her family's ration cards linked to Aadhaar.
People at the office demanded a bribe to get the job done, so she paid them 400 rupees, nearly four days of family earnings.
"They say the network is down, the computer is not working. And I keep borrowing food to feed my family," she told me.
In Vishnubandh where Muniya Devi lives, the majority of the 282 families are landless. On good days, a meal means rice and a potato and fava beans curry. On bad days, there's nothing. Hunger is a constant companion.
At least Muniya Devi has company in her misery. The food rations of 60 out of 350 beneficiaries in the village have been discontinued after they failed to link their cards to Aadhaar in time.
Most of them tell stories about fruitless trips to government offices and paying bribes. The government made the linkage mandatory some two years ago, a move economist and activist Jean Dreze calls "coercive and anti-poor".
'Starvation death'
Things came to a head in September when reports emerged that an 11-year-old girl had died of starvation in the state's Simdega district, months after her family stopped getting subsidised food because they failed to link their ration cards to Aadhaar.
Santoshi Kumari, a school dropout, had gone without food for four days before she had salt and tea. She died a few hours later. A senior official told me that the allegation that she died of starvation "could not be substantiated".
"There have been half-a-dozen such reported deaths," says Dr Dreze. "We can differ on whether they died of starvation, but the fact is that in all these cases there was no food at home for days because of some Aadhaar-related issue."
That's not all. Last March, Jharkhand cancelled some 760,000 "fake" food-ration cards. Dr Dreze believes most of them were annulled because they were not linked to Aadhaar, resulting in thousands of people being deprived of food.
"Investigations are going on to find out why these cards were cancelled," an official told me.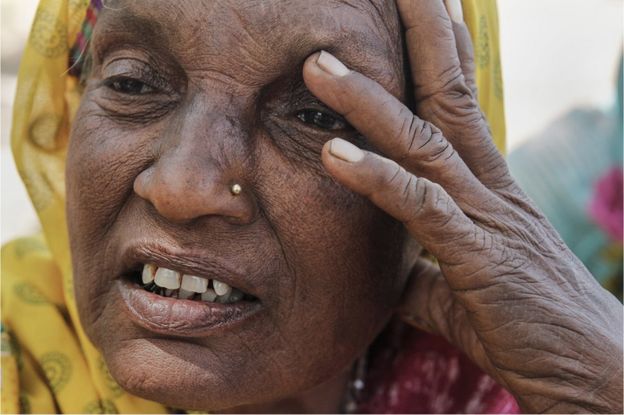 Under the law, ration shops – there are more than 25,000 such shops distributing more than two million tonnes of subsidised food in Jharkhand – cannot deny supplies to those who are eligible just because they don't have Aadhaar or have failed to link it to their ration cards.
But the evidence on the ground is mixed as many intended recipients are still being turned away.
"I admit that in some places there's a problem with our messaging and people are not getting the information that no Aadhaar doesn't mean no food," Jharkhand's top official in charge of food supplies, Amitabh Kaushal, told me.
"We will have to fix that."
But critics say the government is speaking with a forked tongue. Dr Dreze says he has video evidence of a senior official telling villagers recently that "without Aadhaar it was not possible to get a ration card", effectively cutting off access to subsidised food.
Mr Kaushal insists, though, that the number of people not getting access to subsidised food is paltry. "What you are seeing are the rarest of the rare cases," he says.
He says the ration cards of more than 80% of the 26 million beneficiaries of subsidised food in the state have already been linked to Aadhaar. More importantly, he says, 99% of beneficiary households have been linked to the number, meaning that at least one member of the family has access to cheap food.
Dr Dreze says that the high linkage rates are "not surprising after you've cancelled so many ration cards not linked to Aadhaar in the first place".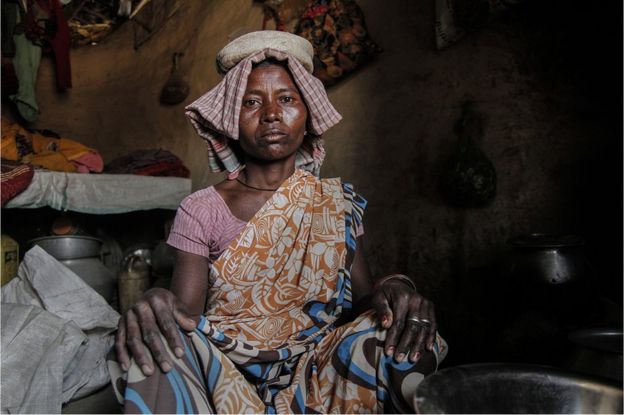 Mr Kaushal also denies the allegation that ration shops are turning away a large number of beneficiaries who are having problems authenticating their thumbprint on hand-held networked machines, which sometimes don't work because of poor internet connections or power cuts.
In January alone, he says, 800,000 of the 4.7 million "food transactions" were "offline" – food given away despite Aadhaar-related glitches.
Many pensioners in Jharkhand are in the same bind. There are some 1.2 million elderly, widowed and disabled people who are eligible for monthly pensions of 600-800 rupees.
Last year, the government made it mandatory to link pensions to Aadhaar and also struck off 300,000 "fake" pensioners from the list of beneficiaries.
A study by independent researchers Risabh Malhotra and Anmol Somanchi found that fakes make up a fraction of deleted pensions.
"In the process," they say, "many genuine pensioners have been excluded." Critics say this has mainly happened because of mistakes made by data operators, resulting in discrepancies in name and age.
Faulty linking
Such errors have led to tragicomic results. Due to absence of birth certificates or mistakes by overworked data operators, residents of entire villages share the New Year Day of different years as their birth date.
Jama Singh, a wizened old farmer living in Sadwadih village, is unable to qualify for a pension because his Aadhaar card lists his age as 102 years.
"When we took him to banks to open an account, they told us that their software doesn't allow them to enter a three-digit age. So now officials are telling us to declare him 80 years old and apply for a new Aadhaar," Pachathi Singh, a neighbour, told me.
"I don't know how old I am, but there are people younger than me here who are getting old age pensions," Jama Singh told me. "Is that fair?"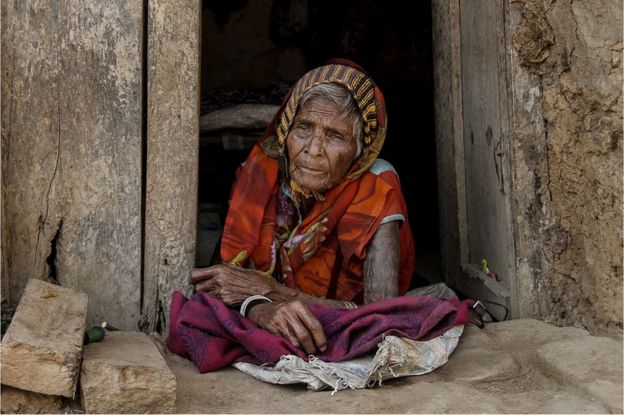 In Khunti, some 100km away from Vishnubandh, some 20,000 pension holders – mostly women – have been deleted from the list of beneficiaries because of "faulty linking" with bank accounts, say activists. Rajkumari Devi's pension, for example, stopped last October because she had not linked her bank account to Aadhaar.
The 84-year-old has spent nearly a month's worth of pension money going to the banks in the nearest town to get the matter fixed. The bank tells her the "money is not coming". Her savings have dwindled to 73 rupees, and her dignity is broken.
When her son tells her that he will continue to take care of her, Rajkumari Devi admonishes him.
"My money is my money," she says. "Why should I live on your benevolence?"
BBC