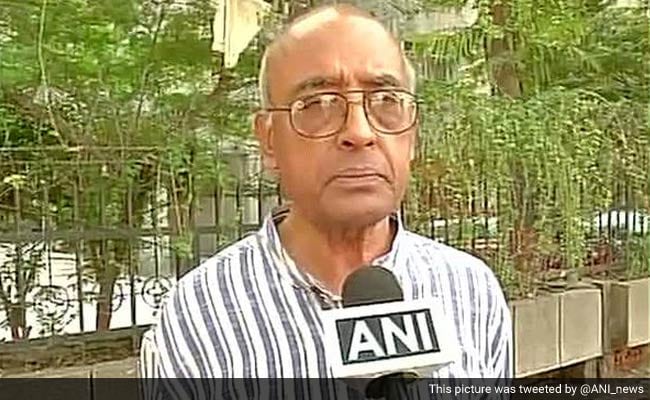 NEW DELHI: 
 AAP National Executive member Rakesh Sinha was today suspended from the party days after he raised questions over the way its internal Lokpal Admiral L Ramdas was sacked and Prashant Bhushan was removed as the chief of its disciplinary committee.
Mr Sinha, a party leader from Uttar Pradesh, had accused the AAP leadership of taking the decisions to remove Admiral Ramdas and Mr Bhushan in a hurry from the two crucial posts and without due consultations of all members of the National Executive.
Sources in the party said that Mr Sinha and another member from UP, Vishal Lathe, had been suspended from the party while an inquiry was pending.
"They were part of the press conference convened by Yogendra Yadav and Bhushan after their ouster from the National Executive on March 28," said a party spokesperson.
In a letter to the party secretary Pankaj Gupta on March 30, Mr Sinha had questioned the sacking of Mr Bhushan and Mr Yadav from the National Executive without referring the case to the party's internal Lokpal as per norms.
"I would like to bring to your notice that I came to know about this meeting through some journalists who called to ask me if I was attending the NE meeting.
"I was surprised and thought that it must be a PAC meeting since I got no intimation and I had received an SMS from your office on March 18 that there will be no meeting before or after the NC meet.
"Your SMS saying that it was an emergency meeting is well taken but it still does not explain why I was not informed," Mr Sinha had said in the letter.
Sources said the decision to suspend Mr Sinha was taken in the National Executive meeting held on Sunday.
Interestingly, Mr Sinha is one of the NE members who had opposed the removal of Mr Yadav and Mr Bhushan from the party's Political Affairs Committee. He had also walked out of the March 28 National Council meeting when the two dissident leaders were ousted from the panel.
AAP leader Christina Samy from Tamil Nadu tendered her resignation yesterday from its National Executive over the removal of Mr Yadav and Mr Bhushan, first from the PAC and then from the National Executive.
After the sacking of Mr Yadav, Mr Bhushan, Ajit Jha and Anand Kumar from the National Executive and following Mr Sinha's suspension and Ms Samy's resignation, the strength of AAP's second-most important decision-making body has been reduced to 16.
http://www.ndtv.com/india-news/aam-aadmi-party-suspends-national-executive-member-rakesh-sinha-751703