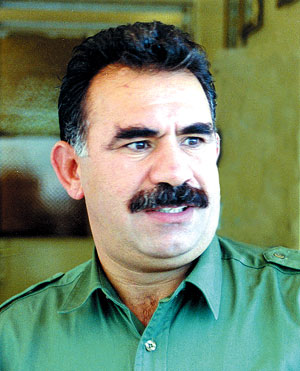 By N. Jayaram
26 April, 2013
Countercurrents.org
It is not important that Time magazine featured Abdullah Ocalan in its latest annual list of "100 most influential people in the world". Such lists are open to question. A list drawn up by a publication based in the United States is bound to reflect a heavy US bias. In fact, it contains names many people in other parts of the world might never have heard of.
What is important is that the 200-word profile of Ocalan in Time is by Gerry Adams, President of Sinn Fein, a party historically linked to the Provisional Irish Republican Army. Adams establishes the relevance of that fact at the outset: "The Irish peace accord known as the Good Friday Agreement is 15 years old this month. For almost all that time, Abdullah Ocalan, a founder of the Kurdistan Workers' Party, has been in prison in Turkey."(1)
The Good Friday Agreement of 10 April 1998 was a historic development that ushered in peace (albeit with inevitable hiccups) after decades of "troubles" in Northern Ireland. It signalled the Provisional IRA's move away from the use of violence for attaining its goal, that of severing Northern Ireland from Britain and incorporating it in a socialist Irish republic.
That agreement came to be held up as a model of sorts for ending other conflicts such as between Basque nationalists and Spain and, of course, between the Kurdish pro-independence groups and Turkey.
Ankara regards the left-leaning Kurdistan Workers' Party as a terrorist outfit, a stand endorsed by Washington and some other allies. (Turkey is a key member of the North Atlantic Treaty Organisation.) Its leader Ocalan was arrested in Nairobi in 1999 and taken to Turkey where he was sentenced to death. But the sentence was commuted to life imprisonment when Turkey applied to join the European Union, all of whose members are abolitionist.
Happily, Ocalan underwent a change of heart during his long years in prison. There have been sporadic peace talks between him and the Turkish authorities. "Persuading enemies that there are alternative ways to resolve long-standing differences takes patience and a willingness to engage in dialogue, but most important, it requires leadership," Adams notes in his brief profile of the Kurdish leader.
"Ocalan has demonstrated that leadership. Despite incarceration, he has forged a road map to peace that commits the Kurdish people to democracy and freedom and tolerance."
In a stirring call for this year's Newroz or Navroz (New Year) issued on 21 March, Ocalan addressed "all the peoples of Middle East and Central Asia" and said the whole region "is currently seeking a contemporary modernity and democratic order that would address its historical context. The search for a new model where everyone could live freely and in fraternity has become one of basic human needs – like bread and water. It is inevitable that Anatolian and Mesopotamian geography and the cultural momentum in there will build this model." (2)
Kurdistan is one of several "unrepresented nations" of the world, its people spread across Turkey, Syria, Iran and Iraq.
Time magazine also picked Indian human rights lawyer Vrinda Grover for inclusion in its list of 100. (3)
"Justice, she believes, must reach everyone — not just privileged Indians on the top rungs but those in insurgency-torn areas, those unjustly tortured, jailed or executed, those who slip through the many cracks in the system," notes writer Nilanjana Roy in her introduction.
Of course, the same list has two more Indians, Finance Minister P. Chidambaram and film actor Aamir Khan, testifying to essentially unimaginative nature of such lists.
But the fact that Ocalan and Grover are on it has an encouraging message for human rights activists, especially those calling for universal abolition of the death penalty: Ocalan is alive today because Turkey scrapped it. And Grover's is a loud voice pointing to the futility and counterproductive nature of the death penalty in dealing with crimes, including gender crimes. Tough punitive provisions will only make it harder to get a conviction.
Ocalan personifies that old saw, "one person's terrorist is another's freedom fighter". He is a hero for tens of millions of Kurdish people and is no terrorist in the eyes of many others sympathetic to the Kurdish cause. But even staying with the Turkish characterisation, the fact that he is alive today, affords both sides an opportunity to engage in peaceful dialogue.
Such logic seems to have escaped Justices G.S. Singhvi and S.J. Mukhopadhaya of the Indian Supreme Court, who recently rejected a plea that delay in considering the mercy petition of Devender Pal Singh Bhullar constituted grounds for commutation. (4) They were throwing away a wealth of jurisprudence within India and worldwide that has held such delays ought automatically to lead to commutation. Thirty years ago, in the case of T.V. Vatheeswaran v. State of Tamil Nadu, Supreme Court Justices O. Chinnappa Reddy and R.B Misra had so held. One can only conclude that the judges who handled the Bhullar appeal were swayed by the pro-hanging trend that seems to have India in its grip.
Turkey is overwhelmingly Muslim (about 98% of the population) and has officially given up the death penalty, not having executed anyone since 1984. Some other Muslim countries too have abolished it – from Albania to Uzbekistan – and some are abolitionist in practice, meaning they have not carried out an execution for at least 10 years – from Algeria to Tajikistan.
Other Muslim countries as well as Hindu dominated India can follow suit. But that would require judges to get their precedents right, open their eyes to the global trends in jurisprudence and apply their minds without being swayed by the blood lust whipped up by Hindutva and other antediluvian forces.
It would also help if India's Home Ministry and the Rashtrapati Bhavan too could shed their current penchant for pandering to mobs baying for blood – mostly Muslim blood.
Notes
1. http://time100.time.com/2013/04/18/time-100/slide/abdullah-ocalan/#ixzz2RNdqaJI5
2. http://www.euronews.com/2013/03/22/web-full-transcript-of-abdullah-ocalans-ceasefire-call-kurdish-pkk/
3. http://time100.time.com/2013/04/18/time-100/slide/vrinda-grover/
4. http://www.thehindu.com/opinion/lead/succumbing-to-the-bogey-of-fear/article4654464.ece
N. Jayaram is a journalist now based in Bangalore after more than 23 years in East Asia (mainly Hong Kong and Beijing) and 11 years in New Delhi. He was with the Press Trust of India news agency for 15 years and Agence France-Presse for 11 years and is currently engaged in editing and translating for NGOs and academic institutions. He writes a blog: http://walkerjay.wordpress.com/
Related articles