More than 30,000 slum residents have been forced to the 'critically polluted' area of Mahul as the city clears land around a water pipeline and plans a bike lane to stop residents moving back
Away from the hustle and bustle of Mumbai, a sense of intense gloom pervades Mahul. The former fishing village to the east of India's great metropolis is now home to 30,000 people who were "rehabilitated" after their slum homes were demolished to make way for infrastructure projects.
They live in 72 seven-storey buildings jammed together in the shadow of oil refineries, power stations and fertiliser plants. The air is pungent with the strong smell of chemicals. Sewage overflows into narrow streets. With the nearest government hospital seven miles away, masked patients stand in obedient lines outside homeopathy clinics, coughing.
Mahul is "critically" polluted, according to India's central pollution control board. A survey by the city's KEM hospital found that 67.1% of the neighbourhood's residents complained of breathlessness more than three times a month, 86.6% complained of eye irritations and 84.5% had experienced feeling a choking sensation.
"There are no schools, hospitals, medical shops or means of livelihood here," says Anita Dhole, a 40-year-old who was relocated to Mahul after her home was demolished when authorities cleared a secure zone around the city's colonial-era Tansa water pipeline 12 months ago. "But there are smoke-belching chimneys – and a crematorium. It's the government's way of telling us that they've sent us here to die."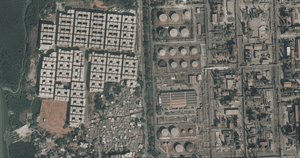 ---
The city's civic authority, the Brihanmumbai Municipal Corporation (BMC), started placing people in Mahul six years ago, after the high court called for 10 metres to be cleared either side of the pipeline for health and security reasons. When the BMC started clearing illegal housing, the displaced residents quickly returned to rebuild.
Last September the authorities came up with a new plan: a $45m, 24-mile cycling and jogging track along the length of the Tansa, which runs in two sections: from Mulund in the north-east to Dharavi in the centre, and Ghatkopar in the east to Sion in the south.
The Green Wheels Along Blue Lines cycle and running track would serve a dual purpose: keep the area clear of illegal shacks by opening the space around the pipeline to the public, and provide an environmentally friendly and healthy route across the chaotic and crowded city. Work is due to start in April and be completed in two years.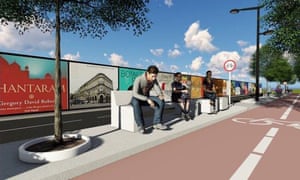 To date 16,000 homes have been cleared along the pipeline, with a further 6,000 slated for demolition. Most of the people displaced are like to be "rehabilitated" to Mahul.
Rishi Agarwal, a Mumbai-based urban planner, believes that the city's development is crushing its poorest citizens. "It's part of the larger gentrification, which is rapidly progressing in Mumbai," he says. "In the past two decades, the government's intention has been to push the most underprivileged citizens to the outskirts in order to create housing near the centre for more affluent residents.
"The displaced have been dumped in rehabilitation centres. These places are devoid of basic amenities like ventilation, waste management and transport links. Mahul, particularly, is absolute hell."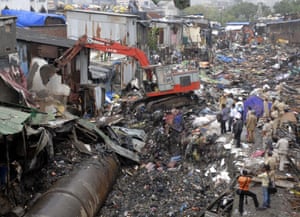 ---
Kusum Gangavne, 37, a software engineer, lost both her parents six months after the family was relocated to Mahul. Her parents were "completely healthy" before they shifted to the neighbourhood, she says, but soon developed breathing issues and severe asthma. They died within months.
Gangavne, too, has developed swollen limbs, breathlessness, a hacking cough and severe weight loss. "I've been selling my mother's jewellery for daily bread but I know this money won't last long," she says. "With my deteriorating health, I won't need it either. Unlike the shanties we lived in, this house has walls, a bathroom and a kitchen – but what's the use if it's also a gas chamber?"
Then there is the poor quality of the water. "At times, the water has a layer of oil on it – several residents have suffered stomach infections," says Subhash Jadhav, a 52-year-old journalist who developed a skin complaint after being moved to Mahul. "I've complained to the BMC on several occasions, but they say they don't have enough manpower."
The lack of a local school means an estimated 130 children are deprived of an education. "Following our complaints, the BMC did set up a makeshift school in the area, but it's of no use," says Bilal Khan, a housing rights activist. "Students aged six to nine are crammed into the same classroom and taught the same lessons. There are no options for students in higher classes."
The closest railway station is five miles away. The only option is the bus, which residents say is infrequent and unaffordable. Khan says the poor transports links have robbed most forced to move here of their livelihoods.
"Rehabilitation should mean that peoples' standard of living is increased ,or at least maintained," he says. "But in Mahul the authorities have dumped thousands of people without any consideration for their most basic needs. They've provided cement walls and nothing else."
---
Could the city authorities do more? MK Magar, who works for the BMC, believes Mahul's problems are being exaggerated. "The rehabilitated residents want homes close to their original [shacks], and so keep coming up with these issues," he says. "Their intention is to find faults."
Following a high court order last year, the BMC says it plans to build a health centre and a school, and ensure a contamination-free water supply.
Urban planner Agarwal is unimpressed. "The government doesn't lack resources to build better alternative accommodation," he says, "it's just short on compassion for the poor."
Sushila Yadav fears any changes that do come would be too late. She lost her 11-year-old son, Aman, three years after they were moved to Mahul. What started as breathlessness swiftly spiralled into a lung disorder. Now her 20-year-old daughter Komal has similar symptoms.
"Before we moved to Mahul, my husband, our four children and I lived in a 50 sq ft shack next to a sewer," she says. "It was difficult, but at least all of us were alive. Given a chance, I'd leave Mahul and take my children back on the street."
https://www.theguardian.com/cities/2018/feb/26/mumbai-poor-mahul-gentrification-polluted