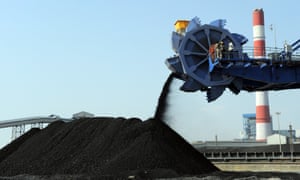 The mining and resources giant Adani is being investigated for alleged involvement in a US$4.4bn pricing scandal around coal sales by Indian power companies.
Adani Enterprises is one of six Adani Group companies named for the first time in connection with an industry-wide scandal in which Indian energy companies are accused of profiteering on coal imported from Indonesia. The company denies being involved over-valuing the coal.
It comes days after Adani Enterprises' Australian subsidiary, Adani Mining, wasgranted mining leases by the Queensland government for the country's largest proposed coal project in the Galilee basin.
The Adani Group companies are among dozens of companies targeted in an 18-month investigation by the Indian Directorate of Revenue Intelligence (DRI), the Economic and Political Weekly revealed.
DRI last week issued a "general alert" to customs offices claiming that power companies were exploiting "higher tariff compensation based on [the] artificially inflated cost of the imported coal" from Indonesia, it reported.
Profits from the alleged scam by companies supplying state-owned power utilities were being "siphoned" overseas, the DRI alert said.
An Adani Group spokesman told Guardian Australia it was "aware of the investigations being conducted by the DRI, and has fully co-operated, and shall continue to co-operate with the investigating agencies".
"Adani Group denies the allegations of over valuation and there is no show cause notice received till date," he said.
The DRI, an agency attached to the Indian finance ministry, made its first arrest as part of the investigation in February, in a case unrelated to the Adani Group.
In court documents following the arrest, the DRI alleged a number of Indian power plants were inflating the prices of their Indonesian coal imports, passing on the costs to customers and hiding the profits overseas, the Economic and Political Weekly reported.
The power companies typically used front companies in Singapore, Hong Kong and Dubai to inflate the prices of coal in official billing documents, the DRI alleged.
Indian energy minister Piyush Goyal told Economic and Political Weekly that the DRI was "investigating cases related to misdeclaration of value (over invoicing) of coal imported from Indonesia and supplied to power plants of NTPC [the former National Thermal Power Corporation, India's biggest power producer]".
The publication named Adani Group companies Adani Enterprises, Adani Power, Adani Power Rajasthan, Adani Power Maharashtra, Adani Wilmar and Vyom Trade Link as targets of the investigation.
The Adani Group spokesman said all its coal imports had "taken place at contemporaneous prices prevailing in the international market which all along [have] been accepted by customs authorities across all ports in India.
"Adani Group is supplying to different utilities including public sector utilities in the power sector through a transparent bidding process," he said.
"The tariff in most cases is also discovered through bidding system and other cases determined by the regulatories in accordance with law."
Adani Mining has indicated about half the coal from its Queensland mine, which will produce up to 60 million tonnes a year, would supply the Indian market, including Adani's own generators.http://www.theguardian.com/business/2016/apr/07/adani-being-investigated-for-alleged-involvement-in-us44bn-coal-pricing-scandal?CMP=share_btn_tw