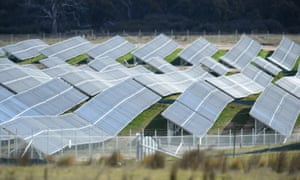 Clean energy projects in Queensland are already on track to create more employment than Australia's largest proposed coalmine, which if funded federally would cost taxpayers 21 times more per job, according to new study.
Federal government agencies are investing $71.4m in seven solar farms and a windfarm in Queensland, which are set to deliver a total of 2,218 jobs, according to analysis by climate advocacy group 350.org.
Adani's proposed Carmichael coal project in central Queensland, which has obtained conditional approval for a $1bn federal infrastructure loan, is predicted to deliver 1,464 jobs.
The level of federal subsidy for Adani would amount to $683,060 a job, compared with $32,191 a worker in Queensland's clean energy sector.
The Queensland government has accused the federal government of misrepresenting key data while talking up coal in an ideological attack on renewable energy.
The Queensland energy minister, Mark Bailey, has told the federal energy and environment minister, Josh Frydenberg, he was using "clearly flawed" modelling to attack the state's renewable energy target of 50% by 2030. It is the country's most ambitious target, alongside South Australia's.
Bailey has rejected Coalition calls for new coal-fired power stations, vowing the state would push ahead with its "clean energy transition" despite the prime minister, Malcolm Turnbull, "doing his best to spike the development of renewables".
The federal minister for Northern Australia, Matt Canavan, a strong backer of the economic benefits of the Adani project for his central Queensland constituency, has previously told Guardian Australia that renewables projects were not major sources of jobs.
Canavan this week called for a new coal-fired power station in North Queensland to help kickstart new industries including mining near Mount Isa in the state's northwest.
Bailey told Guardian Australia the environmental benefits of "so-called 'state-of-the art clean coal-fired technology'" touted by Turnbull in a national press club address a fortnight ago were "very marginal".
The so-called "ultra-supercritical" coal-fired stations cut carbon emissions by only 8.5% compared with the state's "supercritical" station at Tarong, or "a mere 15%" compared to average emissions across the national energy market.
"In contrast, cleaner sources such as combined cycle gas are 56% more effective, while solar and wind are more than 90% more effective in reducing carbon emissions," Bailey said.
"And they don't lock in carbon emissions for the next 30 to 40 years, which is the life of an average power station.
"The Turnbull government needs to commit to using the latest integration technology and market design to manage the transition to genuinely clean energy sources instead of leaning on phrases like 'clean coal' to mask their increasingly anti-renewables stance."
Adani has sought a $1bn loan from the commonwealth's Northern Australia Infrastructure Fund to help build a railway linking its Galilee basin mine site to its coastal port hundreds of kilometres away. Just over half of its thermal coal is slated for export to the Indian power market, the rest for elsewhere in Asia.
A spokesman for 350.org, Campbell Klose, said the figures on federal subsidies to Adani compared to renewable energy projects showed the "minimal return" should the loan go ahead.
"Anyone with a pair of eyes can see that if our government was serious about jobs in regional Queensland, they would be investing in clean energy projects," he said.
"You don't need an economics degree to work this one out. It really makes you wonder who Turnbull and Canavan are getting their advice from."
The Clean Energy Finance Corporation on Monday announced a $20m investment in the Ross River solar farm in Townsville, a 116MW project expected to deliver 150 jobs and enter "full commercial use" in 2018.
The Australian Renewable Energy Agency (Arena) has committed $20m towards the Darling Downs solar farm at Dalby, which is expected to generate 650 jobs but must secure additional funding.
The 170MW Mount Emerald wind farm at Mareeba comes with 150 jobs, and is under construction and expected to enter full commercial use in September 2018. Solar farms at Collinsville and Kidston are expected to generate 367 and 379 jobs respectively.
Arena is investing a total of $51.4m and CEFC $20m in Queensland renewables projects costing just over $1b.
Bailey has written to Frydenberg saying he was "disappointed by the lack of detail" provided to show how the federal environment department estimated the state's renewable scheme would cost $27b.
"It confirms my concerns, however, about your use of this figure which even with limited visibility of your modelling is clearly flawed," Bailey said in the letter.
Bailey told Guardian Australia that while the national energy market was playing "catch up to best practice in energy technology… business does not want to invest in new coal-fired power stations".
He cited the Australian Industry Group's claim that a new coal-fired energy policy would double electricity prices, as well as ANZ's policy of not lending to power stations emitting more than 800 kilograms per megawatt hour, which ruled out "most 'clean coal' generators".
Australia's chief scientist, Alan Finkel, who is reviewing Australia's energy security, last week said taxpayers should not subsidise new coal-fired power.
Canavan told the Australian Financial Review that the Queensland government was trying to protect its ownership of two-thirds of the state's energy generation.
"I think it is a scandal. The Australian Competition and Consumer Commission has already expressed its concerns about the concentration of generators in Queensland. We do need base load power. There is no base load power north of Rockhampton," he said.https://www.theguardian.com/environment/2017/feb/08/carmichael-mine-jobs-need-212-times-the-subsidies-of-renewables-says-study