Human Rights Watch executive director Kenneth Roth, who has headed several human rights investigations and missions around the world, was in Mumbai to address an Observer Research Foundation talk on 'Human Rights in the Changing World Today.'Yogesh Pawar caught him on the sidelines of his talk. Excerpts from an interview:
Some say that by voting for a US-backed resolution urging Sri Lanka to probe rights abuses in the war with the Liberation Tigers of Tamil Eelam (LTTE), India has only ended up pushing the island nation further into China's arms?
Short term geo-strategic gains can't be weighed against the long term right thing to do. We were quite confident India would come on board given the huge domestic sentiment in favour of such a move. In the last stages of the war, the Sri Lankan army indiscriminately shelled the Tigers trapped on a beach. Along with them, 40,000 civilians were also killed. These are substantial war crimes. Surely India wouldn't have wanted to align itself with this brutality.
India has also been in a bind with other neighbours like Myanmar (Burma) as it has been unsure how much geo-strategic depth it can sacrifice for human rights concerns.
And to what avail? Today Chinese FDI in Myanmar is over 40% and India's is a mere 2%. India realised the importance of engaging with the army since rebel groups in the North East were using Myanmar as a base. Having said that, creating pressure for a functional democracy, however, continues to remain important.
I would say current accelerated changes are being driven by the junta's fears of an Arab Spring contagion. Mere gestures like releasing Aung San Suu Kyi will not help. The army just wants to change its clothes for civilian ones, leverage how Suu Kyi has reached the parliament and then demand for international sanctions to be dropped. India has a big role to play in the days to come if we want the change to be more than cosmetic.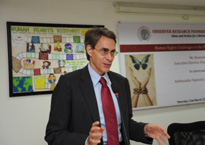 How is that?
Already the junta has been unhappy about being under so much Chinese influence that Myanmar had almost become a Chinese province. The cancellation of the $3.6 billion China-funded Myitsonedam contract in September last year was the first sign of this change. India can use this opportunity to work with its neighbour and prevail upon it to accelerate the democratic process.
But many feel India's own track record on human rights is not very good…
It is true that there are huge concerns in Kashmir, the North East, Central India and Gujarat. We continue to work closely with the Indian government on all these issues. This should not, however, take away from India's role in the global human rights movement. We have seen India taking strong human rights positions in South Africa, in Myanmar, and now Sri Lanka and Syria, as well as for Tibetans. As a growing power it has emerged as a significant voice on the global stage.
You mention Kashmir and the North East. There has been a lot of criticism of the role of the armed forces in both these regions.
At Human Rights Watch we believe in working with both the government and those on the other side. There are human rights excesses from both sides which evoke concern. Having said that, there can be no two ways about the fact that the Armed Forces (Special Powers) Act (AFSPA) has to go. We continue in our efforts to persuade India and hope it sees our point.
What about the situation in Pakistan?
There is a lot to be concerned about in Pakistan which seems to be going through a state of flux. The honour killings and the blatant misuse of the anti-blasphemy laws against minorities is of grave concern and we want the government there to urgently address this.
There is a feeling in the sub-continent that the West has double standards on human rights. It raises this bogey as and when it suits its own interests.
It is a charge that is hurled at us often. Particularly by dictators who want to deflect attention from their own wanton disregard for human rights. It is very convenient to turn this into a North-South 'us and them' debate.
We have been, for example, very vocal in our opposition to the US' policy of extraordinary rendition. We have got the European Union to back us on this opposition to picking up foreign nationals suspected of involvement in terrorism to detention and interrogation in countries where federal and international legal safeguards do not apply.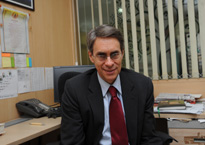 But the West seems to have no problems doing business with China despite its human rights track record…
This is exactly why so many dictators cite China's model of development. Despite its magnificent rise as an economic superpower, there are huge problems with the way China has grown. There is a dark underside to the Chinese miracle. History has proven again and again that such model cannot be sustainable. In comparison, India represents a more accountable way of governance.As a vibrant democracy, India has demonstrably shown that its concern for human rights is not a western import.
What is HRW's assessment of the current situation in Syria?
It is disastrous. Syrian forces are using military means against an opposition that is itself increasingly armed. A lot of the violence from the Syrian security forces is still directed at peaceful demonstrators. And much of the deaths are of peaceful protesters who want democracy.
Russia and China block most efforts by the international community, from the prosecution of the Assad regime by the ICC to a condemnation by the UN Security Council to the peacekeeping plan proposed by the Arab League. In light of the ongoing violence in Syria what would you say to Moscow and Beijing?
I find that those vetoes, which were really led by Russia and China followed up represent a callous indifference to the lives of Syrians. It is like playing global politics at their expense. Clearly Russia is concerned that the Assad regime is its last remaining friend in the Middle East and North Africa apart from being a major purchaser of Russian arms. Russia seems to look at the fight for democracy in the region through the lens of the Cold War. We hope Russia is widely condemned for this. This is not the way a permanent member of the UN Security Council should act.
Related articles