Roman Akhtar , a youth from Saharanpur who was allegedly involved in inter-state cattle smuggling was lynched by irate villagers at Sarahan in Himachal Pradesh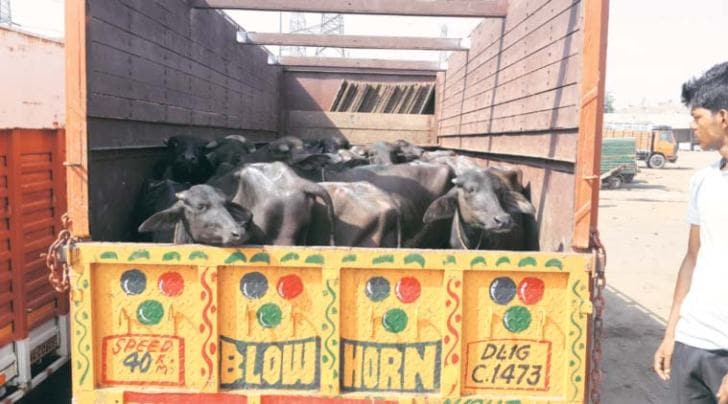 A youth from Saharanpur, UP was lynched by irate villagers in Himachal for smuggling cattle (Representative photo)A 20-year-old from Saharanpur was allegedly killed in Sarahan by villagers who believed he was involved in smuggling of cattle, police said. Four others, alleged to be part of the same smuggling gang, were beaten up.
Sarahan is located 37 km from Nahan, the headquarters of Himachal Pradesh's Sirmaur district. The incident comes weeks after a man was lynched in Dadri over rumours that he and his family stored and consumed beef.
According to police, the incident took place Wednesday night, when villagers noticed a "rashly driven" truck with cattle heading towards Nahan-Paonta Sahib, bordering Dehradun. Suspecting that the cattle were being taken to Uttar Pradesh for slaughter, a few people chased the truck and alerted the local police station, police said.
But before police could intercept the vehicle on Sarahan-Nahan road, the truck crashed as the driver failed to negotiate a sharp turn. Police said villagers then secured the cattle, caught four people travelling in the truck and beat them up.
Police said the victim, Noman, was travelling in a different vehicle that was allegedly escorting the truck. According to police, villagers also caught Noman and beat him.
The five men eventually escaped by rolling down a mountainside, but villagers caught four of them again and handed them over to the police. Police found a critically-injured Noman by the mountainside the next day. He was taken to a local hospital, where he succumbed to his injuries Thursday.
Police said a case under Section 302 of the IPC has been registered against unknown persons. No arrests have been made. "We  got the post-mortem done at Indira Gandhi Medical College, Shimla. The body has been handed over to his relatives, who came here from Saharanpur, UP," said superintendent of police Somuya Sambasivan.
The four men allegedly accompanying Noman have been taken into custody and booked under Section 11 of the Prevention of Cruelty to Animals Act, Section 8 of the Himachal Pradesh Cow Slaughter Act and Section 429 of the IPC . "We showed them photographs of the villagers for identification, but none of the attackers have been identified yet. Probe can only progress if they identify the attackers," the SP said.
Sambasivan said that prima facie, it appeared that Noman was allegedly involved in smuggling of cattle to Uttar Pradesh. She also claimed Noman had cases lodged against him in UP.
His family, however, disputed the claim, and said he was hired by some people on the pretext of transporting some machinery in a truck. "He was innocent and perhaps not aware of the cattle smuggling," said his father, Sayeed Akhtar, who  alleged Bajrang Dal activists could have been involved in the attack.
See more at: http://indianexpress.com/article/india/india-news-india/saharanpur-youth-allegedly-involved-in-cattle-smuggling-lynched-in-himachal/#sthash.eTwUv3eo.dpuf