Edited by Amit Chaturvedi | Updated: February 24, 2013 , NDTV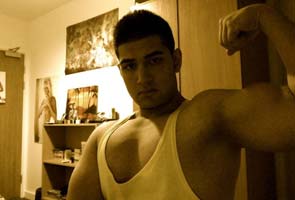 Photo credit: from the Facebook page of Sarmad Alladin
London: 
The death of 18-year-old student from Hyderabad has shocked many in the
UK
. Reports say that Sarmad Alladin died after apparently taking 'lethal' bodybuilding pills to help him lose weight.
Known as 'Mr Muscles', Alladin was living in university accommodation in Epsom, Surrey, while attending the specialist art and design university in nearby Farnham University. He was taken to hospital hours after taking tablets which contained the drug Dinitrophenol (DNP), which has been linked to several deaths.
His parents arrived in the UK on Friday to take the body home. As they and his friends deal with the tragedy, a very personal loss, tributes have been pouring in on the social networking site Facebook.
Fitness fanatic Alladin was taken to hospital just hours after praising the fat-burning DNP tablets on Facebook. He had also posted snaps of his new muscles online.
"Police are investigating the circumstances surrounding the incident. At this stage the death is being treated as unexplained," a statement from the police said.
A friend of the family told NDTV that the parents were still very shocked and shaken. They are now awaiting the post-mortem report.
For Manjit Thandi, a school teacher who taught the boy a few years ago this was devastating news. Ms Thandi taught Sarmad when he first arrived in the UK and has fond memories of the time he was in her class.
"He had a lovely sense of humour. And it would be just innocent things that would make him laugh and keep the others amused. And what I always find touching is that whenever we find students coming from India – how polite they are. it's always while answering a question, "yes ma'am" – and I would always point out to the rest of the students that those days have gone in this country and a teacher's position is not what it used to be."
She also remembers the time when he wanted to share sweets from India with her and the entire class.
The "devastated" university he attended warned all its students. "If you have bought or obtained Dinitrophenol (DNP) or Dymetadrinetablets online or anywhere else, please stop using them immediately. The drugs are potentially lethal."
University Vice-Chancellor Dr Simon Ofield-Kerr said, "As a university we are devastated by the untimely and tragic passing of one of our students, Sarmad Alladin. Our sympathies are with his family and friends at this difficult time."
While the university has called DNP potentially lethal, the drug is sold mostly over the Internet under a number of different names but contains 2, 4-Dinitrophenol. Online pharmacies promise to deliver these pills for less than 25 pounds. And with the click of a mouse these drugs can reach you within days. Some websites do list the dangers of DNP but still sell the pill.
Officers are now waiting for a report from the Coroner's Office.