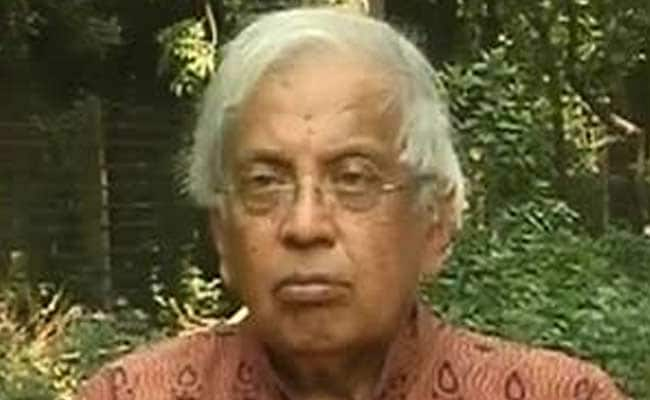 NEW DELHI: 
 After writer
Nayantara Sahgal
returned her Sahitya Akademi award protesting against what she called a "vicious assault" on
India's
diversity and debate, poet Ashok Vajpeyi has also given up the prestigious literary honour.
"It is high time that writers take a stand," Mr Vajpeyi, a former chairperson of the Lalit Kala Akademi, said.
Nayantara Sahgal, the 88-year-old niece of India's first prime minister Jawaharlal Nehru, recorded her protest against the government in a scathing statement titled "Unmaking of India". In it, she refers to the recent mob killing of a Muslim man over rumours that he had eaten beef, and also the killings of rationalists MM Kalburgi, Narendra Dabholkar and Govind Pansare.
Earlier, Hindi writer Uday Prakash had returned the award.
Ashok Vajpeyi said it was rare for a senior English writer like Nayantara Sahgal to take such a strong stand, and it needed support from the writing community.
"The Prime Minister (Narendra Modi) keeps quiet. He is an eloquent Prime Minister who addresses lakhs of people, but here writers are being murdered, innocent people are being killed, his ministers are making objectionable statements…Why doesn't he shut them up?" he told NDTV.
"Why doesn't he tell the nation and the writing and creating community that the pluralism of this community will be defended at every cost? Although the government makes announcements that this would not be tolerated, that would not be tolerated …but tolerance is there. How is it that all this has erupted now?"
Mr Vajpeyi also expressed disappointed at the silence of Sahitya Akademi, the national academy of letters comprising writers, and said it "failed to rise to the occasion and respect its autonomy."
Nayantara Sahgal had also questioned PM Modi's silence.
"He has uttered no word of condemnation at all at these incidents. The whole country wishes the Prime Minister to make a statement because the situation is getting more and more serious," Ms Sahgal said.
"Under Modi we are going backwards, regressing, narrowing down to Hindutva…there is rising intolerance and lots of Indians are living in fear," she commented.
http://www.ndtv.com/india-news/after-nayantara-sahgal-poet-ashok-vajpeyi-returns-award-takes-on-pm-1229198