'Around 100 men ran towards me and pelted stones and bricks… I fell, they set my bike on fire'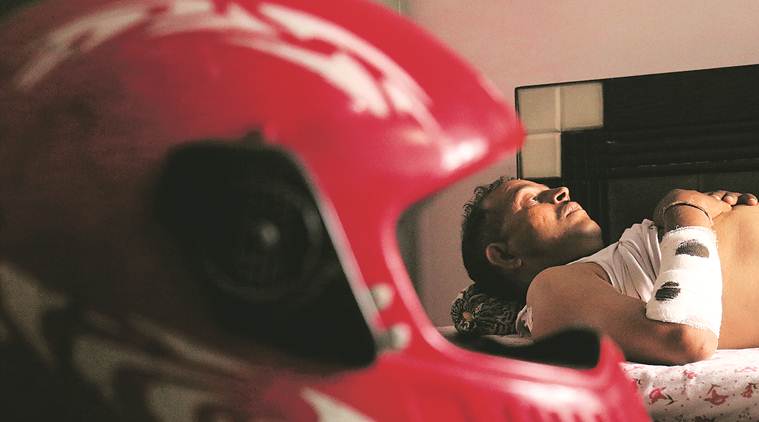 'If I hadn't been wearing my two-wheeler helmet, I would have been dead,' says sub-inspector Santosh Singh as he recovers from injuries in Agra. Express Photo by Praveen KhannaIn his 26 years with Uttar Pradesh Police, Santosh Singh had never seen an officer being singled out and assaulted by a mob. Until April 22, when he was targeted with bricks and stones for over five minutes, 50 m from the Sadar Bazar police station in Agra.
"It was the most inhuman form of violence. I am just lucky to be alive. I keep thinking about it and can't sleep at night," says the sub-inspector, lying on a bed at a relative's house in New Suraksha Vihar Monday.
"If I hadn't been wearing my two-wheeler helmet, which I had bought a few days ago, I would have been dead. The glass of the helmet broke and I sustained injuries on my lips, but my skull was saved," says Singh, pointing to the red helmet next to him.
Last Saturday night, Singh was called to Sadar Bazar station after a mob had gathered to demand the release of five persons accused of slapping a DySP at the Fatehpur Sikri station, 50 km away, that morning.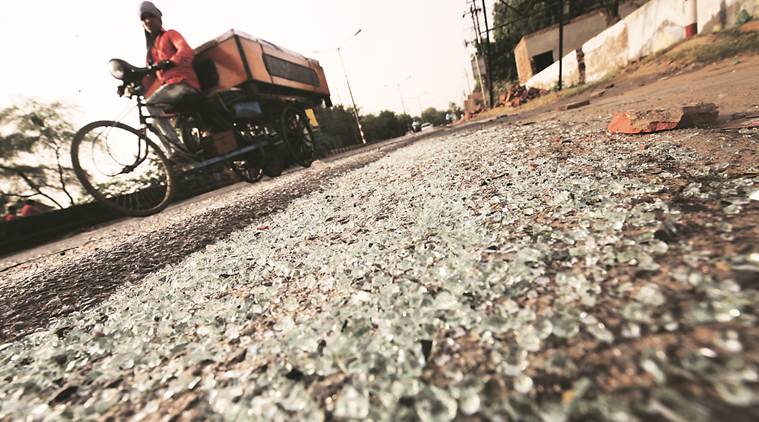 Outside Sadar Bazar police station, the morning after the attack. Express Photo by Praveen KhannaAccording to police, two of the accused were allegedly part of a group of Bajrang Dal activists who had assaulted two Muslim youths on April 20. Their arrest had sparked attacks by predominantly Jat mobs on two police stations. The FIR states that BJP MLA Udaybhan Singh had also visited these stations demanding the release of the accused.
On Saturday, the accused were moved to the station where Santosh Singh was on duty. Says Singh, "Around 10.30 pm, I was about to reach the Sadar Bazar station when around 100 men ran towards me. They said 'Daroga ko pakdo'. I did not understand what had happened and they started pelting stones and bricks at me. I felt the impact all over my body and on my helmet. I fell on the ground and they set my bike on fire."
According to Singh, it was only when he got up and started running that his colleagues realised what was happening.
"They rushed to my rescue. There were at least 100 bikes, cars and tempo vans outside the police station," says Singh. "I can't breathe properly because of the injuries. There still is pain in my ribs and I have difficulty moving."
Singh's medical report at the Agra district hospital states that he has abrasions at 11 places and lacerations on the right upper lip. The X-ray reports of his shoulder and arm are yet to be released.
According to police, nine people have been arrested for the attack on the officer. But Singh's family is dismayed at what they say is government apathy.
"For the last two days, we were running around to get his medical check-up done. There has been no help from the government," says Singh's son, Abhishek, a third-year B Com student. "Since the new government has come, a new kind of mob has emerged, which doesn't fear anyone," Abhishek says.http://indianexpress.com/article/india/agra-police-stations-attack-just-lucky-to-be-alive-cant-sleep-at-night-up-cop-attacked-by-mob-4627008/