The panchayat got separate well for the Dalits and it was cleaned twice in five years. "Mischievous elements make it dirty every time," says sarpanch's son.
Written by Gopal Kateshiya | Babarkot |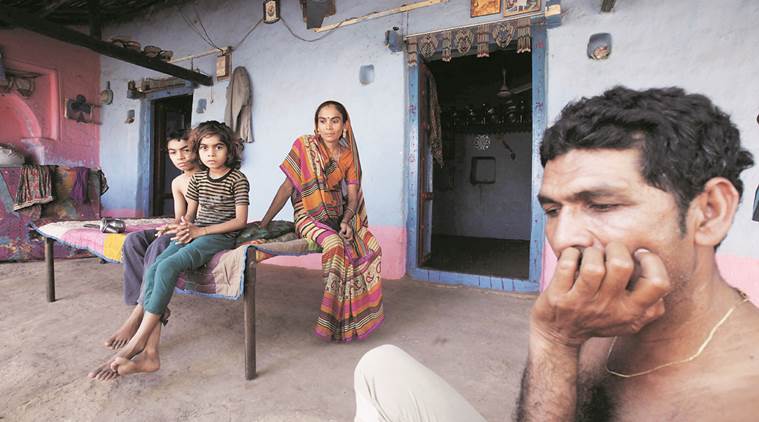 Hamir Vala and his wife Diwaliben with their children.THE EVENING SUN is still flaring as three women approach Khodali Vav, a well near the temple of goddess Khodiyar in this coastal village of Jafrabad taluka in Amreli district, to fetch drinking water. They remove their slippers before approaching the well's platform to draw water.
"There is a tubewell at my home. But its water is salty. This is the only well in the entire village which provides drinkable water. So, I have no option but to make three trips here to fetch three beda (a pair of pots having cumulative capacity of 15 litre) of water every day," says Manisha Shiyal (20), who is accompanied by little Bhavu Solanki, her neighbour's daughter.
Tina Sankhat is in a hurry. She works as a help at a couple of households and she has to fetch water for them, besides her own family. "I have to do at least five trips a day. Water is available in the tubewell at my neighbour's home. But it is salty and can be used for only washing, bathing etc. For drinking water, I have to come to Khodali Vav," she says.
Almost every woman in Babarkot village has the same story to tell. The village has an overhead tank, but it has never been filled with water ever since it was built ten years ago, says Bachubhai Sankhat, husband of Sarpanch Shantuben.
The tank came up as part of a water distribution system project for Babarkot. But following allegations of corruption, the distribution lines to carry water to households were never laid. The water table high, but the water isn't fit for drinking. Khodali Vav is the only alternative, and locals claim that's because it goddess Khodiyar's well.
"For over 10 years, we've been told that we shall get Narmada water through the pipeline which will come via Bhakidar village. The water distribution network project was launched when Nanabhai Jadar was the sarpanch. He couldn't complete it…we have now ordered an audit of the project before completing it," adds Bachubhai.
While no woman has it easy in the area, Dalits face a bigger hurdle. They sit at some distance from the well, which is part of the temple premises revered by the majority Koli community, and wait for women from Koli or Bharwad communities to fill up their pots.
"I need four bedas of water every day. But being a religious place, we Dalits are not supposed to step on the platform of the well.
Therefore, some time I have to wait for hours before getting some woman to fill up my pots. I spend nearly two hours daily," says Diwaliben Vala (39), wife of Hamir Vala, a cement factory worker.
As they wait, Diwali and her daughter, Lakshmi, who is awaiting her Class 10 results, refuse to get photographed.
"I know we lose hours everyday waiting for some kind woman to help us with a few litres of water. The wait remains longer in the morning when other women are also in a hurry. I understand we are not supposed to draw water from the well by ourselves as it is a religious place," says Lakshmi.
There is a separate well for Dalits in Vadli area itself. While the water in it used to be potable, the well at present has turned into a ditch with discarded footwear and liquor bottles floating in it.
"When I was young, there was no such issue of waiting for water. Our separate well was functional. But alas, now it has become a dumping hole," rues Hamir's mother, Devu.
There are around 10 SC families in Babarkot and nearly half of them have tubewells at home. However, Hamir's family is among those who don't have a borewell.
"It is not like that villagers will prevent us if we go to the platform of the well and draw water. But we are staying away from the well as it has been a tradition for ages and we want to carry it forward. We get our grain grounded at the same mill where others do. So, there is nothing like untouchability. I believe, god is one. But we don't want to hurt sentiments by going near the well and the temple," says Hamir, who has studied till Class VI.
The sarpanch also admits there is an invisible barrier for Dalit women near the well.
"When I go to the village market, women complain about the hardship they are facing to get drinking water. I am aware my Dalit sisters sometimes wait from morning till noon for one beda of water. Even then they wouldn't go near the well as it is the well of a goddess," says Shantuben, who has not received any formal education.
At Khodali Vav, women continue to arrive from morning till late evening to fetch water. But Dalit women avoid peak hours to cut short the waiting period.
Bachubai, however, insists that there is no ban on Dalits going near the well.
"If they go take water from the well by themselves, nobody is going to protest. But they (Dalits) have drawn a line themselves and we are respecting it," says Bachubhai.
The panchayat got separate well for the Dalits and it was cleaned twice over the last five years. "But mischievous elements make it dirty every time. Drunkards party on the parapet of the well and throw empty liquor bottles in it," say Kamlesh Sankhat, the sarpanch's son.
For the Dalit women in the area, the promise of piped water supply still holds out hope. "I can't cook daal or any other pulses in the water drawn from our tubewell. My daughters-in-law got to Khodali Vav to fetch water for cooking. However, if we get clean water through tap, it will be like living in a different world," says Hamir's elderly neighbour, Kanku Vala.
His mother, however, has other plans if piped water reaches their home. "Our financial condition is not good enough to have a tubewell installed. But if piped water reaches my home, first thing I shall ask my son to do is to construct a toilet," she says.http://indianexpress.com/article/cities/ahmedabad/ahmedabad-at-babarkot-the-wait-is-longer-for-dalit-women-water-crisis-2802640/