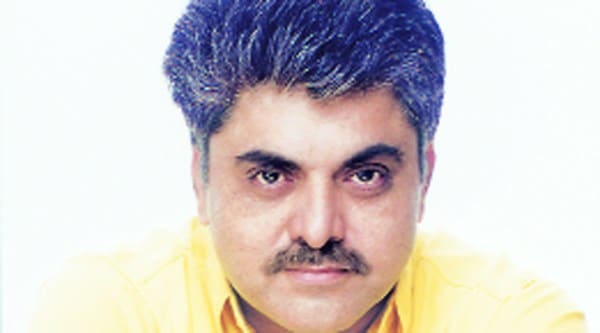 Ashoke Pandit
Written by 
Dipti Nagpaul
 , with input from 
Raghvendra Rao
 | Mumbai |Posted: February 4, 2015 3:08 am | Updated: February 4, 2015 10:11 am
Stand-up comic group AIB on Tuesday night tweeted that it has "taken down" its show 'AIB Knockout – The Roast' even as the YouTube hit video came under an offensive from Censor Board member Ashoke Pandit.
In a tweet, AIB said, "Have taken down AIB Knockout for now. We will speak soon."
Earlier in the day, Pandit posted a series of offensive tweets against the show and filmmaker Karan Johar who participated in it. "Karan Johar could have easily shown his position while performing sex to his mom at home instead of making it public.#AIB Porn Show," said Pandit in one of his tweets. In another, he said, "I support #MaharashtraGovts inquiry into #AIB a porn show on stage."
The AIB Knockout, which shows a team of stand-up comics and actors Ranveer Singh, Arjun Kapoor and Johar exchanging insults, got close to 3 million hits on YouTube. It shows Johar at the receiving end of several jokes about his sexuality as his mother Hiroo Johar sat in the audience.
The tweets by Pandit, who was recently inducted to the Central Board of Film Certification (CBFC) Board, were followed by outrage on Twitter.
Pandit said his tweets were a reaction to the offensive content of the show. "Karan Johar is a public personality whom the country's youth follow. I could not see a son demonstrating his position during a sexual encounter in front of his mother while she sat among the audience of 4,000 other people," said the filmmaker, referring to a joke performed by Johar during his act.
Pandit, who is an active voice on issues faced by Kashmiri Pandits, however, did not believe that adult content in films such as Grand Masti can be compared with a show such as AIB Knockout. "This show was performed in public," he said.
The show, however, was a closed-door ticketed event held live in Mumbai on December 20 and none of the attendees has complained about its content. The protest comes from those who have viewed the video on YouTube, a platform that does not fall under the purview of censorship.
When this was pointed out to Pandit, he said that as a citizen of India, he has the right to express his opinion. "All these stars are icons, heroes to the country's people. I want my hero to fight wrongs in society, not masturbate on stage with clothes on," he said, adding that he is sure the organisers didn't get the required content clearance before staging the show.
Pandit's tweets led members of the industry to question why someone with such views has been selected as a member of the censor board. Director of Ship of Theseus Anand Gandhi tweeted, "I hope our humour gets sharper, our dissent more rigorous, our satire more offensive, and till we arrive there, We Stand by AIB Knockout!"
Director Nikhil Advani posted Pandit's tweet, saying, "And this is the kind of thinking we can expect from the Censor Board. God help us!!!"
But Pandit said his comments should not be viewed as coming from a CBFC official. "As a CBFC official, I have to follow a set of guidelines and rules issued by the government. My views don't matter there," he said and added, contradicting himself, "I will fight for a filmmaker's freedom of expression."
CBFC chairperson Pahlaj Nihalani distanced himself from Pandit's tweets. "He must have said those things in his personal capacity. The board has nothing do with this matter," Nihalani told The Indian Express.
"That event had auditorium content and not film content. Those involved would have taken authority from the state government. It was the responsibility of those in charge of the auditorium to know the nature of content that was to be performed," Nihalani said. "Though the matter doesn't come under our purview at all, we are still sending a report to the Information & Broadcasting Ministry about the sequence of events in this case."
Johar, Singh, Kapoor and the AIB team, who participated in the show and were at the receiving end of Pandit's ire, refused to comment. However, Johar later tweeted, "Not your cup of tea…don't drink it!!!"
Meanwhile, the show also came under attack from some political parties. Opposition Leader in Maharashtra Legislative Council Dhananjay Munde said, "A criminal case should be immediately registered against the producers, organisers and actors for the offensive language used in the show. The state government is defending the misdeeds of the producers and actors of the show, who used abusive language."
Ameya Khopkar, president of Maharashtra Navnirman Chitrapat Sena, the film wing of the MNS, said, "We will not let any film featuring those who were present at the AIB comedy show to be released in Mumbai, until they apologise."
(With inputs from Raghavendra Rao/New Delhi)
See more at: http://indianexpress.com/article/india/india-others/censor-board-man-needs-a-mouthwash/#sthash.VhIZSEkt.dpuf