Reported by Tejas Mehta and Syed Imtiaz Jaleel, Edited by Amit Chaturvedi | Updated: April 07, 2013 21:45 IST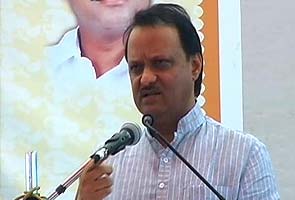 Click to Expand & Play
Pune: 
Maharashtra's deputy Chief Minister 
Ajit Pawar
 today apologised for ridiculing a two-month-long protest by a farmer, who was demanding the release of water from a dam for his parched field. In a statement issued in the evening, Mr Pawar said he is sorry for "hurting sentiments of people in Maharashtra with his comment". "These remarks were not made for drought-affected people," Mr Pawar said in the statement.Mr Pawar, in a shocking statement made in a rally on Saturday, had said, "There is this person from Solapur, sitting on hunger strike for 55 days demanding water be released from the dam. But where are we going to get water from? Should we urinate? And when we are not getting water to drink even urine is not coming easily."
Mr Pawar is also the nephew of Union Agriculture Minister Sharad Pawar and a senior leader of the Nationalist Congress Party (NCP).
Commenting on the shortage of electricity, Mr Pawar made another controversial remark. "I have also come to know that since there is a shortage of electricity in Maharashtra, the population is increasing," Mr Pawar said while speaking in Indapur, Pune.
As the crowd laughed, Mr Pawar paused and then added, "All of you must be thinking that I have taken (liquor) in the day itself." The crowd again laughed out.
Mr Pawar was scheduled to hold a rally in Pune today, but it has been cancelled without giving any reasons. The NCP is tight-lipped on the issue, but speaking on condition of anonymity, party leaders are themselves shocked by Mr Pawar's statement. "Even as a joke, this is just unacceptable," a senior leader said.
The BJP too slammed the comments made by Mr Pawar. "Making an ill-informed comment is a different thing but making such crude and arrogant comments… instead of saying that I stand by the public he makes comments like this. This is the lowest of low in Maharashtra politics," BJP leader Shaina NC said.
The crude comments come at a time when many parts of Maharashtra, especially Marathwada, are reeling under a severe drought. Of the total 34 districts, the worst-affected are Solapur, Ahmednagar, Sangli, Pune, Satara, Beed and Nashik.
Ajit Pawar had to also resign after allegations were levelled against him in the Rs. 70,000 crore irrigation scam as he held the irrigation and water resources portfolio for a nearly a decade. However, the party reinstated him later.
The Maharashtra government and Sharad Pawar have claimed that the drought in Maharashtra is the worst since 1972. But water activists and experts have repeatedly pointed out that the drought is largely man made and worsened by poor water management policies.