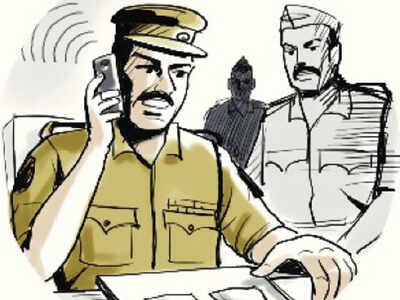 Representative image
ALWAR:
Rajasthan Police
top brass has sought a report from
Alwar police
about a video showing four
Sikh sewadars
being heckled, pushed and severely thrashed in Ajmer district's Naseerabad area.
The Alwar police recorded the statements of the four victims — Nirmal Singh, Malkeet Singh, Kuldeep Singh and Harpal Singh about the event that took place about a month ago in Ajmer, when they had gone to collect donations for their gurdwara. The victims are resident of Khairthal village in Alwar and work as sewadar at a local gurdwara there.
The victims told TOI that they had arrived in Chainpura area of Naseerabnad village in Ajmer to collect grains for langar. "Though I don't remember the exact date, the incident took place around April 24, we were going from door-to-door when suddenly a few people first hurled expletives at us. Soon a mob gathered around us, before we could understand what's happening, we were being hackled, kicked and slapped by the mob," said Nirmal.
He added that after a few minutes later a constable came to the scene and took them into a police vehicle, but the mob dragged the victims out of the vehicle and threw them on ground. "The police constable didn't save us, instead he asked the violent mob to continue attacking us. He asked mob to teach four of us a lesson but warned them not to attack us on heads," Nirmal told TOI.
Kuldeep, another victim, said that the constable stood aloof from the crowd under a tree watched the mob thrashing him and his fellow companions. "We begged them to leave us, but nobody paid any heed to our cries. We were being attacked with sticks and shoes, people slapped us for no reason," Kuldeep added.
Harpal , who was kicked on his stomach multiple times, was seen writhing in pain on the ground as the angry mob of localities kept kicking him. "We were being trashed for about 30 minutes until another cop in civil dress arrived and took us out of the area," he said.
The victims said that they were taken to a police station where the cops asked them to file an FIR but they declined as they were afraid out of coming back to the same town again. While the exact location and identities of the attackers is still unidentified, the cops said the probe was on.
The Alwar police told TOI that while the case is being investigated by Ajmer police, the primary investigation suggests that a few months ago a few sewadars had come to Chainpura to collect donations but left the town after duping a few residents, so when the four sewadars from Alwar arrived at the same town, the residents thought they too were involved in the scam and began beating them.http://m.timesofindia.com/city/chandigarh/ajmer-sikh-thrashing-victims-narrate-horror-allege-police-inaction/amp_articleshow/58864487.cms