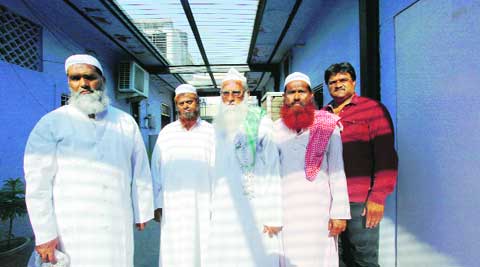 Some of those acquitted in the Akshardham case. (Source: File photo)
SUMMARY
Despite acquittal in Akshardham case, they say police question them, their kin.
Charged with the Akshardham attack of 2002, they served varying terms in jail until the Supreme Court acquitted all six this year and pulled up the Gujarat police for having framed them. But even after being released, they fear that they remain under the watch of the police, with one saying he was  questioned after getting bail, another after serving his term and one even after being acquitted.
Of the six acquitted, Adam Ajmeri, Mufti Qayyum Mansuri alias Mufti Baba, Salim Sheikh and Chand Khan were released from Sabarmati central jail in May. Maulana Abdulmiya Qadri was already out on bail since 2010, while Altaf Malek was released in 2008 after serving his five-year term. Chand Khan is from Uttar Pradesh and the rest from Gujarat.
Ajmeri, who spent 11 years in jail, was earlier even sentenced to death. "When I walked out of jail and went to New Delhi for a press conference, police took my son to the police station and questioned him about me. They later called me to the police station and asked me question after question," he said, sitting outside his shanty at Shahpur.
He said he was questioned about links with terrorists who had been shot down and how the Akshardham attack had been planned. "They claimed it is part of the procedure to call the acquitted to the police station. After the first round, I was called again. My wife was questioned a few days back about what I am doing. There has been no respite," he said.
Qayyum, who too served 11 years, had been charged with writing letters the crime branch claimed to have found in the pockets of terrorists killed, but the Supreme Court noted that the bodies had a number of bullet wounds while the letters had no bloodstains, mud or bullet holes. He has not been questioned since his release. "I am sure the police think even now that we are terrorists," said Qayyum, who hopes to go back to teaching children to read the Quran at Haji Sakhi mosque of Dariapur. "They are watching me and the day I see them, I will ask them to attend my class and see what I do," he said.
Malek, who completed his term, said police took him for questioning for alleged links with Indian Mujahideen only four months after his 2008 release. "After I came out of jail and there were serial blasts in Ahmedabad, I was questioned by the crime branch on suspicion that I have links with IM," he said.
While he was in Mumbai recently with Mufti, Ajmeri and Sheikh for a press conference organised by Jamiat-e-Ulema-e-Hind, his family was questioned about his absence, his wife and brother said. "The SC gave us a clean chit and the terrorist label has been removed, but the Gujarat police have