Sikh protestors clamour for punishment for riots accused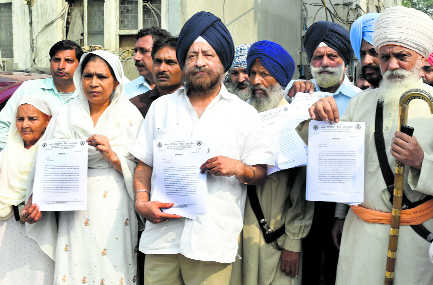 Tribune News Service
New Delhi, November 4
A large number of Sikhs under the banner of the DSGMC and All India Sikh Conference today staged a protest opposite the Congress headquarters and at ITO demanding justice for the 1984 riots victims and punishment for the accused.
The protestors raised slogans against Congress president Sonia Gandhi for shielding the leaders accused of perpetrating genocide of Sikhs and allegedly saving them from the court of law. By raising slogans of "Congress with murderers", the Sikh protestors opposed attempts by the Congress leader and former Law Minister Salman Khurshid to save Sajjan Kumar by engaging in the legal tangle in Delhi High Court.
Sikh leaders said that explanations given by the ex-minister in favour of the accused in the court was at the behest of Sonia Gandhi.The leaders said the Gandhi family have tried to save their leaders which is a political compulsion for the Congress. Besides, it is a dangerous trend to raise questions on the integrity of a judge on communal lines, they said.The protestors said that no action has been taken against the accused even as 32 years have passed.
The BJP had assured the Sikhs of taking action, but nothing has been done so far.GK, Badal exploit 1984 genocide for vote polarization: SarnaThe Shiromani Akali Dal (Delhi) president Paramjit Singh Sarna said that DSGMC president Manjit Singh GK and the Shiromani Akali Dal (Badal) have been exploiting 1984 Sikh genocide for polarization of Sikh votes.The demand for Rs 1000-crore compensation by GK from the Central government against the loss of properties of the Sikhs in 1984 genocide is nothing but an election stunt to benefit the Badal Dal in the forthcoming Punjab Assembly and general elections of the DSGMC, Sarna said.
Addressing a press conference, he said when Badal has a political alliance with the BJP at the Centre, why the idea for enhancement of ex gratia grant to the victims has not come in the mind of the BJP even after two years of their regime. Why GK has to beg for compensation from the Central government?
Sarna spoke of Rs 750 crore given to Punjab by the Manmohan Singh government for disbursing amongst the victims. Out of this sum, Rs 250 crore was returned to the Central government by Badal.He said that even the grant distributed in Punjab was looted by the Badal Dal workers on fake documents while genuine victims were deprived of it.
http://www.tribuneindia.com/news/delhi/sikh-protestors-clamour-for-punishment-for-riots-accused/318966.html