In the 33rd week of 2017, India reported its 30th incident of cow-related violence in the country–the most in eight years–in the West Chamaparan district of Bihar where seven Muslims were attacked by cow vigilantes for allegedly eating beef in their homes, the IndiaSpend database of such violence shows. So far we have recorded 75 incidents of bovine-related violence across India since 2010.
On Thursday, August 17, 2017, a mob of over 50 people gathered outside the house of Mohammad Shahabuddin in Dumra village, shouting slogans of 'Bharat Mata ki jai', theNew Indian Express reported on August 18, 2017. The vigilantes, which included local members of the right-wing Vishwa Hindu Parishad group, reportedly accused Shahabuddin and his neighbours of killing a cow and consuming beef. The mob reportedly locked the Muslims in a room in Shahabuddin's house and beat them up with wooden sticks. Four people were injured in the attack and hospitalised thereafter, the newspaper report said.
While no charges were filed against the attackers, the local police arrested seven Muslims for "deliberately hurting the religious sentiments of the local majority community". Explaining why no action had been taken against the attackers, the police said: "There has been no such complaint about the attack so far," the New Indian Express reported.
This is the second attack to take place in Bihar within a fortnight, and the third attack reported in the state this year. Prior to 2017, Bihar did not report a single attack for at least seven years since 2010–the start point for the IndiaSpenddatabase of such violence.
Created through a collection and content analysis of reports in the English media, the shows that 97% (73 of 75) of such incidents were reported after Prime Minister Narendra Modi's government came to power in May 2014. The data show that Muslims were the target of 56% (42 of 75) cases of violence centred on bovine issues over nearly eight years (2010 to 2017) and comprised 86% (24 of 28) killed in 75 incidents.
More than half or 53% of the cow-related violence–40 of 75 cases–were from states governed by the Bharatiya Janata Party (BJP), when the attacks were reported, revealed our analysis of violence recorded until August 18, 2017.
The recent two cases of cow-related violence in Bihar are recorded under the Janata Dal (United) government. On July 27, 2017, the JD(U) entered into an alliance with the BJP.
Incidence of cow-related violence in India (2010-2017)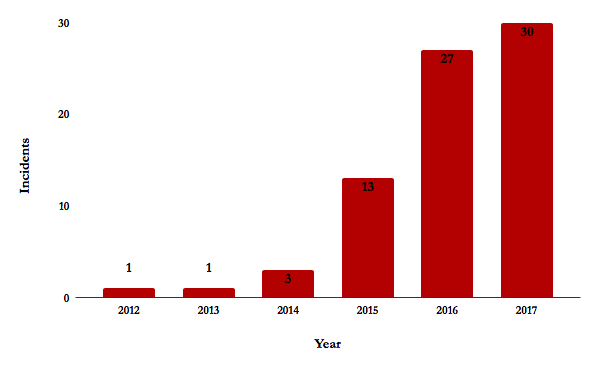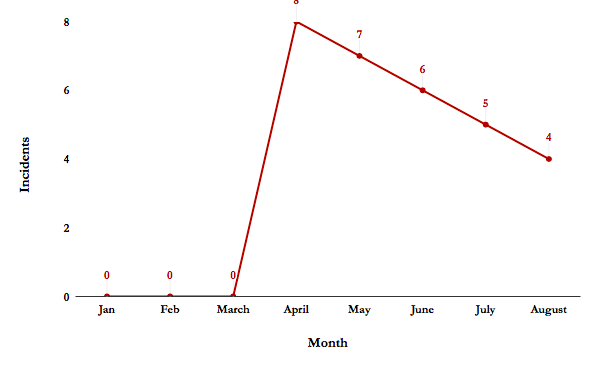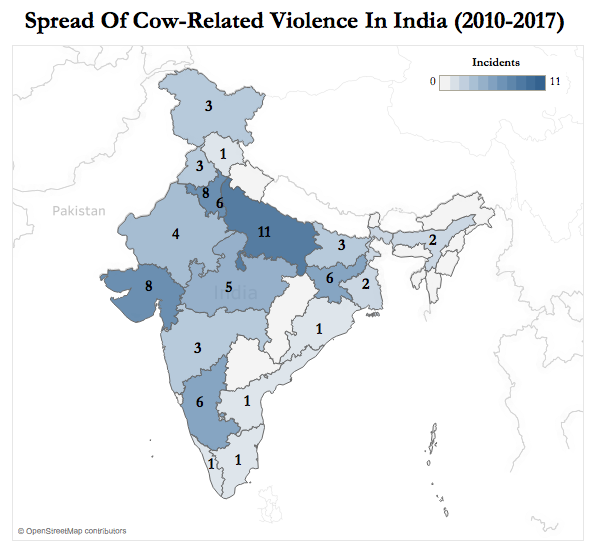 Note: No data for Arunachal Pradesh, Chhattisgarh, Manipur, Meghalaya, Mizoram, Nagaland, Tripura, Telangana, Sikkim, Uttarakhand
(Saldanha is an assistant editor with IndiaSpend.)
http://www.indiaspend.com/viznomics/almost-one-cow-related-attack-every-week-in-2017-thus-far-21709