Had Saleem not kept driving, more could have lost their lives, believe pilgrims who survived the Amarnath terror attack.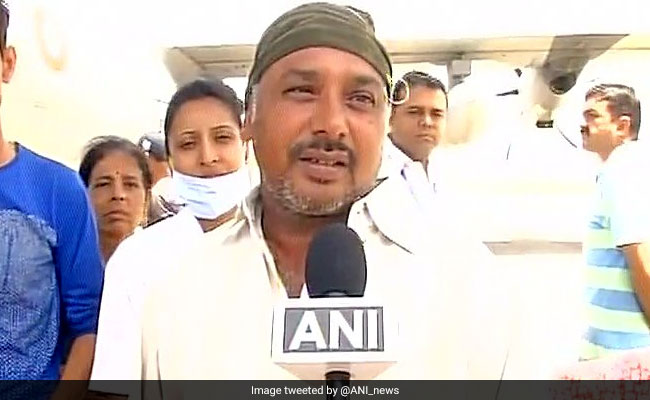 ANANTNAG/SURAT: 
HIGHLIGHTS
7 killed, 20 injured in terror attack on Amarnath Yatra pilgrims
Terrorists fired indiscriminately at bus carrying pilgrims last night
Bus driver kept driving even as firing continued for one kilometre
As a group of terrorists surrounded a bus with 61 Amarnath pilgrims on Monday night and fired indiscriminately, driver Sheikh Saleem Gafoor Bhaikept kept driving. In inky darkness, he drove on through the hail of bullets and didn't stop until he spotted an army camp.
"God gave me strength to keep moving, and I just did not stop. The firing went on and on, so I didn't stop. I kept driving," said Saleem, who is being held up by many as an example of humanity beyond religion.
Seven pilgrims returning from the Amarnath shrine were killed and 20 wounded in the terror attack in Anantnag, one of the worst in the Kashmir Valley in recent years. Pilgrims on the bus were mainly from Gujarat and Maharashtra.
Had Saleem stopped or panicked, more lives would have been lost, believe those who survived the attack.
"My driver was so brave…he drove on," said an injured woman at the Anantnag district hospital.
"There was firing from all three sides. Our driver managed to take the bus a few km ahead. He saved us," said another injured pilgrim.
The attackers were Lashkar-e-Taiba terrorists, the police in Kashmir told NDTV. They had fired at an armoured police car and a security check-post before surrounding the pilgrims' bus on three sides and firing. The bus was not meant to be on the highway after 5 pm, given security restrictions, but it was delayed by more than two hours, reportedly because of a flat tyre.
"We were driving at 70-80 speed when firing suddenly started. I said let's keep going until we see the army," said Saleem's helper.
Bhagya Mani, who lost her sister-in-law, said: "The driver drove the bus for a kilometer. It was pitch-dark and we could see nothing."
At 9.30 pm, around an hour after the terrorists struck, Saleem dialed his cousin to share his horror.
"He couldn't save seven lives but managed to move some 50 people to a safe place. I am proud of him," said Javed Mirza.
Saleem deserves an award, said Gujarat Chief Minister Vijay Rupani. "I want to thank the bus driver for saving the lives of people even when there was firing going on. I will nominate his name for a bravery award," he said.
http://www.ndtv.com/india-news/amarnath-bus-driver-couldnt-save-7-but-managed-to-move-50-to-safety-1723217?site=full