Do you belong to the species of humans who have John Oliver's latest video that calls Donald Trump 'America's black mole' bookmarked? And you react to a piece of Trump news the way you usually react to quarrels inside the Big Boss house? If you are an Indian and consider Donald Trump nothing more than the best comic relief in your times, you will be surprised to know that everyone from your religious persuasion doesn't share your disregard for him.
A group of people in America, all Hindus, are fighting hard to ensure Trump becomes the next President to 'make America great again'. Going by the handle @USAHindus4Trump, they have started a hashtag called #HindusForTrump, explaining why they are supporting him.
The Hindus4Trump group has quite a creative (read strange) poster for the Republican presidential front-runner too. Here, Trump is seen sitting in a Yoga posture, on something that vaguely resembles a lotus with petals in colours of the American flag. Embossed on it is an 'Om' symbol.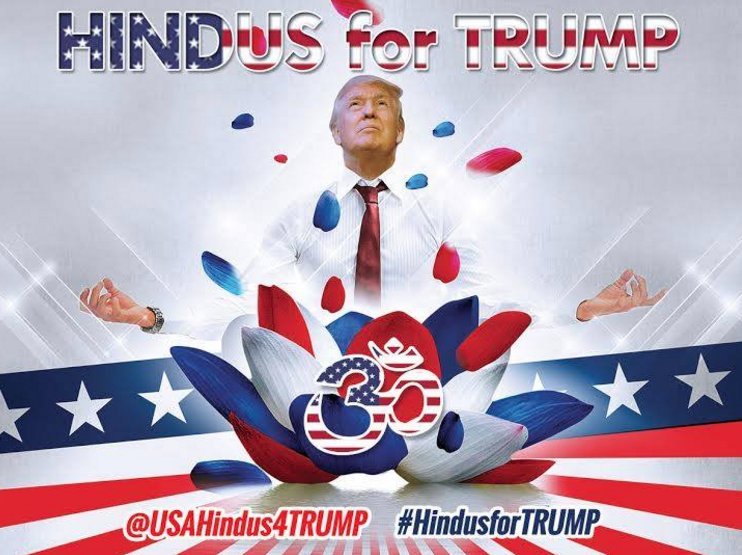 Obviously, these intrepid 'Hindus' were not very worried about their revered deities – which include heavyweights like Brahma and Vishnu, Saraswati and Lakshmi – having a meltdown over Trump taking their place in the display picture.
The group has a Facebook page too, where they list out all the achievements of Trump.

In a blog post, the Hindus4Trump group have also listed what they call 'evidence that USA Hindus are supporting Trump'.
"Sources estimate that there are between 1.5 million and 2.5 million Hindus living in the USA. But is there any evidence that this growing demographic is organizing to support Trump? Yes! And this support is coming from some of the most influential and widely respected names within the Hindu community," reads the blog.
On January 21, 2016, four Indian Americans launched the political action committee (PAC) "Indian-Americans For Trump 2016". The group says that this is an evidence that 'Hindus' are supporting Trump.
The PAC is aimed at garnering support for Trump among the Indian American community, a majority of whom are Hindus.
"On realising that the agenda of Donald J Trump for President 2016 is focused on reviving the American economy, rightly bringing America on the world stage, defeating terrorism and establishing peace through strength; many Indian-Americans believe that he is the best hope for America and the right candidate to be the next president of the United States," the PAC said in a statement.
A D Amar, a business professor with Seton Hall University in New Jersey is its president while New York-based attorney Anand Ahuja is its vice president. Amar believes that Trump is the best for the United States and Indian-Americans.
The reason? "Mr. Trump's policies on illegal immigration and economy in particular are the main reasons for the Indian Americans to support him," he said.
The other members include Dr. Sudhir Parikh. Pathak is the owner of Parikh World Media, an umbrella corporation which houses news outlets reportedly "influential among Hindus" such as Desi Talk, The Indian American and The Gujrat Time. New Jersey businessman Devendra "Dave" Makkar is the treasurer.
According to the Hindus4Trump group, "the founders of "Indian-Americans For Trump 2016″ are well known members of the American Hindu community".
The Hindus4Trump group also goes on to elaborate on how support for Trump has existed for very long now among Hindus in America.
"The world renowned and cross-sectional "Indian American Intellectuals Forum" (IAIF) endorsed Donald Trump for president back in August of 2015 in the release of their widely circulated "India World Geopolitics" print newspaper," it notes.
The blog further states:
"IAIF was founded by the late Narain Kataria, an almost universally respected man whose funeral was attended by hundreds in New York City. Kataria was a Hindu from Sindh Pakistan who was forced to flee his home after Pakistan became an Islamic State in the 1950's which sparked Muslim pogroms against Hindus and other minorities (Christians and Sikhs). Narain Kataria spent much of his retired years warning Americans about the dangers of Islamization and highlighting the plight of Hindus under Islamic rule in Pakistan and Bangladesh."
According to the blog, Kataria and his IAIF crew were part of the organising group which arranged Prime Minister Narendra Modi's visit to Madison Square Garden in 2014.
Meanwhile, the Republican Hindu Coalition (RHC), has poured millions of dollars into the effort to elect GOP politicians.
The group's founder, Shalabh Kumar, reportedly "is close to India's Prime Minister Narendra Modi, [and] has relationships in the Republican Party dating back to the Reagan administration."Trump As Lord Vishnu? How Hindus In America Are Campaigning For Donald TrumpTrump As Lord Vishnu? How Hindus In America Are …