The cow's owner, Ghanashyam Lodhi, and other Hindu villagers alleged that Akhtar Khan, another resident, had shot at the animal.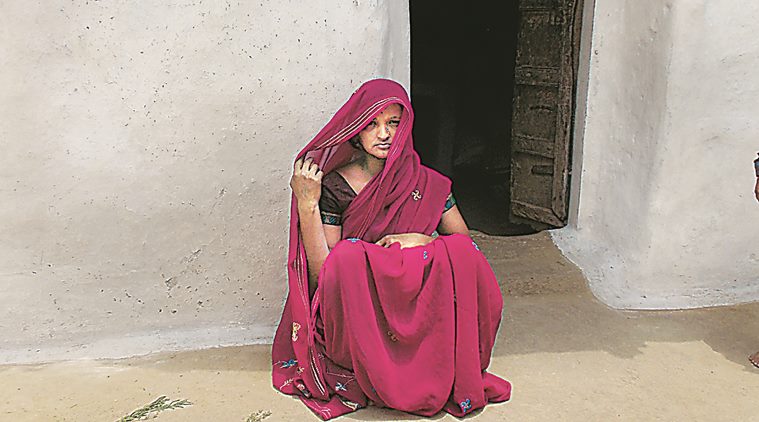 Why would he commit suicide, says Radha, wife of Ghanashyam Lodhi. (Source: Milind Ghatwai)IT STARTED with a cow being found injured, but the communal tension in Silawan village of Ashoknagar district, about 225 kilometres from Bhopal, escalated rapidly when its owner was found dead over a week later.  The cow was found with an injured leg on April 27. The cow's owner, Ghanashyam Lodhi, and other Hindu villagers alleged that Akhtar Khan, another resident, had shot at the animal. Khan was booked under Section 429 of IPC (mischief by killing or maiming cattle) and arrested on April 28. He was later released on bail.
The local veterinarian said the injury was caused by a blunt object, not gunshot. The district administration set up a three-member panel of experts, who agreed with the local veterinarian. But Ghanashyam's relatives and other villagers continued to blame Khan. They alleged that Khan was shooting at some dogs which had attacked hens. He killed two dogs, but also hit the cow, they claimed, adding that they had at least one eyewitness.
Amid the charges and counter-charges, the police decided to take the cow to Bhopal for an X-ray to determine the nature of the injury. So, on May 5, the cow was taken to Bhopal, accompanied by Ghanashyam, his nephew Sunil, a policeman and a veterinarian. "The X-ray report on the very first day ruled out gunshot wounds," said Dr P S Patel, deputy director of the state veterinary hospital in Bhopal.
As the cow was undergoing treatment at the hospital, Ghanashyam and Sunil too remained in Bhopal. Then, early on May 8, Ghanashyam, who was in his mid-thirties, was found dead inside the hospital. He had allegedly hanged himself.
At first, Sunil, 26, alleged that some of Khan's relatives had met Ghanashyam in Bhopal and threatened him. He said they had offered money to Ghanashyam to withdraw the case. Based on his complaint, the police booked Khan and five others — Samad Khan, Saleem Khan, Bhura Khan, Abdul Hasan (all Khan's relatives) and Abrar — on charges of abetment to suicide.
But hours later, when he returned to his village with Ghanashyam's body, Sunil alleged that the six accused had entered the hospital at night, one had held a gun to his head, while the others had taken Ghanashyam away. The next morning, he said, Ghanashyam was found dead.
Three of the six accused — Khan, Samad and Bhura — surrendered on Thursday and were taken into custody.
The incident has led to communal tension in the village. The Hindus have accused the police of a cover-up — with regard to Ghanashyam's death as well as the cow's injury. Six police officials have been taken off duty so far.
"My husband can't do something like this. The police first took the cow to Bhopal and forced him to accompany it, saying they would protect him from any danger. First the cow was shot, and later my husband was killed in the hospital,'' alleged Ghanashyam's wife Radha. Rejecting reports that he killed himself, she asked, "why would he commit suicide?"
Ghanashyam owned three bighas of land and the couple supplemented their income by working as labourers. "He wanted the cow to get well soon and was not ready to compromise by accepting money,'' said Radha. She said that Ghanashyam called her up and told her he could return to the village if someone was sent to take his place in Bhopal.
"I can't identify the person who held the gun to my head. I was too scared to talk to anyone because they threatened me before taking my uncle away. I did not see them killing him, but only they could have done it because they wanted him to settle the matter and withdraw the case,'' said Sunil. He claimed that he did not share these details with the police in Bhopal because he was scared for his life.
The Muslims, however, alleged that Sunil had been "tutored" by Hindu organisations, whose members took to the streets and refused to allow Ghanashyam's body to be cremated on May 8. The cremation was held the next day.
"Why would we go and kill someone in a government hospital that has CCTV cameras. Our call records will prove that we were not in Bhopal that day,'' said Abdul Hasan, headmaster of Singhada primary and secondary school and one of the six accused. "Considering my position, the police have given me some time to surrender,'' said the 56-year-old.
While the hospital has CCTV cameras, the recording system is not working.
"Ghanashyam was promised Rs 2 lakh if it was established that his cow had suffered a gunshot injury. But after the veterinarian doctors certified that the wounds were not caused by gunshots, he lost hope and got dejected. He could have committed suicide because of this. Or there could be some big conspiracy behind this,'' claimed Hasan.
Khaleel Khan, another villager, alleged that there was resentment against the minority community as they were doing well — the sarpanch and panchayat secretary are both Muslims.
When contacted, ASI Avdhesh Gaur of Piprai Police Station said: "I haven't visited the village even once because the villagers have accused the police of taking money from Muslims and supporting them." The Bhopal police are waiting for Ghanashyam's autopsy report.
Meanwhile, the hospital in Bhopal doesn't know what to do with the cow. "We have no idea what to do with the cow because its leg has been fractured and it will take weeks to heal. We have asked the local administration to take the cow back. If they don't, we will shift it to a nearby shelter,'' said Dr Patel.http://indianexpress.com/article/india/an-injured-cow-a-death-murder-charge-split-a-village-in-madhya-pradesh-4653499/