Madhya Pradesh,Environment/Wildlife,Religion, Sun, 17 Mar 2013IANS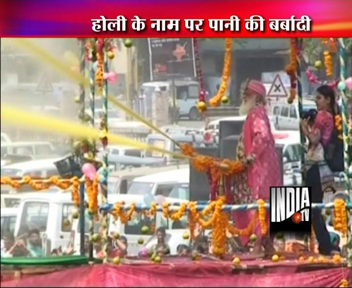 Nagpur, March 17 (IANS) A severe drought gripping many parts of Maharashtra did not deter spiritual leader Asaram Bapu from celebrating a pre-Holi function and wasting many litres of water here Sunday, said a social group.
Andhashraddha Nirmoolan Samiti (ANS) condemned Asaram Bapu's alleged Goli play and staged a protest.
"A person who calls himself a saint, does he not have basic common sense? How can he waste water like this when millions are thirsting for even a drop?" said ANS state president Narendra Dabholkar.
Asaram Bapu was in Nagpur in the afternoon and met his followers at the Kasturchand Park grounds. He and his followers played a colourful, wet Holi with th help of water tankers brought from the Nagpur Municipal Corporation.
Though the amount of water used in the celebrations was not clear, residents told mediapersons that lakhs of litres was literally wasted.
ANS activists staged a black-flag demonstration, raised slogans outside the venue and urged the civic agency not to provide them with water.