-Subhashini Ali
On February 3, 2006, the National Rural Employment Guarantee Scheme (later re-named the Mahatma Gandhi Rural Employment Guarantee Scheme or MNREGS), was inaugurated with much fanfare in the perennially drought-affected district of Anantapur in Andhra Pradesh by then Prime Minister Manmohan Singh who was accompanied by Congress President Sonia Gandhi and many others. Dr. Singh described the event as a "landmark in our history in removing poverty from the face of the nation." The district was chosen because of its high incidence of drought-induced out-migration of hundreds of thousands of poor, rural families, mostly belonging to the SC and ST communities to Bangalore, Hyderabad, Mumbai and Guntur, where they worked as construction workers, rag pickers and farm labour for chilli harvesting. Dr. Singh expressed the hope that the Act would bring "smiles on the faces of the poor."
Much has changed in the country and its politics in the last 11 years. A two-day visit to the district organized by the local unit of the CPI(M) and organizations associated with the Left made it heartbreakingly clear that the harshness of the lives of the rural poor had only increased. Smiles are still not to be seen on their faces.
The MNREGS was devised to tackle the issues of rural unemployment, lack of infrastructure and out-migration. The Act was carefully formulated so that all rural families could avail of its formulations with many safeguards to ensure that they would be paid on time and receive benefits like accident compensation, crèches for nursing mothers, drinking water on work-sites, etc. The CPI(M), in particular, played a major role in drafting its provisions and also in pushing the legislation through. It also ensured that its state governments in Tripura and Kerala have implemented the scheme in innovative and transparent ways that have transformed millions of lives. Andhra Pradesh too, a decade ago, had a good record in this regard.
What we saw in two days in Anantapur, however, was a grim reminder of the many tragedies that are part of the daily lives of the rural poor, the complete insensitivity of governments to their plight being the most important of these.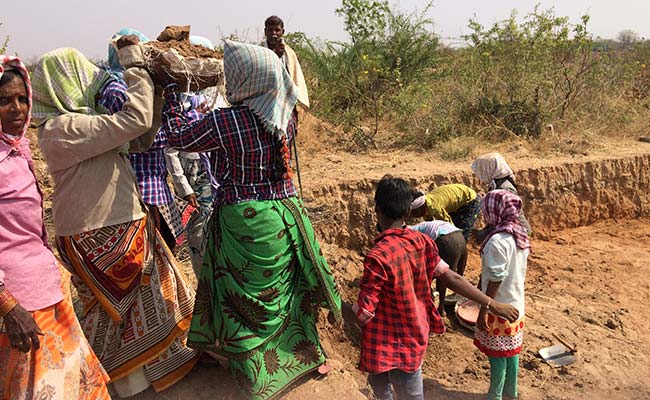 Workers on the first site had been working for five weeks but had received no wages at all
There are over seven lakh job cards in the district but, even according to the government, no more than two lakh people have been given work this year (as of April 13).The average number of days worked has also come down from 75 in a year to 65 last year. More than 40 crores of unpaid wages is owed to the workers, the poorest of the poor who suffer from chronic malnutrition and various kinds of ill health.
On the first day of our visit, at a dharna of MNREGS workers and other poor people before the Anantapur Collectorate, I met Lakshmi Devi of Suryapalli village, about 45 years old, who has been an NREGS worker for three years. She said that her work was participating in digging a pit for rainwater storage. She said that in addition to digging, she also had to carry the soil dug out in a basket on her head to about three meters away from the pit. She had to make about 30 such trips and because of the intense heat (it was 44 degrees that day), she and the others at her site could work for only about 3-4 hours. This is because they have to walk for 2.5 hours from their village to the site and then walk back again. She said that she has been working for ten weeks continuously, but has received payment for only five. The payment is between Rs. 110 and Rs. 170 per day.
When we met the District Administration, they told us that the minimum wages have been increased from Rs. 220 per day for Rs. 258 very recently. Despite this, Lakshmi Devi's wages are only a few rupees more than what MNREGS workers were supposed to be paid in 2006, when the scheme was started i.e. Rs. 100 a day. (In Kerala, MNREGS workers earn nearly Rs. 300 a day.) The soil that Lakshmi and others in the district dig and carry away is extremely rocky and dry. It is difficult to dig and very heavy. According to MNREGS manuals, this kind of work is eligible for the highest rates, but this fact seems to be unknown both to the District Administration and to poor, illiterate people like Lakshmi.
The next day, we visited three work-sites adjacent to each other, and one village in Guntakal Taluk of the district. Pits for rainwater storage were being dug on each site and there were between 10 to 16 people working on each. About half of them were women. All of them belonged to a nearby village, Ayyavaripalli. It was a half-hour walk from the village to the site and work started early, at 6 am, and went on till noon. One can only imagine at what time the women had to wake up in order to finish all their household chores before walking to work.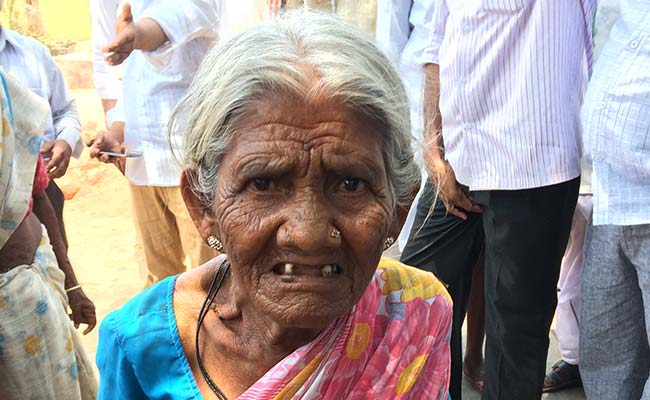 Mastan Amma's son migrated 2 years ago and has not come back since. He once sent Rs. 2,000.
All the workers on the first site had been working for five weeks but had received no wages at all. I lifted the mud and stone-filled basket – it weighed more than 30 kgs. To place it on one's head and then throw the contents at a distance of about five metres, and to do this about 50 times without the prospect of being paid for back-breaking labour – must be more excruciating than we can imagine. The workers said that they had worked the previous year for six weeks and one week's wages were still due. We were informed that women earned Rs. 120 a day and the men Rs. 130.
At the second site, women said that they expected to be paid Rs. 80 – Rs. 90 a day. They had been told that the wages would now be deposited in a bank, but they did not know (nor did the men working with them) which bank and which branch. One of the men said that they had spent two days trying to find out, but were unsuccessful. In the previous year, they said that they got 150 days' work and were paid Rs. 100 – Rs. 120 a day for it and the entire amount was deposited in the Post Office, which was a better system. (Even the man in charge of the scheme here did not know which bank was being used.)
At Mallepalli village, we could comprehend something of the various, crushing ways in which drought impacts the lives of rural families. Unlike in other parts of the country, even small farmers have been forced to opt for MNREGS work. Lalappa, a former Sarpanch, told us that he owns two acres of land. He borrowed money from a local money-lender at 24% interest to sink three bore-wells, but none of them could provide water. He then sold the wells' engines to pay the interest, but the principal remains unchanged. He has been forced to take up MNREGS work. He has worked for four weeks already but has not been paid. Apart from hunger, an ever-increasing burden of debt is crushing him. In a district which has a high incidence of suicides by debt-ridden farmers, this could have harrowing consequences.
This year, more than 50 people have already joined others who have migrated from the village. Many have left behind very old and sick parents like Masatan Amma, whose eyes are now dry of both tears and hope. It is more than two years since her son left home for work. He has not visited even once and has only sent her Rs. 2,000.
When we asked the villagers if migrants would prefer to stay home if they could get MNREGS work and its meager wages regularly, they all said, "Yes. If we get enough to eat here why should we go far away, risking everything?"
(Subhashini Ali is former MP, former Member of the National Commission for Women and Vice President of the All India Democratic Women's Association.)
http://www.ndtv.com/opinion/at-mnregs-site-in-andhra-what-women-workers-go-through-1681582