The activist, feminist and revolutionary explains how the 'prison industrial complex' profits from black people, that Barack Obama can't be blamed for the lack of progress on race, and why Beyoncé is not a terrorist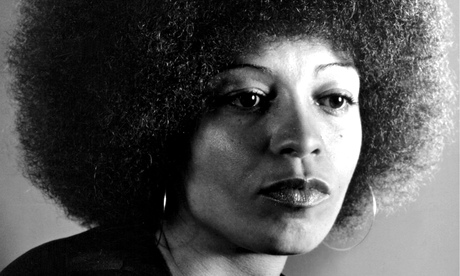 "There is an unbroken line of police violence in the United States that takes us all the way back to the days of slavery, the aftermath of slavery, the development of the Ku Klux Klan," says Angela Davis. "There is so much history of this racist violence that simply to bring one person to justice is not going to disturb the whole racist edifice."
I had asked the professor, activist, feminist and revolutionary, the woman whom Richard Nixon called a terrorist and whom Ronald Reagan tried to fire as a professor, if she was angered by the failure of a grand jury to indict a white police officer for shooting dead an unarmed black man, Michael Brown, in Ferguson, Missouri earlier this year. "The problem with always pursuing the individual perpetrator in all of the many cases that involve police violence," the 70-year-old replies, "is that one reinvents the wheel each time and it cannot possibly begin to reduce racist police violence. Which is not to say that individual perpetrators should not be held accountable – they should."
We're talking at the Friends Meeting House in London before a memorial service to her friend and colleague Stuart Hall, the black British cultural studies theorist and sociologist, who died in February. It was Hall, she tells me, as much as her mentor, the German Jewish philosopher Herbert Marcuse, who made her think about the structural issues in any given political struggle.
Not that Davis is insensitive to the outrage over specific cases of police violence against black men, be it the riots in Ferguson, the worldwide protests over the death of Eric Garner in police custody, or Trayvon Martin. Davis focuses on the latter to make an incendiary point about the racism endemic in Obama's America. In 2012, she reminds me, Martin, a black high school student, was fatally shot at a gated estate in Florida by George Zimmerman, a white neighbourhood watch coordinator. Zimmerman, who was later acquitted of Martin's killing, reminds her of "those who were part of the slave patrols during the slave era".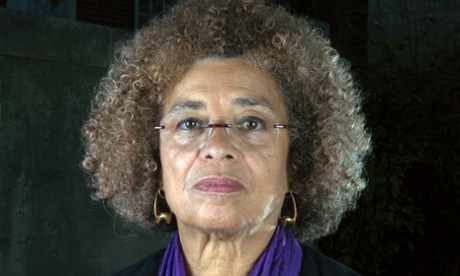 Surely the lives of African-Americans in 2014 are better than during the days of slavery? Yet Davis isn't the only black American intellectual to be less than sanguine. Professor Cornel West recently said that the US still has in effect a "Jim Crow criminal justice system" that "does not deliver justice for black and brown people". Davis agrees. "You have this huge population of people who come up against the same restrictions that the Jim Crow south created," she says. The segregation laws that existed until 1965 in the American south, where she grew up, might have gone but, as Davis points out, racist oppression remains.
One key feature of that racist oppression, Davis says, is what she and other leftist intellectuals call the "prison industrial complex", the tawdry if tacit alliance between capitalism and a structurally racist state.
"The massive over-incarceration of people of colour in general in the US leads to lack of access to democratic practices and liberties. Because prisoners are not able to vote, former prisoners in so many states are not able to vote, people are barred from jobs if they have a history of prison."
But, lest Britons get complacent, Davis tells me, "the proportion of black people in prison in Britain is larger than the proportion of black people in prison in the United States".
In Davis's philosophy, this should come as no surprise; for her, the prison industrial complex is not just a racist American money-making machine, but a means to criminalise, demonise and profit from the world's most powerless people. "I think it is important to realise that this is not just a US phenomenon, it's a global phenomenon. The increasing shift of capital from human services, from housing, jobs, education, to profitable arenas has meant there are huge numbers of people everywhere in the world who are not able to sustain themselves. They are made surplus, and as a result they are often forced to engage in practices that are deemed criminal. And so prisons pop up all over the world, often with the assistance of private corporations who profit from these surplus populations."
If structural racism and state violence against African-Americans, aided and abetted by global capitalism, are as rampant as Davis says, isn't she disappointed in the failure of the US's first African-American president to speak out when a case comes up that seems to dramatise what she is indicting? Davis smiles and recalls a conversation she had with Hall two months before his death. "We talked about the fact that people like to point to Obama as an individual and hold him responsible for the madness that has happened. Of course there are things that Obama as an individual might have done better – he might have insisted more on the closing of Guantánamo – but people who invested their hopes in him were approaching the issue of political futures in the wrong way to begin with. This was something Stuart Hall always insisted on – it's always a collective process to change the world."
Isn't she letting Obama off the hook? "Perhaps we should always blame ourselves," she says. "Why have we not created the kind of movement that would put more pressure on Obama and force the Obama administration to deal with these issues? We might have arrived at a much better healthcare plan if those of us who believe healthcare is a human right were out on the streets, as opposed to the Tea Party."
This is classic Davis – offering bracing analysis that, instead of blaming someone else, puts responsibility for changing the world in our hands. For all that Davis was the late 60s/early 70s radical who stuck it to the man, for all that her indomitable spirit and iconic hairdo made her a poster girl for African-Americans, feminists and anyone with a radical consciousness, this is perhaps Davis's key significance now – a woman who comes at the hottest political issues from unexpected and inspiring angles. For instance, the day before we meet, at a keynote lecture titled Policing the Crisis Today at a conference honouring Hall at Goldsmith's, she spoke about racist violence, but focused on the case of Marissa Alexander, jailed for 20 years for firing a warning shot over the head of her estranged, unharmed husband, who attacked and threatened to kill her. "Let us ask ourselves what is so threatening abut a black woman in the southern United States who attempts to defend herself against so-called domestic violence," said Davis, as she finished her speech to rapturous applause.
Why, I ask Davis, the day after, did you focus on Alexander's case? "We rarely hear about the women," she replies. "Just because the majority of the prison population is male doesn't mean we need to start with their experience."
Davis has long campaigned against prisons, regarding them as brutalising racist institutions from which, latterly, big bucks are to be made. After her speech, when she is asked why the white cops who shoot black men shouldn't face jail, Davis stands her ground arguing that the institution of prison "only reproduces the problem it putatively solves". Not that she has any answers about what the alternative to this prison industrial complex might be. "I don't think there's a predetermined answer, but I want us to think."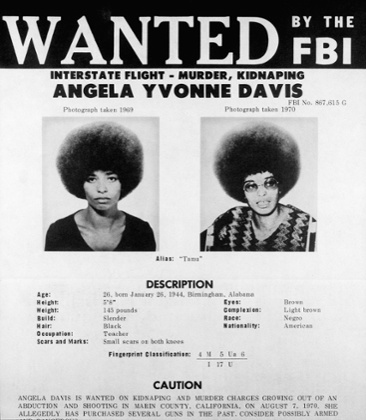 Someone else asks Davis if Beyoncé is a terrorist. The audience giggles, but the question is serious. During a panel discussion on liberating the black female body earlier this year, feminist activist bell hooks described Beyoncé as a terrorist and anti-feminist who was "colluding in the construction of herself as a slave". In an emollient reply, Davis said that she liked the fact that Beyoncé had sampled Nigerian novelist Chimamanda Ngozi Adichie's speech on feminism on her album.
The following day, I ask Davis more about it. "Whatever problems I have with Beyoncé, I think it is so misleading and irresponsible to use that word in connection with her. It has been used to criminalise struggles for liberation. But we don't use the word terror and terrorism to describe US history and the racism of the pre-civil rights era."
Certainly the terror, if that's the word, that was perpetrated on African-Americans when Davis was a girl in pre-civil rights Birmingham, Alabama, is burned into her consciousness. She was born in 1944 in a city that was to become notorious during the civil rights struggles for setting dogs and turning hoses on African-Americans seeking the vote – and much much worse. "I grew up at a time when, as a response to an interracial discussion group I was involved in, the church where we were having the discussions was burned. I grew up at a time where black people would move in to the white neighbourhood right across the street from where we lived, and bombs would be set in those houses. I've never heard the word terrorism used in that context, but on the other hand it is used to evoke this sense of danger coming from the outside without ever recognising the extent to which the history of the United States has been a history of terror against indigenous people, a history of terror against people of African descent."
Davis looks at me and laughs: "So, to call Beyoncé a terrorist just does not work!"
The word terrorist has a deeper personal resonance. That is what president Nixon called Davis when, 44 years ago, she was one of the FBI's top 10 most wanted, a fugitive from so-called justice. She was finally arrested and faced charges of conspiracy to kidnap and murder, charges for which she could have been executed. At her trial in 1972, she was acquitted, while other co-defendants, former Black Panthers whom she insists are political prisoners, were less fortunate: "My former co-defendant Ruchell Magee has been in prison for 51 years now." There are many other such political prisoners from that Black Panther era still languishing unjustly in jail, she says. George Jackson, whom she once called her "lifetime" husband (even though the pair never married), is not among them: he was shot dead in 1971 during an attempted prison breakout, three days before he was due to stand trial for the murder of a white prison guard. Davis has not married since.
I ask her about another Black Panther, Albert Woodfox, jailed for armed robbery and later convicted with two other men for the murder of a prison guard at Louisiana State Penitentiary (also known as Angola prison); last month, Woodfox had his conviction overturned after enduring 42 years in solitary confinement. "Of course I'm so happy, having been involved in the campaign to free the Angola Three for many many years, but why has it taken so long?"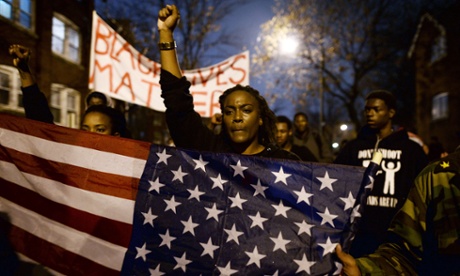 If the Black Panthers were active in 2014, Davis believes "they'd be on the receiving end of the war on terror". She cites Assata Shakur, the activist and Black Panther supporter who was convicted as an accomplice to the murder 40 years ago of a New Jersey state trooper, and was put on the FBI's most-wanted list earlier this year. "I think that the move to designate Assata a terrorist and to post a $2m reward for her capture, which means that any of the mercenaries from the new privatised security firms might try to travel to Cuba [where Shakur has been living for 35 years], capture her and bring her back for the $2m reward, that is not so much an attack on Assata – which it is – but it sends out a message to vast numbers of young people who identify with her. Her autobiography is very popular and it seems to me that that is the message to young people today: 'Watch out! If you get involved in progressive struggles, radical movements, this is how you will be treated – you will be treated as a terrorist.'"
Still, Davis thinks young people now are made of sterner stuff than to be browbeaten by a terrorising state. "I'm very, very hopeful. I hear people repeatedly referring to the apathy of young people but there are probably more people who are actively involved in radical political projects in the US today than there were in the 1960s."
She takes particular succour from the Occupy movement, at whose encampments she spoke repeatedly in 2011. "They didn't know necessarily where they were going but they did know they were standing up to capitalism." For a veteran communist (Davis stood twice as vice-presidential candidate for the Communist party USA in the 1980s), that anti-capitalism is especially heartening. "I think the influence of Occupy will continue even though the encampment could only exist for a very defined period of time. One can see the influence of Occupy in the Ferguson demonstrations now, in the sense that they recognise that it's not only about demanding that this one individual cop be convicted but it's also about recognising the connection between racist violence and the profit machine. That's what we're fighting against."
http://www.theguardian.com/global/2014/dec/14/angela-davis-there-is-an-unbroken-line-of-police-violence-in-the-us-that-takes-us-all-the-way-back-to-the-days-of-slavery