LUCKNOW: A 16-year-old girl was found hanging from a tree outside a village in Uttar Pradesh's Moradabad district on Thursday, police said.
The girl was missing from her house in Rajpura village Wednesday night. The girl's family members alleged that they went to report the matter to Thakurdwara police station in order to search the girl but were told to come Thursday morning.
Her body was later found hanging from a tree outside the village. She was a Class XI student and was at home when the family members went to attend a wedding. When they returned home, the main door was ajar and the girl was missing, police said.
The family members searched for the girl but could not locate her, police said and added that no leads have come their way so far in the case.
"We are trying to probe all angles, including enmity with someone, but it is too early to say anything," an official of the Thakurdwara police station told IANS.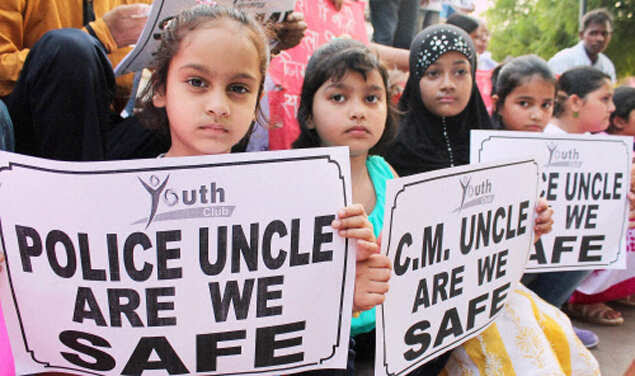 Children in Lucknow during a protest against rising number of rapes in UP. (PTI photo)
The postmortem examination report will tell if she was sexually assaulted and murdered thereafter, the official said, adding her family members have not named anyone in their complaint.
This is one of the many incidents of crime against women in the state in the past two weeks.

The family of the minor girls who were gang-raped and murdered in UP's Badaun. (AFP photo)
Two minor girls were gang-raped and murdered in Badaun district two weeks back while a police station chief and three constables were booked Wednesday for raping a woman inside a police station in Bahraich district.
Read more here- http://timesofindia.indiatimes.com/india/Girl-found-hanging-from-tree-in-Uttar-Pradesh/articleshow/36433593.cms