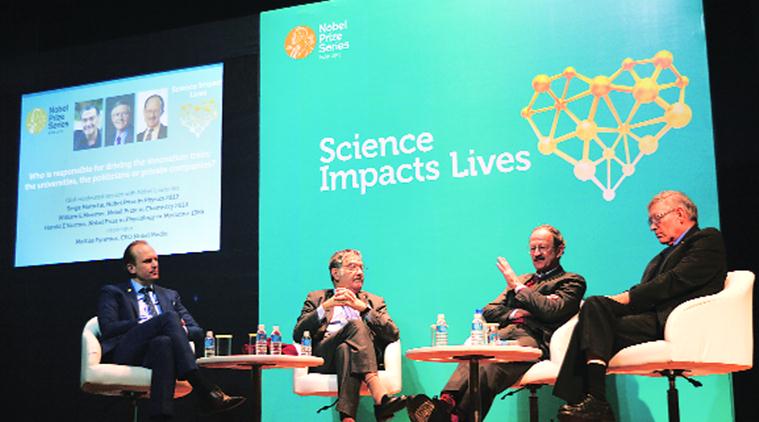 Nobel Laureates Serge Haroche (Physics 2012), Harold Varmus (Medicine 1989), William E Moerner (Chemistry 2014) in New Delhi on Thursday. Harikrishnan NairRAISING THE alarm against the "rising trend of populism", and taking on critics of the scientific method, three Nobel Laureates have warned that there will be serious repercussions if the anti-science movement is not defeated. Speaking to The Indian Express, William E Moerner (Chemistry, 2014), Harold Varmus (Medicine, 1989) and Serge Haroche (Physics, 2012) said that those who are anti-science are growing at a fast pace, and that engagement, education and encouragement were the only ways to push back.
Moerner, Varmus, and Haroche were in Delhi Thursday to attend the Nobel Prize Series—India Programme 2017, a conference organised by Nobel Media AB, Sweden, in collaboration with the Ministry of Science and Technology. "No one has been listening to the scientific community for the past several weeks," said Varmus, who had campaigned in 2008 for President Barack Obama and was the head of the National Institutes of Health in the US.
Varmus said that he was "less than enthused" about the new administration under Donald Trump, who has denied climate change and threatened to pull out of the Paris Climate Agreement.
"The anti-science movement furthers an obscurantist view. It's dangerous because it's taking over in a lot of countries. I am not happening in India but it is very prevalent in the West… The anti-science culture is growing because of the frustrations of people left behind (in the process of development). Their resentment is fertile ground for this behaviour," said Haroche.
Highlighting the immediate impact, Moerner cited the example of the measles outbreak in California in 2015, saying that several parents in the area refused to vaccinate their children. "As more people will leave science, more will catch diseases. We also see this in the case of climate-change. If we deny it, the whole world will see the impact. We need more people who will find a way out of problems rather than saying there is no problem," he said.
According to them, getting into science was considered honourable and people were lauded for doing so — but the situation has changed. "Today, people talk about anecdote over science. They will believe what 'someone they know' has told them over what science has proved. The business of conspiracy theories is huge," said Varmus.
The three said that previous crises such as the World Wars drove people towards science. And, that the new crises of today, such as climate change and population explosion, could drive interest in science again. "Science can get you logical answers to problems. We can't say everything with 100% certainty but if we say something with even a 95% certainty, it is a safe bet," said Moerner.
So how can confidence be built again in science?
"Keep talking to people and engage with them. Don't despise them. Otherwise, the effort becomes counter-productive. We have to understand that science is neither good or bad, it is fact," said Haroche. Incidentally, the three Nobel Laureates were also present at the Vibrant Gujarat Summit in Gandhinagar on Wednesday, where they met Prime Minister Narendra Modi.
Describing their interaction with Modi as promising, Varmus said that the Prime Minister seemed interested in science and research. "He sees a connection between science and its application in business," said Varmus.http://indianexpress.com/article/technology/science/anti-science-culture-is-growing-need-to-engage-and-educate-say-nobel-laureates-4471690/