PTI [ Updated 13 Mar 2013,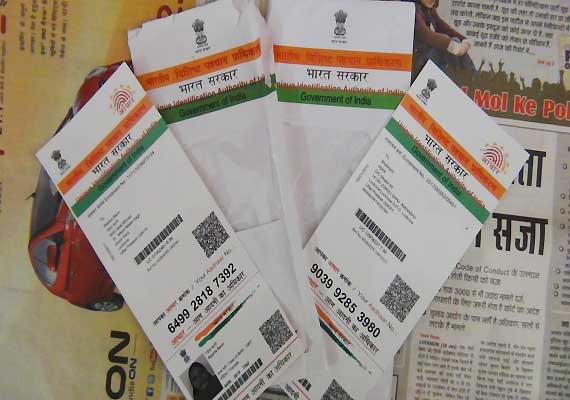 Hyderabad, Mar 13:  Amid complaints of delay in delivery of Aadhaar cards, the Postal Department in Andhra Pradesh has claimed it has been facing difficulty in disbursing these cards because of incomplete addresses and wrong pin codes given by applicants themselves.
"Incomplete and wrong addresses written on the envelopes, change in addresses and residences remaining locked for days together are some of the reasons why the Postal Department is finding it tough to deliver the Aadhaar cards," K Sandhya Rani, Postmaster General (Business Development and Marketing & Technology) told PTI.
The quantum of Aadhaar card letters received for the delivery is huge, which is a challenge in itself, besides wrong pin codes, she said.
"We found that almost 25 per cent of Aadhaar letters come with wrong pin codes. It becomes all the more difficult in case of slum areas as there is no proper numbering to houses," Rani said.
While over 4.69 crore Aadhaar cards in the state have already been delivered, the department has returned over 2.78 lakh to the office of Central Identities Data Repository (CIDR)/Unique Identification Authority of India (UIDAI) at Bangalore, she said.
"Though the Chief Postmaster General and the Regional Postmaster Generals are monitoring the process of speedy delivery of Aadhaar cards, we have returned 2,78,826 letters containing Aadhaar cards due to several reasons," she said.
"Of the 4,74,39,801 letters booked by the UIDAI under the Speed Post service so far, about 2.15 lakh letters containing Aadhaar letters are now under delivery process across the state, she said, adding that of these, 1,42,521 are to be delivered in five Direct Benefit Transfer (DBT) districts of Hyderabad, Ranga Reddy, Anantapur, Chittoor and East Godavari.
There are about 20,770 postmen (including Gramin Dak Sevak Delivery agents) in 14,783 post offices across the state and about 1,100 postmen in 124 post offices in Hyderabad and Ranga Reddy districts.
On an average every postman delivers about 200 speed post and registered articles every day, besides several hundred  ordinary letters, Rani said.
"Our postmen have been putting in extra efforts to deliver the cards. Many of them have been working on Sundays and beyond office hours over the last two years in order to deliver the Aadhaar letters.
"The time lag between the enrolment and generation of Aadhaar cards by UIDAI is often attributed to the delay by the Department of Posts," she said.
According to Rani, in Hyderabad and in the neighbouring Rangareddy district, 78,55,878 Aadhaar cards have been delivered, while 1,48,347 letters were returned to UIDAI.
About 46,000 Aadhaar letters are in the process of delivery in these districts.
"The UIDAI has been able to generate only 79,87,376 (89 per cent) out of the total enrolments of 89,84,000 in Hyderabad and Rangareddy districts till last month. Only 99 per cent of the generated Aadhaar cards were booked as speed post articles and dispatched to post offices for delivery. Of these, 99.20 per cent of the Aadhar letters have already been delivered in these districts," she said.
Department of Posts has set up a portal to update Aadhaar letter delivery status using the Speed Net software that provides the track and trace facility, she said.
To ensure proper delivery of Aadhaar cards and fix accountability of postman for wrong delivery if any, the department has been taking disciplinary action as well.
"Action has been initiated against five Postmasters, three postal assistants and 12 postmen," Rani said.