Edited by Swati Gupta | Updated: May 28, 2014 00:41 IST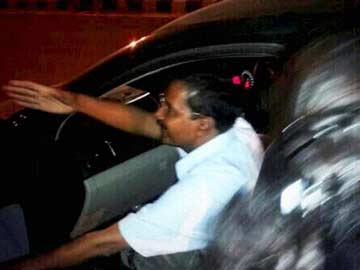 AAP convener Arvind Kejriwal leaves after being released from Tihar Jail in New Delhi on Tuesday.
New Delhi: Arvind Kejriwal, the leader of the Aam Aadmi Party who has been in Delhi's Tihar jail for the last six days, was released from jail on Tuesday.
A Delhi court ordered his release from jail on Tuesday after he furnished a personal bond in a defamation case filed against him.
Metropolitan Magistrate Gomati Manocha accepted the bond filed by Mr Kejriwal's counsel in compliance with the order passed by the Delhi High Court.
"It is also submitted that Arvind Kejriwal has written in his own handwriting that he is filing the personal bond in compliance with the high courtorder. In view of this, the personal bond furnished is accepted," the court said, adding, "Let the accused be released forthwith."
Earlier in the day, the court had condemned Mr Kejriwal's stand and questioned why he had made furnishing the bond a "prestige issue." "It is a small case. Why are you making it big? Why are you taking this as a prestige issue?" it asked. ('Why is Arvind Kejriwal Making This a Prestige Issue?' Court Asks on Row Over Bail)
Mr Kejriwal was jailed after he refused to furnish the bond needed in a defamation case filed against him by BJP's Nitin Gadkari. He had since been insisting that the court should not ask him for one and argued that he has committed no crime.
On Monday, he moved the Delhi High Court for his immediate release. (Arvind Kejriwal Moves High Court Against Custody)
After Tuesday's hearing, Prashant Bhushan along with his father advocate Shanti Bhushan went to Tihar jail and collected the hand-written consent letter from Mr Kejriwal to furnish the personal bond. (An Open Letter From Prisoner No. 3642, Arvind Kejriwal)
The AAP chief was first sent to judicial custody for two days. The court then ordered 14 more days in custody when Mr Kejriwal refused to give the bail bond.
Read more here — http://www.ndtv.com/elections/article/election-2014/after-court-rap-arvind-kejriwal-agrees-to-furnish-personal-bond-531517